The historic and beautiful region of Andalusia is a gem on the southernmost border of Spain. Filled with sweeping landscapes and charming whitewashed villages, the region is full of picturesque destinations that are perfect for any traveler's itinerary. Here is a list of the ten most beautiful places to visit in the Andalusia region of Spain that you should consider adding to your next vacation itinerary.
Related Posts
1. Marbella Old Town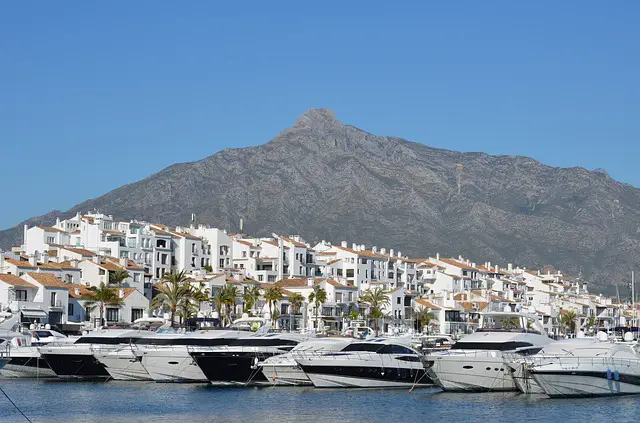 The bright and airy streets and shops of Marbella's Old Town are truly a magical sight to behold. Famous for whitewashed structures and pops of bright color that come from vines and flowers that adorn the buildings, Marbella is a beautiful destination that any traveler would enjoy. You can take photographs and visit parks but the best way to spend your time in the town is to take your time exploring, stepping into shops and cafes that inspire you. If you are looking for some of the most beautiful places to visit in Andalusia, and can only choose one, Marbella old town might just be what you are looking for.
Hotels in the city center of Marbella:
2. The Alhambra in Granada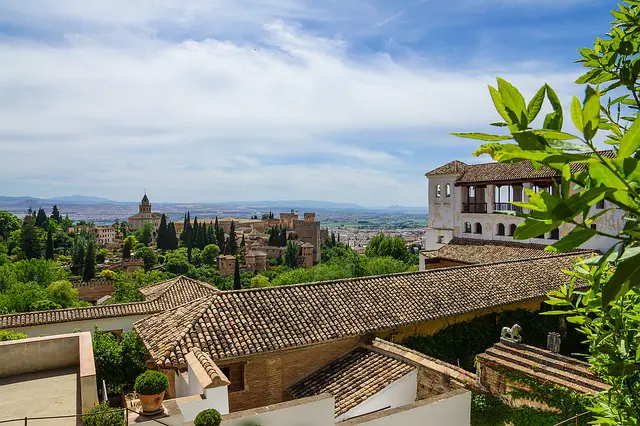 Our next destination and made one of the most beautiful places to visit in Andalusia is Alhambra. The Alhambra is a grand fortified palace located in Granada that is a magnificent historic attraction that consists of a fortress as well as grounds and parks. When you visit you can walk and explore to learn about the region's history and culture. The Alhambra was built in 893 CE and although it was renovated heavily in the 1300s, a majority of the original structure is still standing to this day.
You can spend time exploring Alhambra by yourself but there are guided tours available that you can take as well. If you are interested, it's best to reserve tickets in advance.
Top hotels to stay in Granada:
3. Frigiliana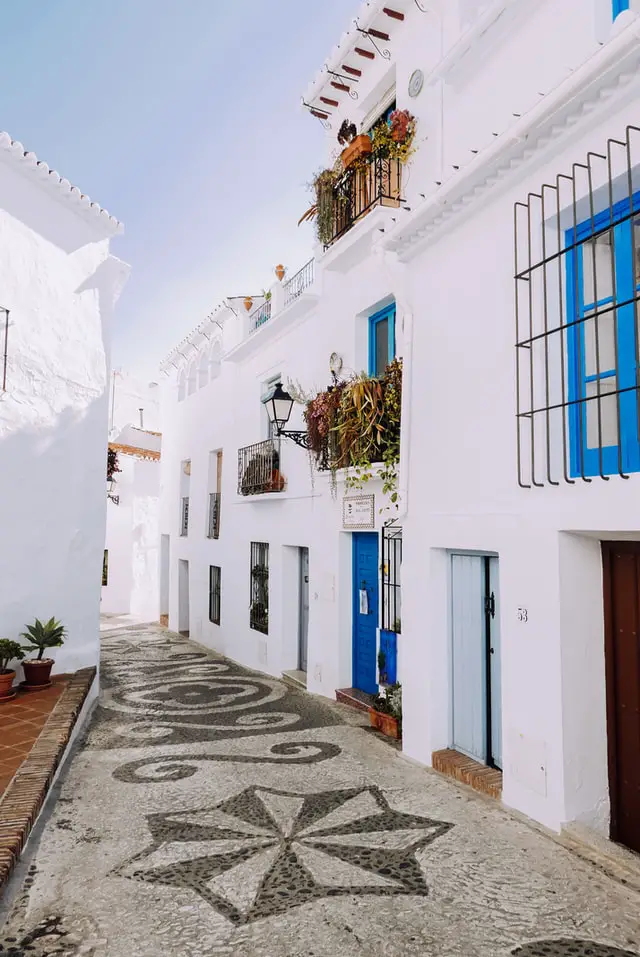 Frigiliana is often considered to be one of the most picturesque villages in the region and if you visit you'll be able to see why it's also on our list of one of the most beautiful places to visit in Andalusia. Defined by whitewashed buildings draped in greenery and sand-colored bricks, this romantic and airy destination is a wonderful place to wander, take photographs, and enjoy the view.
Top hotels to stay in Frigiliana:
4. Ronda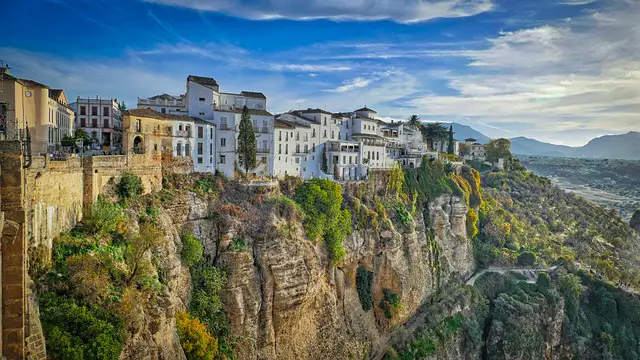 The lovely highland town of Ronda is a stunning destination thanks to the impressive scenery that includes three imposing bridges that cross high above the ground. The Puente Romano is the most famous bridge – it spans the 360-feet high chasm that the Guadalevin River winds through. These Moorish structures create a walkable arch that connects the town of Ronda with the rest of the region.
In addition to the magnificent bridges, Ronda is also famous for the Arab Baths. These functioned like steam rooms and their proximity to a beautiful Mosque helps demonstrate that the experience in these baths were meant to cleanse spiritually as well as physically.
Great hotels to stay in Ronda:
5. Plaza de España, Seville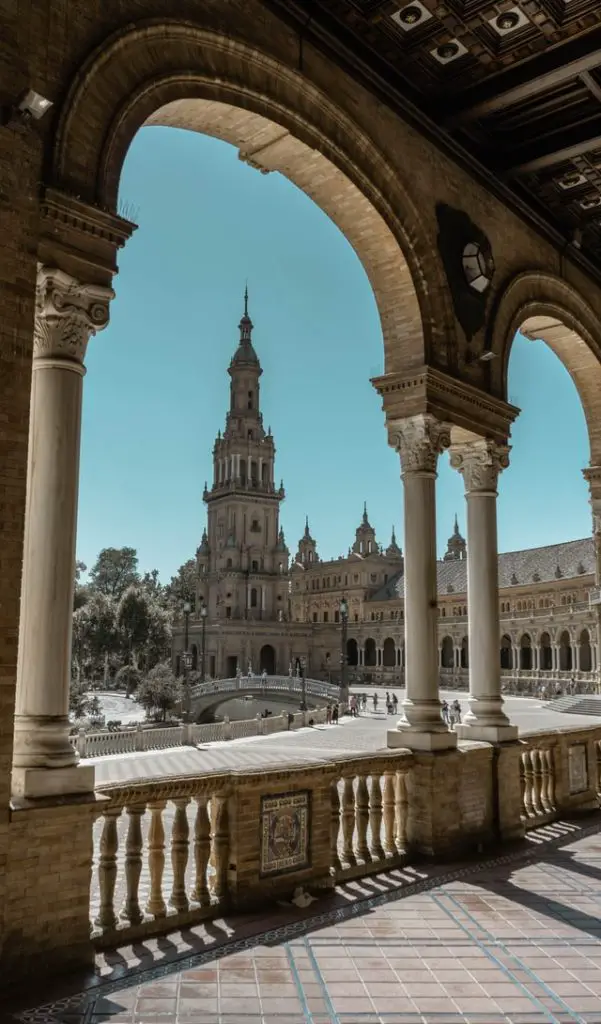 The magnificent Plaza de Espana is a stunning plaza in the Parque de Maria Luisa located in Seville. It is a stunning example of a blend of various architectural styles such as Baroque Revival, Renaissance Revival, and Neo-Mudejar styles which are all defining styles of Spanish architecture. The plaza was built in 1928 for the Ibero-American Exposition of 1929 which was a prominent world's fair of the time.
The grandeur and size of the Plaza de Espana are sure to impress at any time, but if you have a choice of when to visit, the landmark bathed in the dimming light of the sunset is truly a magical sight to behold.
Great hotels in the center of Seville:
6. Mezquita de Córdoba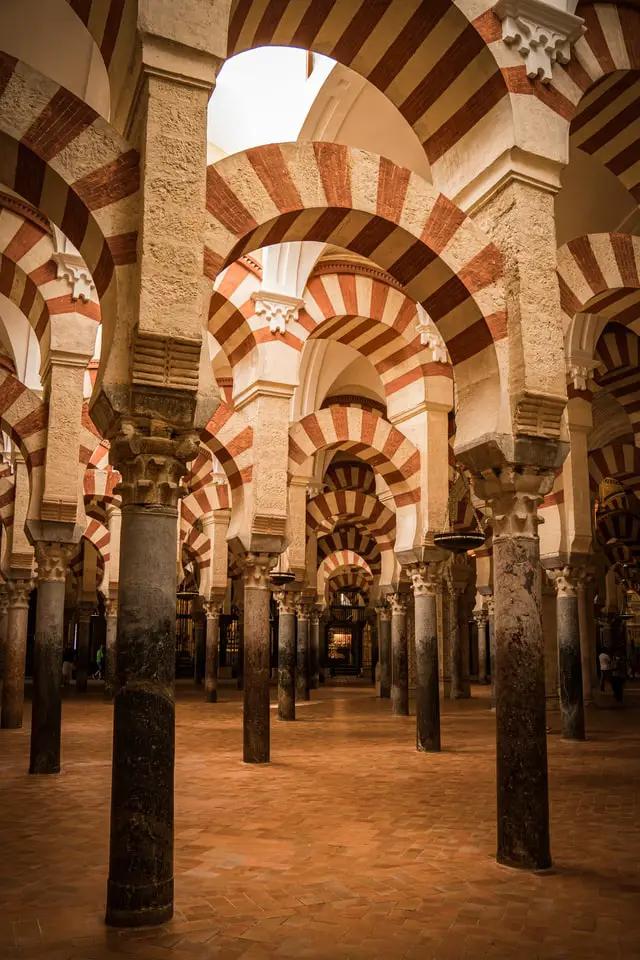 The Mezquita-Cathedral of Córdoba is the cathedral of the Roman Catholic Diocese of Córdoba. It was initially built as an Islamic mosque by the Moors of Spain which is why it has the name Mezquita, meaning Mosque. In addition to enjoying the detailed interior architecture, you can also see the beautiful courtyards that are complete with orange and palm trees as well as strong stone fountains.
If you are interested in visiting, you can purchase a variety of ticket options that allow you to see portions of the Mezquita-Cathedral – there is even a specialty ticket that allows you to visit at night.
Best hotels in Cordoba near the city center:
7. Nerja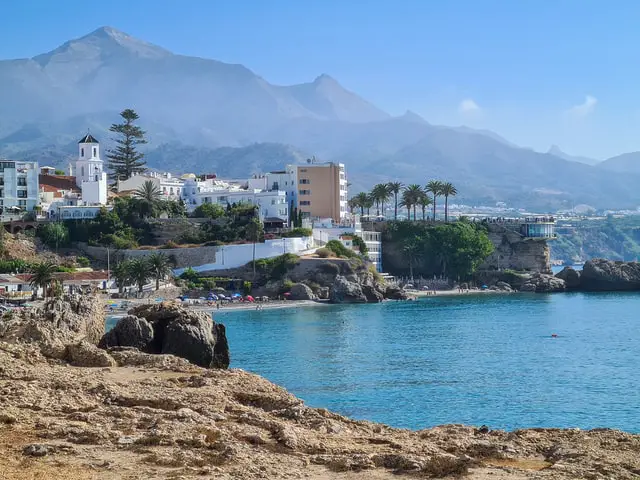 The idyllic resort town of Nerja is one of the most beautiful destinations in Andalusia and is the ideal place to visit for white sandy beaches, crisp crystalline water, and historic structures. This Mediterranean coastal town also features limestone canyons and underground caves that are worth exploring. Climb up to various viewpoints and explore the rolling mountains that rise up from the coastline. You can also spend your time in Nerja relaxing on the beach or swimming in the bright turquoise water.
Hotels near the center of Nerja:
8. Gaucin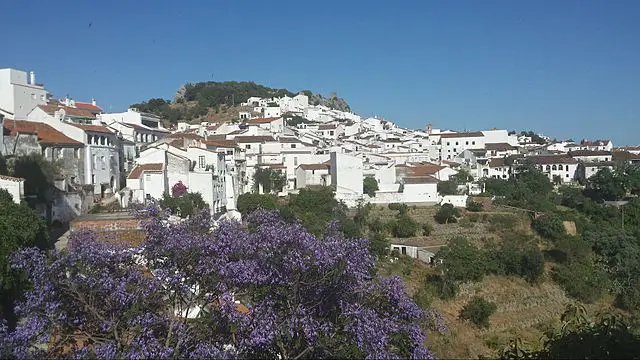 Although other locations on this list like Marbella and Ronda are magical and can't be missed. If you're hoping to find a hidden gem in the southern region of Spain, look no further than the mountain town of Gaucin. It's defined by whitewashed houses perched along the mountain and often bathed in sunlight – you can visit to enjoy stunning weather without the heavy crowds of the coast.
Gaucin is best enjoyed on foot – spend time exploring the town, taking pictures and exploring local businesses, and visiting the many viewpoints present throughout. One of the viewpoints allows you to see the rock of Gibraltar on particularly clear days.
Popular hotels in Gaucin:
9. La Taha de Pitres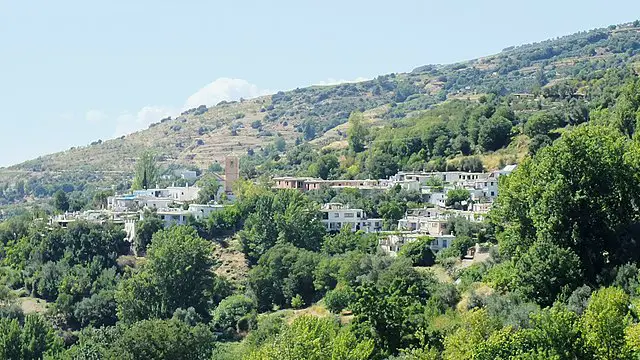 La Taha is a region in Andalusia that includes seven gorgeous towns that are each worth visiting. The towns are Pitres, Cpileirilla, Fondales, Ferreirola, Atalbeitar, Mecina Fondales, and Mencinilla, with Pitres being the largest and most populous. You can spend time exploring the historic buildings of each village, and you can even hike between them and enjoy the natural beauty of the area. In addition, you can explore the stunning countryside where these towns are located by venturing out on one of the many roads and hiking trails that wind through the region.  
Popular hotels near Pitres:
10. Grazalema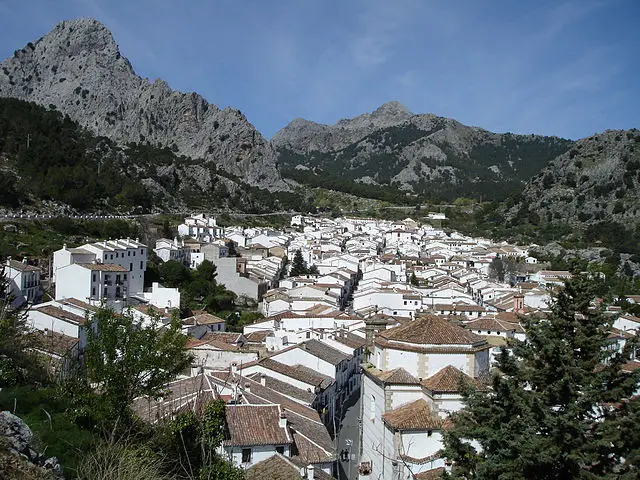 Rounding off this list is the picturesque Grazalema, which is a charming town located in the Sierra de Grazalema Natural Park in the province of Cadiz. Grazalema is an ideal place for anyone who wants to experience the vibrant nature of the region as there are many hiking trails to explore and viewpoints to visit. In addition, the local cuisine is excellent, and you can learn about local traditions such as leather and blanket making.
While are many more beautiful places to visit in Andalusia if your time is limited, we hope you find our list helpful and have a chance to visit at least some of them during your trip to Spain.
Popular hotels in Grazalema:
Video Guide: 10 Most Beautiful Places in Andalusia, Spain
Related Posts:
Travel Resources for Planning a Trip to Andalusia
To make planning your trip to Andalusia easier, we included some of our recommended travel resources below. You can search and find the best flights, transportation options, hotels to stay in, tours/activities, and things you can do at each destination during your trip.
Flights: 
CheapOAir: You can find airline tickets, hotel rooms, rental cars, and vacation packages all on one site!
Kiwi.com: What we like about Kiwi is the fact that they are able to create combinations of flight, train, and bus tickets and offer them in a single itinerary. Also, Kiwi has what they called "Nomad" which helps you find the best way of visiting multiple destinations, saving you time and money.
JetRadar: You can search and compare airfares from 726 airlines and dozens of travel agencies and systems.
Hotels: 
Agoda: Agoda is one of the world's largest online travel accommodation platforms with a network of over 2,000,000 vacation rentals and hotels worldwide.
Hotellook: They have more than 250,000 hotels in 205 countries, working with data from more than 10 online booking systems, such as Booking.com, Agoda.com, Hotels.com, Expedia, and others.
Transportations: 
Airport Transfers: KiwiTaxi, Viator
Train: Trainline or RailEurope 
Bus: Flixbus: Very affordable (as low as $6) and convenient way to transfer between cities in Europe.
Car Rentals: AutoEurope, EconomyBookings, or  GetTransfer (transfers & car rentals with a personal driver)
Bike Rental: BikesBooking (Bikes & scooter rentals) 
Transportation Comparison: Omio (search, compare, and book tickets for buses, trains, and flights all in one site)
Tours & Activities:
TakeWalks (WalkofItaly): This is our favorite site for walking tours & day trips.
Tiqets: Great site for entrance tickets. It offers directly bookable, instantly available, and completely mobile tickets for museums, shows, and attractions all over the world.
Musement: They have good activities and tours in Italy and Spain, also many great day trips you can choose from.
GetYourGuide: A large number of tours, excursions, and other travel activities
Viator: The largest one. It has everything from tours, attractions, shore excursions, and private guides in over 2,700 destinations worldwide. It also has many transportations and transfers options and some unique experiences we didn't find anywhere else.
Need help planning a trip to Andalusia, Spain?
Want to plan a trip to Europe to see these beautiful places in Andalusia, Spain but don't know where to begin? If you find this type of trip planning to be too complicated to plan on your own, we're here to help!
At MultiCityTrips, multi-destination travel and complicated itineraries such as a trip visiting multiple destinations in Europe are our specialties. Contact us today to learn more about how one of our experienced travel experts/destination specialists can personalize your multi-city vacations at the best price.
Don't want to start from scratch and need some trip inspiration? Check out our marketplace for customizable pre-designed packages available right now for many amazing destinations.
To learn more about how our process of trip planning works in detail, please see our "How It Works" page or check out our video on "How to Plan a Multi-City Trip to Europe in  5 Easy Steps"  here.
Have questions for us? Schedule a FREE Call with us here or contact one of the travel experts/destination specialists at [email protected], call/text us at (888)223-2316 today.