Greece has something for everyone, especially for those looking for somewhere to head for family vacation. The seven Greek islands on this list are all ideal options in their own way, each with something to offer all kinds of families.
Related Posts
1. Rhodes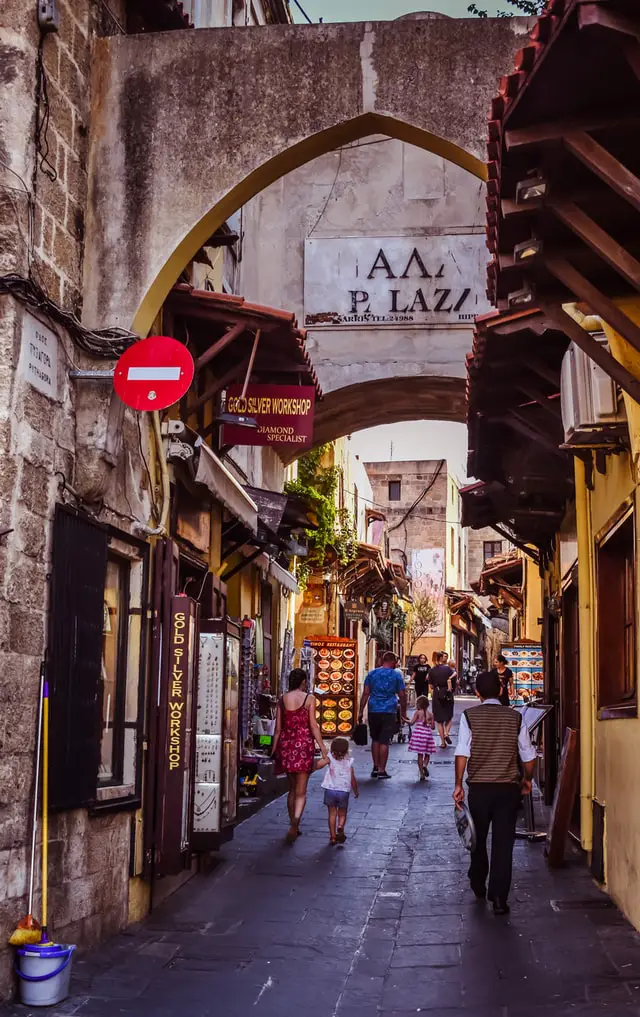 One of the best Greek islands for families is Rhodes. It's a great spot to relax and truly soak in the beauty of the region. The golden sand beaches lead into warm and shallow water which makes it great for kids. Rhodes also offers a variety of large hotels and resorts, some of which have all-inclusive options so you'll have access to kids clubs and babysitting services if you need them. There are also water sports and other activities that you can access as well as luxurious restaurants serving up some incredible Greek food.
You won't even have to leave the area around your hotel to have an amazing time, but if you do, Rhodes Town is a wonderful place to go. It's a UNESCO World Heritage Site where you can see cobblestone alleyways and historic fortifications.
Popular Hotels in Rhodes:
2. Crete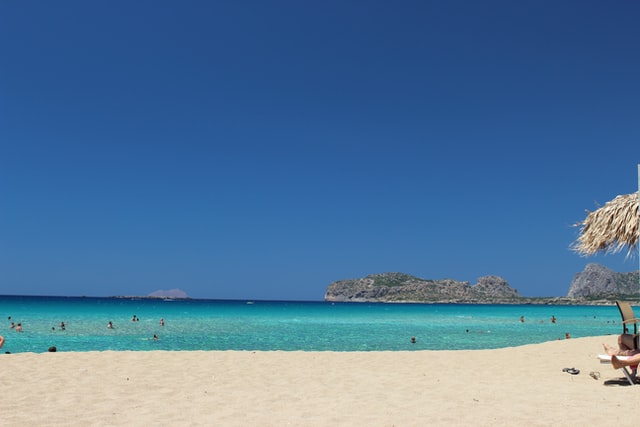 The island of Crete boasts a unique and fascinating history and is a great destination for families who are interested in touring ancient sites. The remains of palaces still can be found on Crete, and you can marvel at the magnificent frescoes as well as their ancient walls. A visit to the Palace of Knossos is great even for children as they may be familiar with the story of King Minos and his son, the mythical Minotaur and the labyrinth built by Daedalus to contain him. Another famous site is the Dikteon Cave, said to be the birthplace of Zeus.
In addition, what makes Crete be one of the best greek islands for families is the fact that there are many family-friendly resorts and hotels to pick from, all at varying price points so there is something to suit a variety of different budgets.
Crete Hotels in the City Center:
3. Corfu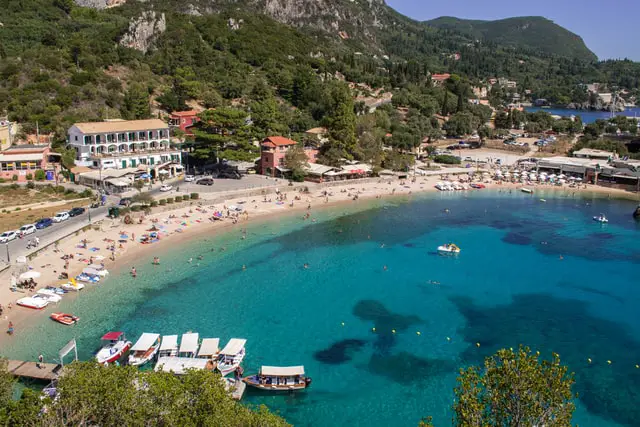 Family vacations can be expensive and if you want to plan an incredible itinerary without overspending, Corfu is a great option. Although there are hotels you can stay at, take the chance to stay in one of the villas within a few minutes of Corfu's historic Old Town neighborhood. This is especially great for larger families as you will have one central place to gather and won't have to bother with multiple hotel rooms.
You can spend your days in Corfu exploring the old town area or experiencing the beautiful beaches along its coast. If you're interested in snorkeling, boating, or swimming, you'll also have plenty of chances to do that as well. Beaches such as Barbati Beach are stunning and the crystal clear water is generally quite shallow which makes it great for children.
Hotels in the Center of Corfu:
4. Lefkada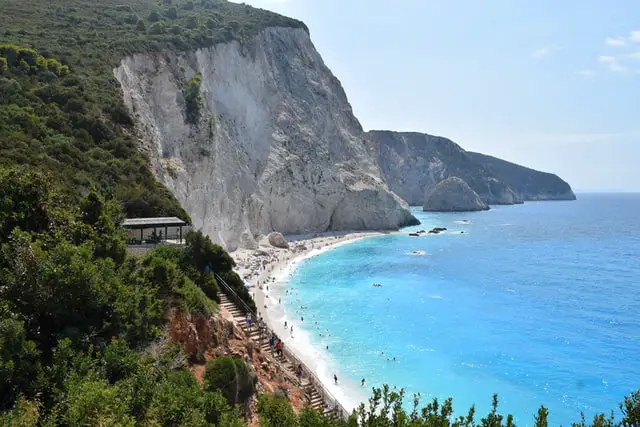 For the perfect Greek vacation for an outdoorsy type of family, head to the island of Lefkada. It's close to the mainland and is one of the best places for water sports and other outdoor adventures. You and your family can try wind sailing, kayaking, and even scuba diving if you want to explore the sparkling blue waters of the Ionian Sea.
If you'd rather stick to the land, you have options too. A trek to the beautiful Dimosari Waterfalls is a great way to spend an afternoon. Mountain biking is another way to explore the lush terrain of Lefkada. There are also opportunities for peaceful horseback riding tours which may be a more gentle option suitable for younger children. Teens and adults can even explore Lefkada by air as there are paragliding excursions available and if you're willing to splurge, there is also a chance to experience a luxe VIP helicopter tour!
Popular Hotels in Lefkada:
5. Paros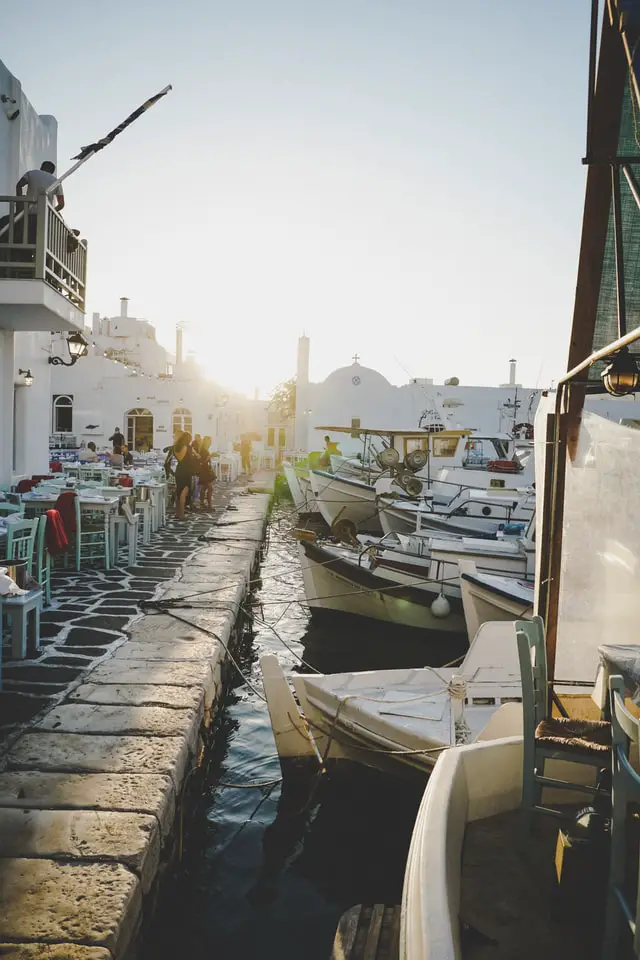 Paros, one of the best Greek Islands for families is defined by stunning beaches and quaint, traditional villages. Historically it was known for its marble quarries and mines and Parian marble originated there. While remnants of these facilities still exist today, most people know Paros for its beauty and its sparkling beaches.
The capital Parikia has long been an important port for the island and today it is the central hub for tourists who come to explore what Paros has to offer. It's the best place to stay as there are many activities within walking distance and you'll be able to travel to other parts of the island easily. There are plenty of activities available such as water sailing and cycling that have experiences designed for children, and if you have an aspiring chef in your family, there are several cooking classes available where participants can learn how to make traditional Greek dishes such as tzatziki.
For a day trip, head to Lefkes or Naoussa. The village of Lefkes has traditional whitewashed structures with blue doors and accents and is a beautiful sight to see for anyone interested in traditional Greek life. Naoussa is a fantastic option as well and children will love exploring the Old Port area or playing on the beach.
Hotels in Paros:
6. Mykonos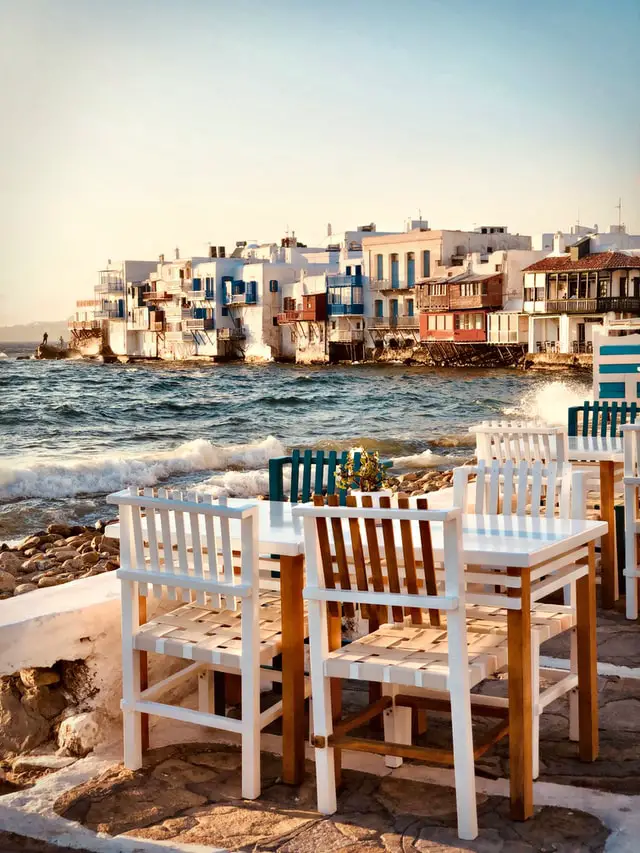 Mykonos may be known for its nightlife but it's also a great option for families, especially those that include older teens. The sparkling beaches are perfect for taking photos and there are some incredible regional dishes that you can try such as kopanisti, a spicy and salty cheese, and louza, a delicately prepared pork dish. If you're traveling with picky eaters who aren't willing to try Greek food, there are many simple options you can order instead.
If your family can't seem to agree on what to do in Greece, Mykonos is also a great option because while the nightlife scene is truly vibrant, there are quieter resort areas which provide direct beach access. The diverse array of choices makes Mykonos an ideal spot for family vacations.
Mykonos Top Hotels:
7. Santorini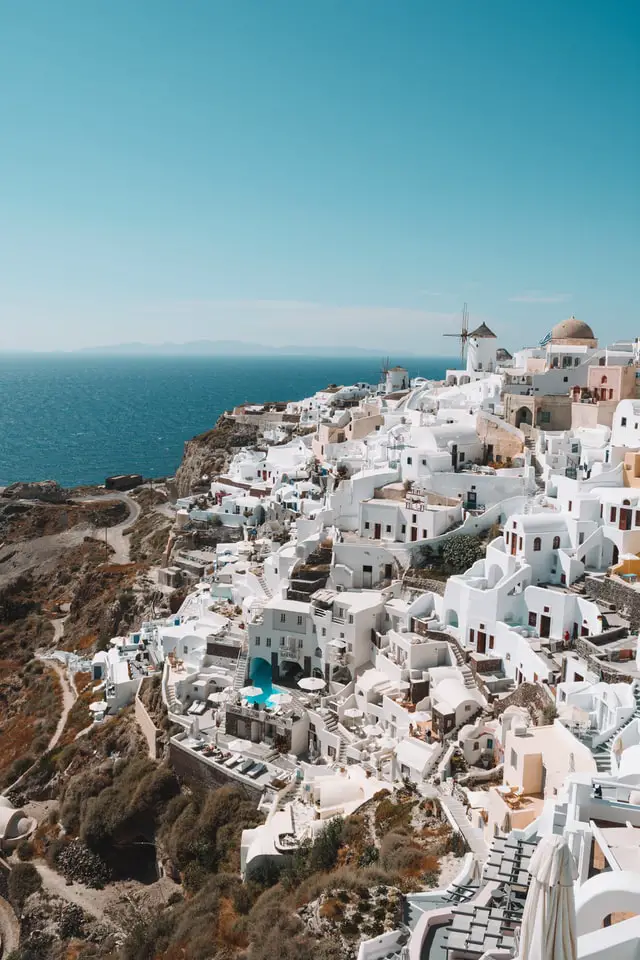 Santorini's whitewashed, blue dome structures are iconic and the perfect background for a family vacation. The island attracts a large number of tourists which means that there are many hotels, activities, and amenities designed for a variety of travelers including families. You'll be able to enjoy the natural beauty of the island and experience long standing traditions and witness the beautiful local culture.
Santorini can be one of the best Greek Islands for families to visit because of the various archaeological sites and museums throughout the island. There is some incredible food to try and the soil on Santorini is perfectly composed for growing the ideal white wine grape. One of the most famous things to do in Santorini is watching the magnificent sunset from Oia, the iconic village built into a cliffside.
Hotels in Santorini:
Video Guide: 7 Best Greek Islands for Families
Related Posts
Travel Resources for Planning a Trip to Greek Islands
To make planning your trip to Greek Islands easier, we included some of our recommended travel resources below. You can search and find the best flights, transportation options, hotels to stay in, tours/activities, and things you can do in each destination during your trip.
Flights: 
Agoda: Search thousands of destinations around the world & quickly compare prices to find amazing deals on the best flights.
CheapOAir: You can find airline tickets, hotel rooms, rental cars, and vacation packages all on one site!
Kiwi.com: What we like about Kiwi is the fact that they are able to create combinations of flight, train, and bus tickets and offer them in a single itinerary. Also, Kiwi has what they called "Nomad" which helps you find the best way of visiting multiple destinations, saving you time and money.
JetRadar: You can search and compare airfares from 726 airlines and dozens of travel agencies and systems.
Hotels: 
Agoda: Agoda is one of the world's largest online travel accommodation platforms with a network of over 2,000,000 vacation rentals and hotels worldwide.
Hotellook: They have more than 250,000 hotels in 205 countries, working with data from more than 10 online booking systems, such as Booking.com, Agoda.com, Hotels.com, Expedia, and others.
Transportations: 
Airport Transfers: KiwiTaxi, Viator
Train: EuroRail, Trainline or RailEurope 
Bus: Flixbus: Very affordable (as low as $6) and convenient way to transfer between cities in Europe.
Car Rentals: AutoEurope, EconomyBookings, or  GetTransfer (transfers & car rentals with a personal driver)
Bike Rental: BikesBooking (Bikes & scooter rentals) 
Transportation Comparison: Omio (search, compare, and book tickets for buses, trains, and flights all in one site)
Tours & Activities:
TakeWalks (WalkofItaly): This is our favorite site for walking tours & day trips.
Tiqets: Great site for entrance tickets. It offers directly bookable, instantly available, and completely mobile tickets for museums, shows, and attractions all over the world.
Musement: They have good activities and tours in Italy and Spain, also many great day trips you can choose from.
GetYourGuide: A large number of tours, excursions, and other travel activities
Viator: The largest one. It has everything from tours, attractions, shore excursions, and private guides in over 2,700 destinations worldwide. It also has many transportations and transfers options and some unique experiences we didn't find anywhere else.
Need help planning a family trip to Greek Islands?
Planning and looking for the best Greek Islands to visit with your family? If you find this type of trip planning to be too complicated to plan on your own, we're here to help!
At MultiCityTrips, multi-destination travel and complicated itineraries such as a family trip to the Greek Islands are our specialties. Contact us today to learn more about how one of our experienced travel experts/destination specialists can personalize your multi-city vacations at the best price.
Don't want to start from scratch and need some trip inspiration? Check out our marketplace for customizable pre-designed packages available right now for many amazing destinations.
To learn more about how our process of trip planning works in detail, please see our "How It Works" page or check out our video on "How to Plan a Multi-City Trip to Europe in  5 Easy Steps"  here.
Have questions for us? Schedule a FREE Call with us here or contact one of the travel experts/destination specialists at [email protected], call/text us at (888)223-2316 today.