Santorini is one of the most famous locations in Greece and is a popular place to visit. The beautiful white washed buildings topped with blue dome roofs are an iconic sight and the famous Santorini sunset lands this idyllic island on many people's bucket list. If you're planning a trip to Santorini, you might be wondering which part of the island you should choose as your base and the answer is that it depends on what kind of vacation you're hoping to have. Read on to discover the best places to stay in Santorini depending on what kind of traveler you are.
Related Posts:
Best for Families with Kids: Perissa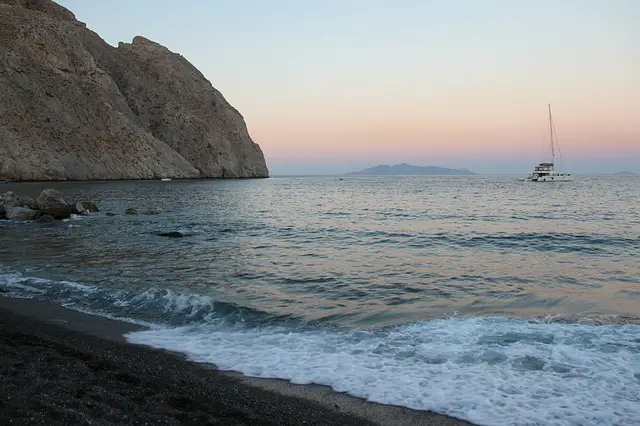 The coastal village of Perissa is a great place for families as it offers activities for visitors of all ages. There are countless opportunities for water sports and activities as well as the famous black sand beach where visitors can relax and enjoy the weather.
Where to Stay
Stelios Place at Perissa Beach is an ideal place for families of four or less – the clean rooms offer plenty of space for everyone to relax and get ready, and the hotel also has a private pool that guests can enjoy. Larger families may prefer to rent a villa – there are many options in and near Perissa, some of which have their own pools and other fantastic amenities.
Highlights
Soak in the sun on the black sand beaches that Perissa is famous for.
Explore the waters off the coast of Perissa. You can go on a sunset cruise, rent stand-up paddleboards, go scuba diving and more. The waters are generally safe so kids will be able to swim with supervision – just be sure you bring water shoes as there can be rocks in the water!
Sample some traditional Greek food at the restaurants in Perissa. You'll also be able to find sandwiches and such if you're traveling with kids with a picky appetite.
Best for Budget Travelers: Perivolos
The small village of Perivolos is located near Perissa but offers accommodations at a much lower price point. You can spend the money you would have spent on a hotel on other activities such as scuba diving and water sports or you can explore any of the free or cheap activities in the area.
Where to Stay
Nikolas Villas Aparthotel is a budget option, but it doesn't feel like it. The rooms are simple, clean, and comfortable, and the shared outdoor spaces have the typical Santorini charm. You can sit by the pool and recharge, and the apartment-style accommodations have small fridges and basic cooking equipment so you can make some of your meals yourself.
Highlights
Soak in the sun at Perivolos Beach. This long beach is known for crystal-clear water and black sand and has umbrellas, beach loungers, and lifeguards on duty.
Cycle through the area, admiring the landscape and the villages of Santorini. The Nikolas Village Aparthotel is located near several bike rental establishments, some within walking distance. 
Taste fresh seafood at one of the beachside restaurants like Dodo's. Not only can you get some amazing food, but you can also enjoy traditional Greek dancing on certain nights.
Best for a Romantic Getaway: Imerovigli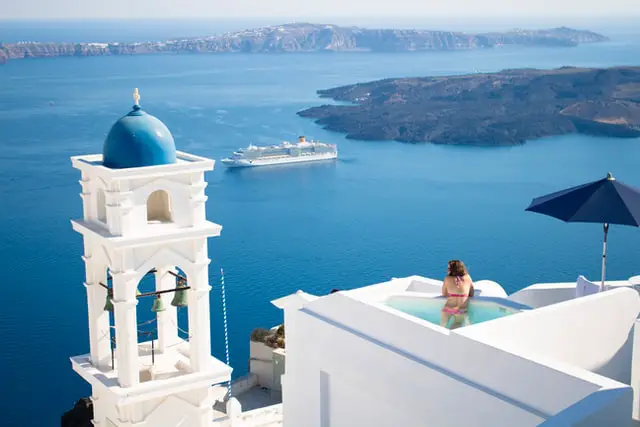 The dreamy village of Imerovigli is absolutely perfect for a romantic getaway. Perched high over the ocean, Imerovigli is known as the "Balcony to the Aegean" and provides stunning views of Santorini's famous sunset. You can enjoy many of the perks of Santorini's larger towns while also enjoying a romantic and secluded getaway.
Where to Stay
Kapari Natural Resort is an absolutely stunning place to stay in Imerovigli. You can enjoy unparalleled views of the caldera and luxurious accommodations with amenities such as a private outdoor pool and separate seating areas that include fireplaces in certain rooms.
Highlights
Discover Santorini's history at Skaros Rock. This rock formation was created due to volcanic activity that took place hundreds of years ago and was the site of a prominent fortress in the 13th and 14th century. You can hike there today, enjoying the sights as well as the history.
Catch a glimpse of the sunset from Imerovigli. While this is something you can and should do from anywhere on Santorini, the sights that Imerovigli's relatively high elevation allow are truly remarkable.
Admire the blue-domed roof of the Anastasi Church. Built in 1865, this church exemplifies Santorini's religious architecture as well as the classic blue and white color scheme of the island's beautiful buildings.
Best for Your First Time to Santorini: Oia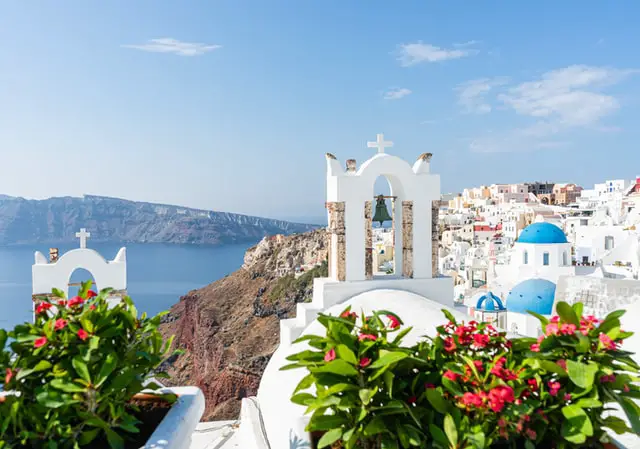 Oia is the classic Santorini village that is known for its whitewashed buildings and stunning sunset views. If you're heading to Greece for the first time and want to stay somewhere you can see and do as much as you can, Oia is the place for you.
Where to Stay
The Alexander's Suites in Oia offer the quintessential cave-like architectural style that Santorini is known for, and guests can enjoy a blend of traditional and luxurious. Despite being an absolutely stunning place to stay, the Alexander Suites are not overly expensive and standard rooms can be booked for anywhere between $150 and $200.
Highlights
Explore the alleyways and staircases that wind through the town of Oia. You can get some amazing photos while you're exploring and experience the more authentic side of Oia.
See the most famous view of the Santorini sunset. People travel from all over to see it in person and although certain areas may be crowded, the sight is absolutely worth it.
Take the steps down to Amoudi Bay where you can enjoy the views of the red rock cliffs and crystal-clear water. You can also step onto some of the boats in the cove – some boats even house eateries where you can sample delicious Greek fare.
Learn about Santorini's history by visiting art galleries and museums such as Mnemossyne Gallery and the Museum of Musical Instruments.
Best to Experience the Nightlife: Fira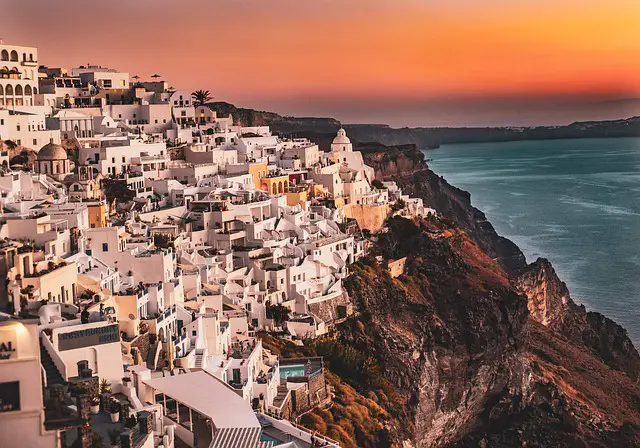 Fira is Santorini's capital city and boasts a cosmopolitan ambiance. It's the place to go if you want to experience the island's nightlife as there are many clubs and bars to visit, each with a different vibe. If you're ready to party and enjoy the sunny weather, Fira is the city for you.
Where to Stay
Athina Luxury Suites – the name says it all! This beautiful hotel offers exquisite accommodations and guests can enjoy amenities such as a gorgeous pool, a cafe with sunset views, and services such as hair and nail appointments can be made upon request. It's an ideal place to recharge and get ready for a night out in Fira.
Highlights
Dance the night away at the many nightclubs in Fira such as Enigma, which offers a traditional nightclub setting.
Take the steps down to the port and then ride the cable car back up. The cable car was built in the 1980s and allows you to enjoy the views without taking the 500+ steps up to Fira.
Browse boutiques and shops in Fira and pick up a souvenir. There are many small vendors selling locally made goods so you can pick up an authentic piece of Santorini to take home with you while also supporting local artisans.
Travel resources for planning a trip to Santorini
To make planning a trip to Santorini easier, we included some of our recommended travel resources below. You can search and find the best flights, transportation options, hotels to stay in, tours/activities, and things you can do in each destination during your trip to Santorini.
Flights: 
Agoda: Search thousands of destinations around the world & quickly compare prices to find amazing deals on the best flights.
CheapOAir: You can find airline tickets, hotel rooms, rental cars, and vacation packages all on one site!
Kiwi.com: What we like about Kiwi is the fact that they are able to create combinations of flight, train, and bus tickets and offer them in a single itinerary. Also, Kiwi has what they called "Nomad" which helps you find the best way of visiting multiple destinations, saving you time and money.
JetRadar: You can search and compare airfares from 726 airlines and dozens of travel agencies and systems.
Hotels: 
Agoda: Agoda is one of the world's largest online travel accommodation platforms with a network of over 2,000,000 vacation rentals and hotels worldwide.
Hotellook: They have more than 250,000 hotels in 205 countries, working with data from more than 10 online booking systems, such as Booking.com, Agoda.com, Hotels.com, Expedia, and others.
Transportations: 
Airport Transfers: KiwiTaxi, Viator
Train: EuRail, Trainline or RailEurope 
Bus: Flixbus: Very affordable (as low as $6) and convenient way to transfer between cities in Europe.
Car Rentals: AutoEurope, EconomyBookings, or  GetTransfer (transfers & car rentals with a personal driver)
Bike Rental: BikesBooking (Bikes & scooter rentals) 
Transportation Comparison: Omio (search, compare, and book tickets for buses, trains, and flights all in one site)
Tours & Activities:
TakeWalks (WalkofItaly): This is our favorite site for walking tours & day trips.
Tiqets: Great site for entrance tickets. It offers directly bookable, instantly available, and completely mobile tickets for museums, shows, and attractions all over the world.
Musement: They have good activities and tours in Italy and Spain, also many great day trips you can choose from.
GetYourGuide: A large number of tours, excursions, and other travel activities
Viator: The largest one. It has everything from tours, attractions, shore excursions, and private guides in over 2,700 destinations worldwide. It also has many transportations and transfers options and some unique experiences we didn't find anywhere else.
Related Posts:
Need help planning a trip to Santorini?

Want to plan a trip to Santorini and other cities in Europe but don't know where to begin? If you find this type of multi-city trip planning to be too complicated to plan on your own, we're here to help!
At MultiCityTrips, multi-destination travel and complicated itineraries such as a trip that include visiting multiple cities, countries throughout Europe are our specialties. Contact us today to learn more about how one of our experienced travel experts/destination specialists can personalize your multi-city European trip and craft your European vacation package at the best price.
Don't want to start from scratch and need some trip inspiration? Check out our marketplace for customizable pre-designed packages available right now for many amazing destinations in Europe.
To learn more about how our process of trip planning works in detail, please see our "How It Works" page or check out our video on "How to Plan a Multi-City Trip to Europe in  5 Easy Steps"  here.
Have questions for us? Schedule a FREE Call with us here or contact one of the travel experts/destination specialists at [email protected], call/text us at (888)223-2316 today