If you're visiting a city as rich in culture and history as Paris, you might not have even considered leaving the main city area during your trip. There are so many options for day trips you can plan if you're staying in Paris. You can visit beautiful chateaus, stunning vineyards, and picturesque natural landmarks. No matter what your idea of a perfect vacation is, you have options for a perfect day trip from Paris!
Paris Travel & Planning Resources:
Find the best flights, train tickets, or rent a car for your trip to Paris. Also, find the list of the best hotels in Paris to stay in. First time in Paris and not sure where to stay? Here are our top three favorite hotels in Paris you might like:
Need more inspiration? Check out our blog post: Where to Stay in Paris which we listed Paris's best areas and neighborhoods you can stay in and visit during your stay.
Want to add more things to your Paris itinerary and day trips? You can find top attractions and things to do in Paris in addition to what already mentioned above here.
Related Posts:
Here are ten of our favorite day trips you can easily do from Paris. While there are many more, these ten are some of the best! Enjoy.
1. Château de Versailles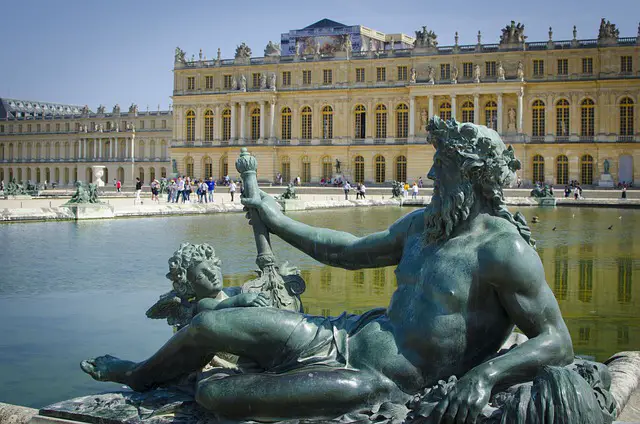 Located just 12 miles (20 kilometers) away from the center of Paris, the Château de Versailles is a UNESCO World Heritage Site and a popular tourist destination that was once home to royalty. The first royal who lived here was Louis XIV in 1682 and it remained a royal residence until the French Revolution in 1789. Today you can visit and easily spend a full day here exploring the grounds and the stunning interiors of this historic palace. One of the most beautiful sights in Versailles is the Hall of Mirrors, a Baroque gallery that features ornate decorations, works of art, and 350 individual mirrors. This iconic hall is where the Treaty of Versailles was signed.
If you're planning a trip to the Chateau de Versailles, it's best to plan ahead and come early so you can see iconic sights like the Hall of Mirrors with less crowds.
Looking for more related attractions and activities you can do in the area? Here are more things you can do during your trip to Chateau de Versailles.
2. Château de Fontainebleau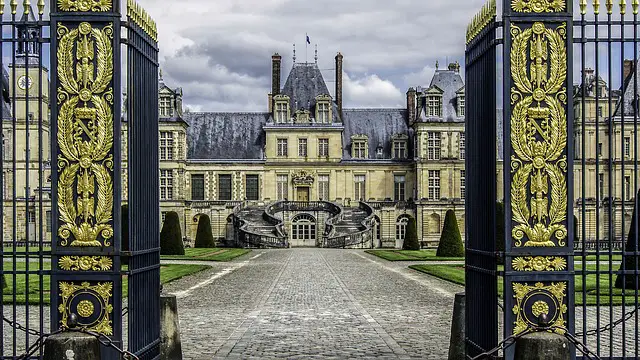 For another historic and impressive palace, check out the Château de Fontainebleau just 34 miles or 55 kilometers from the center of Paris. The structure traces its roots back to the Medieval Era and has been home to notable rulers such as Napoleon Bonaparte and Louis VIII. You can not only explore the history of this incredible palace but also wander through the surrounding area. There are many local businesses that you can pop into to grab a bite to eat or a souvenir.
Find more things you can do in the area while visiting Château de Fontainebleau here
3. Bruges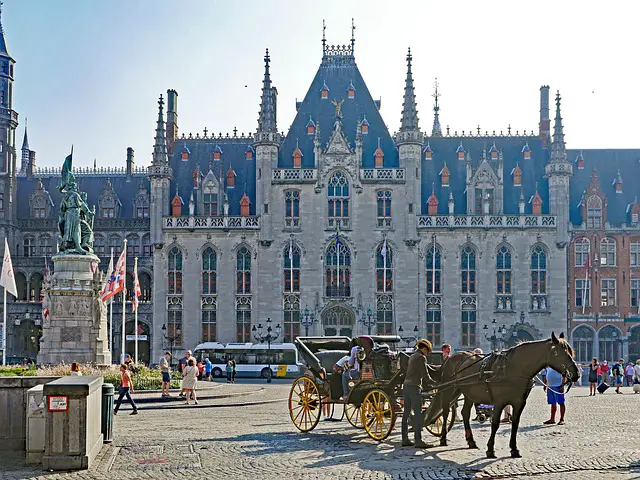 Although Bruges is located in the country of Belgium, it's just a three-hour drive away from the center of Paris. The entire city was designated a UNESCO Heritage Site due to its Gothic architecture and its rich history. It's also known for being a canal city similar to Venice. You can explore the extensive waterways and sample some delicious Belgian chocolates when you visit.
Find more things you can do in the area while visiting Bruges here
4. Senlis
Although it's often overlooked for other more famous destinations, Senlis is a beautiful place to visit in the Picardie region of France. It's a charming place, noted for its stunning architecture, winding cobblestone streets and alleyways, and three museums that visitors can explore. This is a great option for a more serene day trip, just an hour outside of Paris.
5. Mont Saint-Michel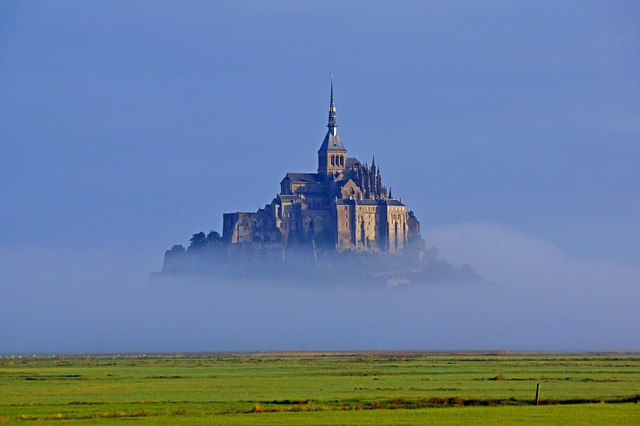 For a beautiful trip to the west of Paris, head to Mont-Saint-Michel castle which is located just off of the northwestern coast of France. It's located on the island of the same name and it dates back to 709 CE. It was first built as a  religious sanctuary and has had a long history and served many different purposes. During the French Revolution it was a prison, known as the "Bastille of the Sea".
Today, Mont-Saint-Michel castle is one of the most popular places to visit in all of France. It's about a four-hour drive from Paris, which means it would be a long day but it would definitely be worth it to see this historic site.
Looking for more Mont-Saint-Michel related tours & activities? See the full list of things to do in the area here.
6. Loire Valley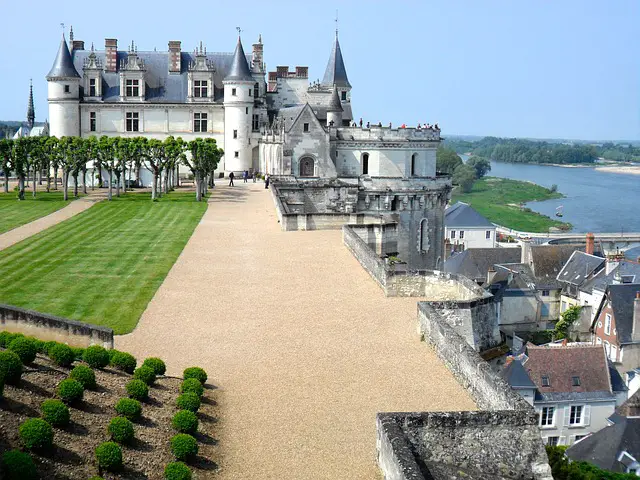 If you're interested in visiting one of the many beautiful wine regions of France you might not think that you have time to visit once if your trip is focused on Paris. However, just two hours away lies the beautiful Loire Valley that you can easily visit in a day. You can sample some lighter and fruity white wines such as Sauvignon Blanc or Muscadet, as well as indulging in some roses, sparkling wines, or flavorful dessert wines.
Looking for tours & activities? See the full list of things to do in the area while visiting Loire Valley here.
7. Normandy Beaches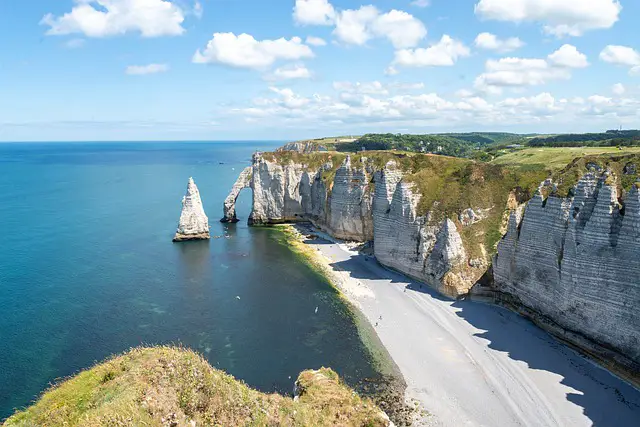 If you're interested in world history, a trip to the beaches of Normandy is a must. Located just about two and a half hours away from the center of Paris, this 50-mile stretch of stunning beaches with its impressive coastal cliffs may seem peaceful today but was the site of the Allied Invasion of Normandy on June 6th, 1944. Although this military action led to severe casualties, it was responsible for turning the tide of the war which eventually led to an Allied victory.
As the stretch of beaches is quite large, there are plenty of things you can do when you visit. You can take tours, visit museums and monuments, or simply sit and appreciate the gravity of the history that took place here.
8. Giverny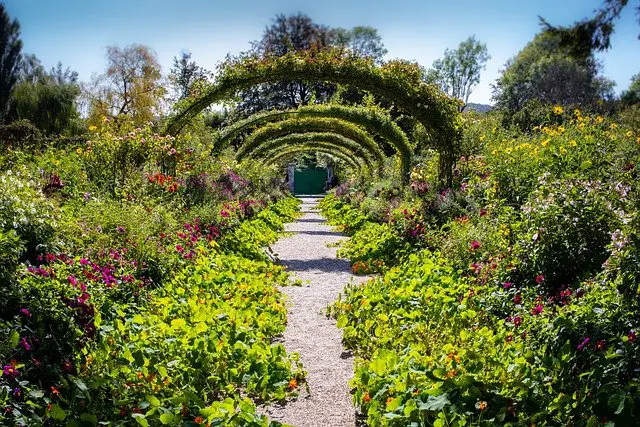 Giverny is just over an hour west of Paris, making it a great and easy option of a day trip. It's a beautiful village that has inspired artists for centuries. One of the most famous artists who settled here was noted impressionist painter Claude Monet. Monet had a house that he lived in for 43 years where he created many of his most famous works of art. The house is surrounded by a beautiful garden where Monet planted thousands of flowers, citing them as a major source of inspiration. You can visit these beautiful gardens and the house itself to this day.
9. Champagne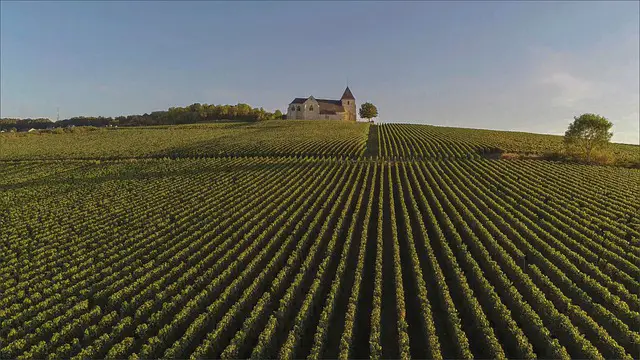 For another delightful wine region, head about two hours east from the center of Paris to find Champagne, the only place in the world where champagne is produced. Sparkling wine is produced in many places and you might have had some that was incorrectly referred to as champagne, but official authentic champagne is from this particular region. You can also find Chardonnays, Pinot Noirs, and Pinot Meurniers in this iconic wine region which is a must for any wine drinker.
Find more exciting things to do in Champaign, France here.
10. Provins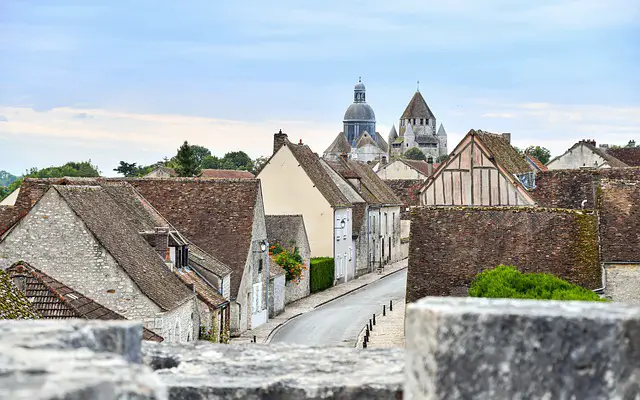 Accessible by train, bus, or car, the village of Provins is a delightful destination just over an hour away from Paris. Located in the southeastern part of the country, a trip to this Medieval town is like stepping back into time. You can visit fortresses, towers, churches, and more – and durings some parts of the year you can actually attend reenactments of Medieval events.
More Day Trips from Paris
Here are some other amazing day trips from Paris you might like.
Related Posts:
Travel Resources for Planning a Trip to Paris and Day Trips from Paris
To make planning your trip to Paris and day trips from Paris easier, we included some of our recommended travel resources below. You can search and find the best flights, transportation options, hotels to stay in, tours/activities, and things you can do in each destination during your trip.
Flights: 
Agoda: Search thousands of destinations around the world & quickly compare prices to find amazing deals on the best flights.
CheapOAir: You can find airline tickets, hotel rooms, rental cars, and vacation packages all on one site!
Kiwi.com: What we like about Kiwi is the fact that they are able to create combinations of flight, train, and bus tickets and offer them in a single itinerary. Also, Kiwi has what they called "Nomad" which helps you find the best way of visiting multiple destinations, saving you time and money.
JetRadar: You can search and compare airfares from 726 airlines and dozens of travel agencies and systems.
Hotels: 
Agoda: Agoda is one of the world's largest online travel accommodation platforms with a network of over 2,000,000 vacation rentals and hotels worldwide.
Hotellook: They have more than 250,000 hotels in 205 countries, working with data from more than 10 online booking systems, such as Booking.com, Agoda.com, Hotels.com, Expedia, and others.
Transportations: 
Airport Transfers: KiwiTaxi, Viator
Train: Trainline or RailEurope 
Bus: Flixbus: Very affordable (as low as $6) and convenient way to transfer between cities in Europe.
Car Rentals: AutoEurope, EconomyBookings, or  GetTransfer (transfers & car rentals with a personal driver)
Bike Rental: BikesBooking (Bikes & scooter rentals) 
Transportation Comparison: Omio (search, compare, and book tickets for buses, trains, and flights all in one site)
Tours & Activities:
TakeWalks (WalkofItaly): This is our favorite site for walking tours & day trips.
Tiqets: Great site for entrance tickets. It offers directly bookable, instantly available, and completely mobile tickets for museums, shows, and attractions all over the world.
Musement: They have good activities and tours in Italy and Spain, also many great day trips you can choose from.
GetYourGuide: A large number of tours, excursions, and other travel activities
Viator: The largest one. It has everything from tours, attractions, shore excursions, and private guides in over 2,700 destinations worldwide. It also has many transportations and transfers options and some unique experiences we didn't find anywhere else.
Need help planning a trip to Paris?
Want to plan a trip to Paris and other European destinations but don't know where to begin? If you find this type of trip planning to be too complicated to plan on your own, we're here to help!
At MultiCityTrips, multi-destination travel and complicated itineraries such as a trip to Paris with day trips outside Paris are our specialties. Contact us today to learn more about how one of our experienced travel experts/destination specialists can personalize your multi-city vacations at the best price.
Don't want to start from scratch and need some trip inspiration? Check out our marketplace for customizable pre-designed packages available right now for many amazing destinations.
To learn more about how our process of trip planning works in detail, please see our "How It Works" page or check out our video on "How to Plan a Multi-City Trip to Europe in  5 Easy Steps"  here.
Have questions for us? Schedule a FREE Call with us here or contact one of the travel experts/destination specialists at [email protected], call/text us at (888)223-2316 today.
Related Posts