Located along the picturesque Amalfi Coast, the town of Positano, Italy is a prime destination for tourists of all kinds. Whether you're interested in an exciting adventure or a low-key chance to unwind, you'll be able to find it here. If you're planning a trip to Positano you might be wondering where exactly you should stay and if that's you, this guide will help you decide which neighborhood or area of town you should choose to stay in depending on what type of traveler you are.
Related Posts:
Here are the best places to stay in Positano if…
…you're a first time visitor.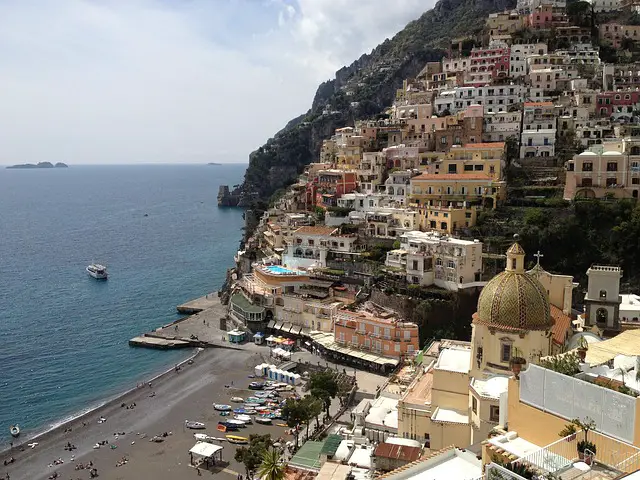 While you'll have a great experience no matter where you stay in Positano, if you're visiting for the first time you should try to stay near Lower Positano. This neighborhood is closer to the beach and has better opportunities for nightlife than other neighborhoods of the city. You can also enjoy better beach access and stunning views without having to deal with any steep inclines.
Consider staying at the Villa Flavio Gioia. This Mediterranean-style villa overlooking the sea and less than 3 minutes' walk from both the beach and the Positano ferry.
…you're on a budget.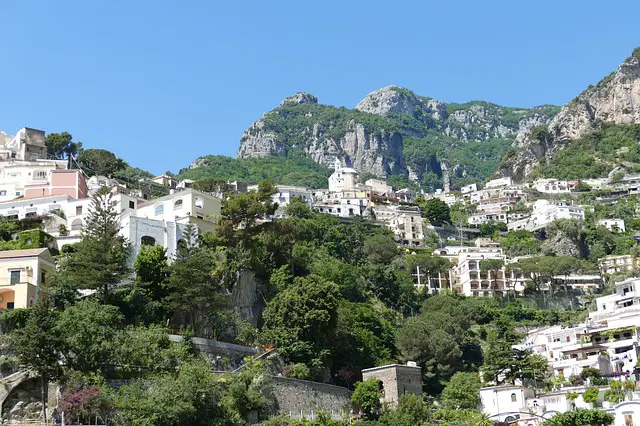 If you're on a budget and aren't sure where you should stay in Positano, check out the Chiesa Nuova neighborhood of Positano. You can find some affordable hotels and hostels in Chiesa Nuova. For example, you can stay at the hostel Brikette. This laid-back hostel offers free wi-fi – although you won't want to spend your time there browsing the internet when you can soak in the stunning views from the hotel's rooftop terrace. It's located above the beach so while you won't have direct access to the ocean, you'll be close by which means you can enjoy the coast but minimize the amount of noise you might hear from beachgoers when you're more interested in a quiet moment. It's an affordable and clean experience that is ideal for budget travelers.
…you're looking for a bit of luxury.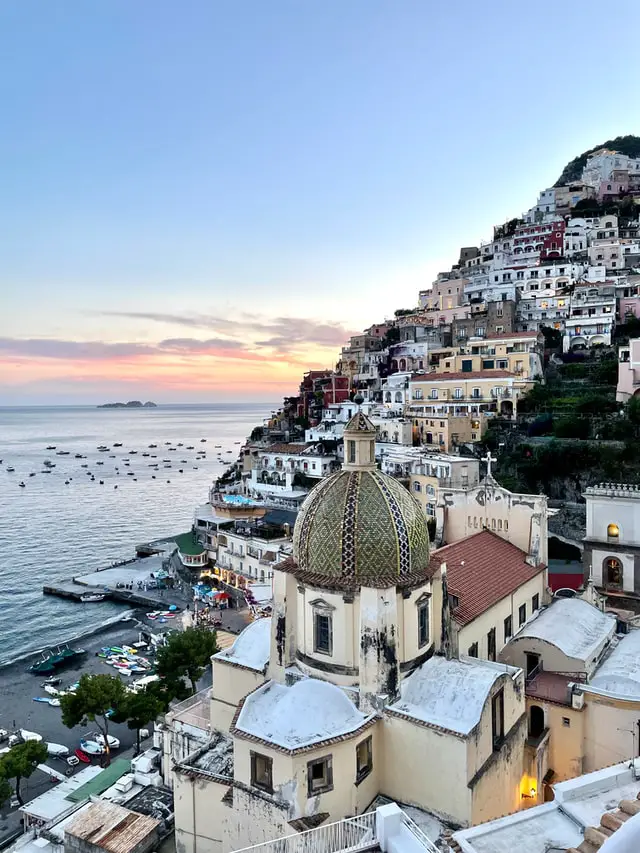 If you're looking for a luxurious retreat, look no further than the small village of Montepertuso. This charming and historic village was once only accessible to those willing to climb an intimidating flight of 1,500 stairs – but luckily a road was built in the recent decades making it much easier to get to. That said, the stairs still exist and are open to anyone who is interested in a historic challenge!
Although it's in upper Positano, it offers easy transportation to the center of Positano and its lower district. It also offers more dining establishments than areas like Nocelle so it's a great place to base yourself if you'd like options and are looking for something in between the intimacy of Nocelle and the crowds of Lower Positano.
There are many upscale hotels in Montepertuso, and one of the most popular is the adults-only Le Sirenuse. This impressive retreat offers unmatched views of the Tyrrhenian Sea and guests who stay at this luxurious retreat can enjoy the pool, the spa, the hot tub, and direct beach access. You can book a room with a courtyard view or a sea view. The rooms may include private terraces or balconies depending on location and are all decorated in a breezy and refined manner.
…you're on a romantic getaway.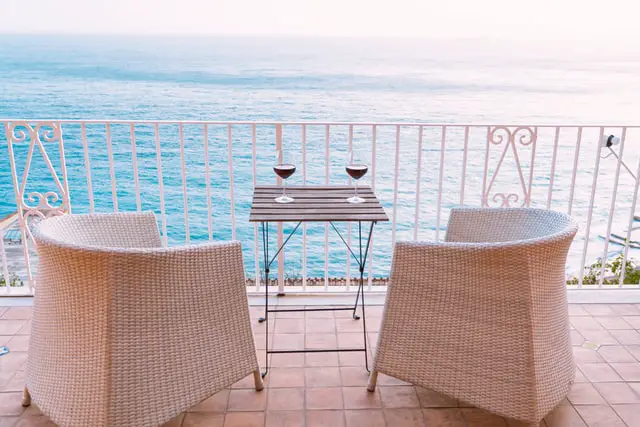 The small mountain village of Nocelle is a considerably less touristy experience than a neighborhood like Lower Positano and offers visitors absolutely magical views and a calm and serene environment where you and your partner can unwind and connect. You can explore the famous Sentiero degli Dei and soak in the stunning environment and enjoy dinner and wine while watching the sunset together at one of Nocelle's many cafes and restaurants.
Nocelle has many boutique hotels and villas that you can choose from when you stay. One of the best is the Residence Villa degli Dei. It features spacious airy rooms with beautiful views as well as a beautiful infinity pool that is lit up at night for a magical experience.
Another great option is the Villa Antica Macina B & B. This beautiful bed and breakfast option offers a quaint and charming location that includes stunning views from the terrace as well as a fresh breakfast every day.
…you're traveling with your family.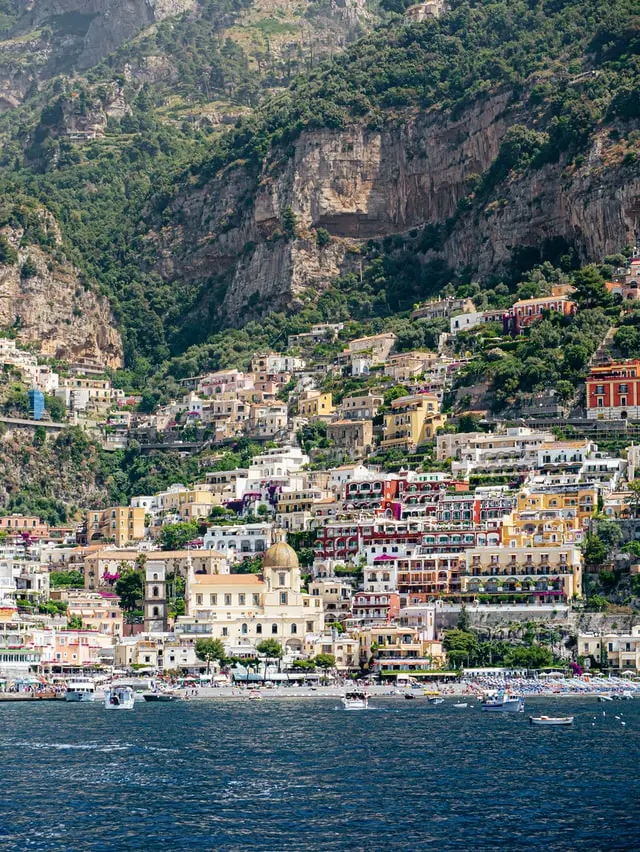 If you're traveling to Positano with your family, you might be wondering if there's a place that can accommodate family members of all ages. And the answer is yes! Positano is full of beautiful hotels and villas with private apartments that are ideal if you're traveling with a larger group. The beachside Hotel Santa Caterina has a private beach that is accessible by glass elevator for a unique experience! The spacious suites and rooms are ideal for families and the hotel is run by the descendants of the founder.
For a larger option, a hotel like the Villa la Tartana will offer you a private townhome experience with beautiful views from the private terrace.
…you want to experience the nightlife.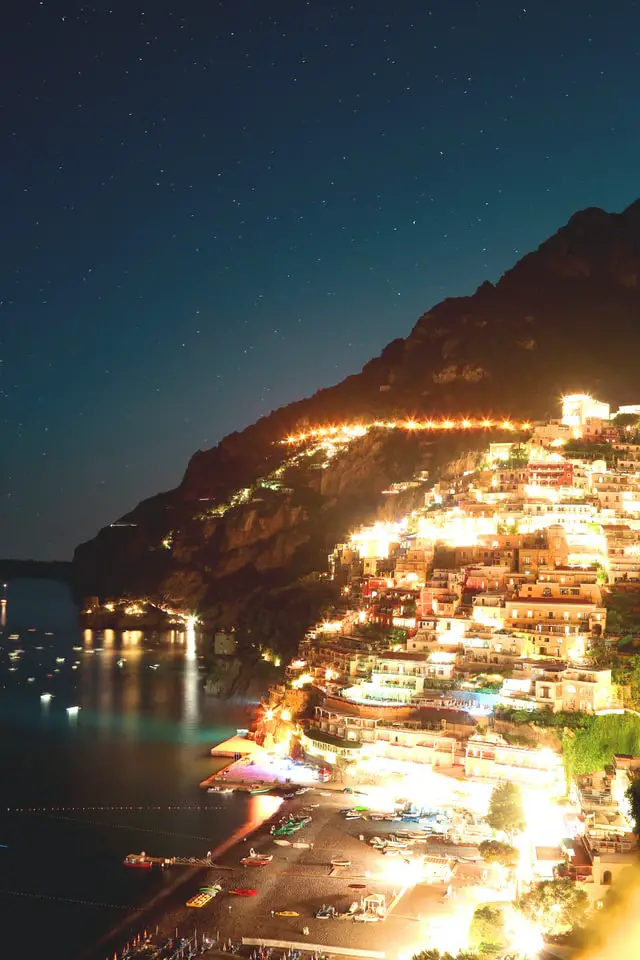 Positano has several exciting nightlife options that will appeal to you no matter what your tastes are. There are several restaurants and bars along the beach where you can indulge in dinner, drinks, and an unmatched beach atmosphere.
One of the best nightlife spots in Positano is La Buca di Bacco. It's been a popular destination for celebrities and artists for years and has long been a beloved tavern in the region. It's also a hotel that is perfect to stay in if you're looking for an accessible taste of luxury in this incredible coastal town.
…you're looking for the best place to stay in Positano overall.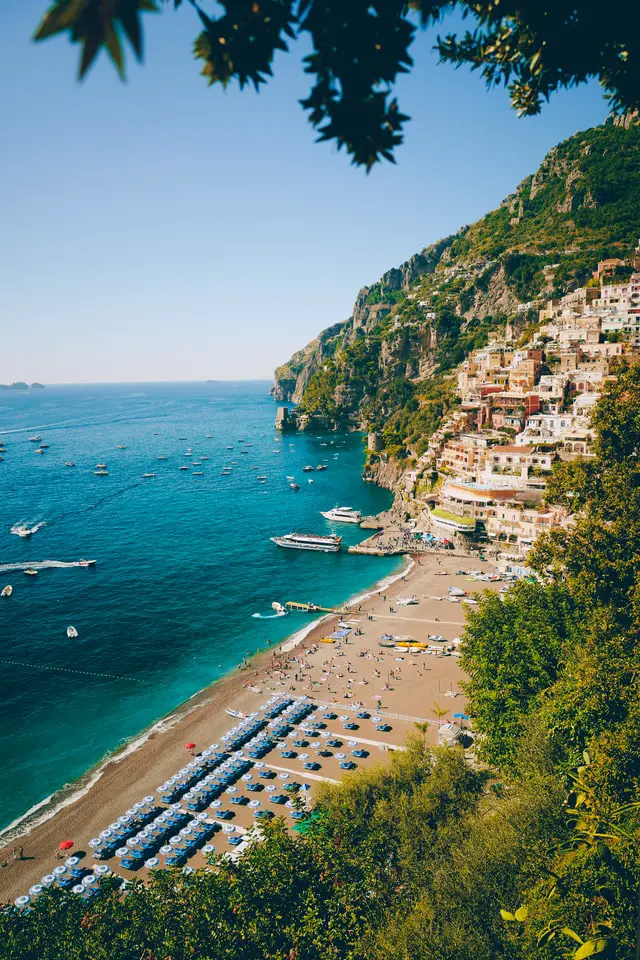 If you're looking for the best place to stay in Positano no matter what type of traveler you are, consider a stay at the stunning historic Villa Rosa. Located just a few minutes from the city center, this hotel is perfectly situated for anyone who wants to explore the best of what Positano has to offer. The bright and airy accommodations are an ideal respite from the hustle and bustle of the rest of the region and are an ideal place to unwind after a day of exploring the historic sites or an evening of indulging in the nightlife. It's truly the place to stay if you're looking for the best of every world!
Don't see what you are looking for? Find more amazing hotels in Positano here.
Travel resources for planning a trip to Positano
To make planning a trip to Positano easier, we included some of our recommended travel resources below. You can search and find the best flights, transportation options, hotels to stay in, tours/activities, and things you can do in each destination during your trip to Positano.
Flights: 
Agoda: Search thousands of destinations around the world & quickly compare prices to find amazing deals on the best flights.
CheapOAir: You can find airline tickets, hotel rooms, rental cars, and vacation packages all on one site!
Kiwi.com: What we like about Kiwi is the fact that they are able to create combinations of flight, train, and bus tickets and offer them in a single itinerary. Also, Kiwi has what they called "Nomad" which helps you find the best way of visiting multiple destinations, saving you time and money.
JetRadar: You can search and compare airfares from 726 airlines and dozens of travel agencies and systems.
Hotels: 
Agoda: Agoda is one of the world's largest online travel accommodation platforms with a network of over 2,000,000 vacation rentals and hotels worldwide.
Hotellook: They have more than 250,000 hotels in 205 countries, working with data from more than 10 online booking systems, such as Booking.com, Agoda.com, Hotels.com, Expedia, and others.
Transportations: 
Airport Transfers: KiwiTaxi, Viator
Train: EuRail, Trainline or RailEurope 
Bus: Flixbus: Very affordable (as low as $6) and convenient way to transfer between cities in Europe.
Car Rentals: AutoEurope, EconomyBookings, or  GetTransfer (transfers & car rentals with a personal driver)
Bike Rental: BikesBooking (Bikes & scooter rentals) 
Transportation Comparison: Omio (search, compare, and book tickets for buses, trains, and flights all in one site)
Tours & Activities:
TakeWalks (WalkofItaly): This is our favorite site for walking tours & day trips.
Tiqets: Great site for entrance tickets. It offers directly bookable, instantly available, and completely mobile tickets for museums, shows, and attractions all over the world.
Musement: They have good activities and tours in Italy and Spain, also many great day trips you can choose from.
GetYourGuide: A large number of tours, excursions, and other travel activities
Viator: The largest one. It has everything from tours, attractions, shore excursions, and private guides in over 2,700 destinations worldwide. It also has many transportations and transfers options and some unique experiences we didn't find anywhere else.
Related Posts:
Need help planning a trip to Positano?

Want to plan a trip to Positano and other cities in Europe but don't know where to begin? If you find this type of multi-city trip planning to be too complicated to plan on your own, we're here to help!
At MultiCityTrips, multi-destination travel and complicated itineraries such as a trip that include visiting multiple cities, countries throughout Europe are our specialties. Contact us today to learn more about how one of our experienced travel experts/destination specialists can personalize your multi-city European trip and craft your European vacation package at the best price.
Don't want to start from scratch and need some trip inspiration? Check out our marketplace for customizable pre-designed packages available right now for many amazing destinations in Europe.
To learn more about how our process of trip planning works in detail, please see our "How It Works" page or check out our video on "How to Plan a Multi-City Trip to Europe in  5 Easy Steps"  here.
Have questions for us? Schedule a FREE Call with us here or contact one of the travel experts/destination specialists at [email protected], call/text us at (888)223-2316 today