The country of Croatia is a popular tourist destination these days, with many heading to the historic cities of Dubrovnik and Zagreb, and exploring the beauty of Plitvice Lakes National Park. One of the most stunning aspects of Croatia are the series of islands that border its shores, each of which is worth a visit for a unique reason. If you're planning a trip to the region and are planning on visiting the islands of Croatia, here is a list of seven of the most beautiful islands in Croatia to visit.
Related Posts:
1. Vis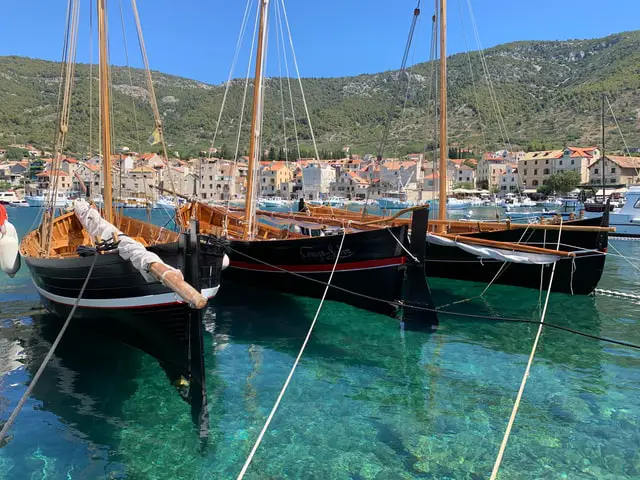 Vis is one of the best Croatian islands to visit as it offers warm weather, a stunning lush landscape, and incredible local food and wine.  For most of its history, Vis was a prominent fishing village and interestingly for most of its history, it was not open to visitors. It only became a tourist destination in 1989 and ever since then, many have visited the idyllic shores of the island. It may look familiar to movie fans – it served as a filming location for the film Mamma Mia 2!
Vis is an ideal place to grow the grapes that produce some of Croatia's most exclusive wines – Plavac and Vugava. Vugava in particular is hard to grow, requiring constant maintenance, and may be an ancestor to the well-regarded French Vigoneir grape. If you're a wine aficionado, a trip to Vis is an absolute must.
2. Korcula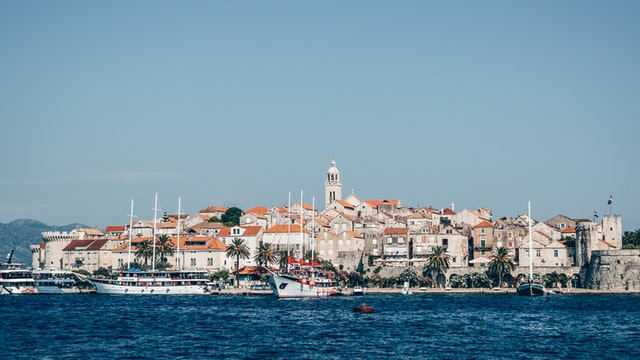 Located just off the Dalmatian coast, the picturesque island of Korcula has long been a fantastic place for Croatian culture. Notable for its Medieval walls and Gothic-Renaissance architecture, Korcula is an ideal destination for history lovers. It's also a great place to enjoy the water – you can take kayaking tours around the island. Make sure you take the time to sample some Pošip at the family-owned Toreta Winery. This light white wine is produced with local grapes and pairs wonderfully with seafood dishes.
3. Mljet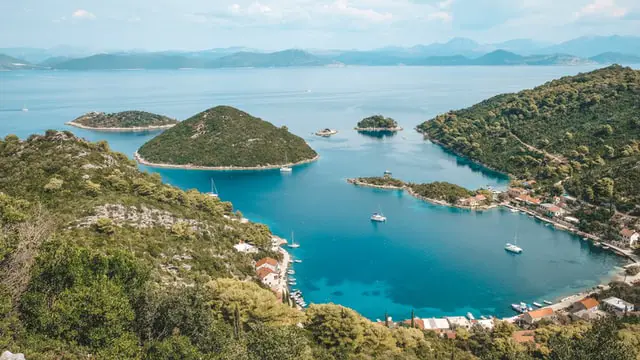 Mljet is only accessible via ferry so you'll be able to take in the view of this lush island paradise as you approach it. This beautiful spot is one of the best islands in Croatia for many reasons including the lack of mass tourism that the island attracts. This means you get to enjoy the sights and sounds of Mljet without overbearing crowds. Spend your time here hiking the northern part of the island (one of Croatia's National Parks), exploring coastal caves, and tasting locally made olives, cheese, and wine.
4. Krk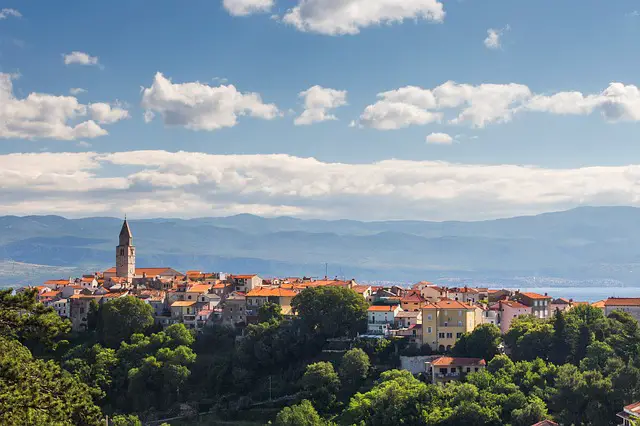 Not only is Krk a beautiful Croatian island, it's also one of the easiest to get to as you have the option to drive there! Take the concrete bridge from the town of Rijeka – it's also notable for being the longest concrete bridge in the world. Once you arrive in Krk you can enjoy all of the beauty the island has to offer.
During your visit, you can spend time relaxing on the beach, hiking through the natural landscape, and exploring some of the history and culture of Krk and Croatia as a whole. The town of Baska has fantastic museums, historic buildings, and churches. Baska is also the site of an art installation called Drops by Chilean authors Smiljan Radić and Marcela Correa. It is designed to enhance the natural beauty of the site and is well worth a visit.
5. Šolta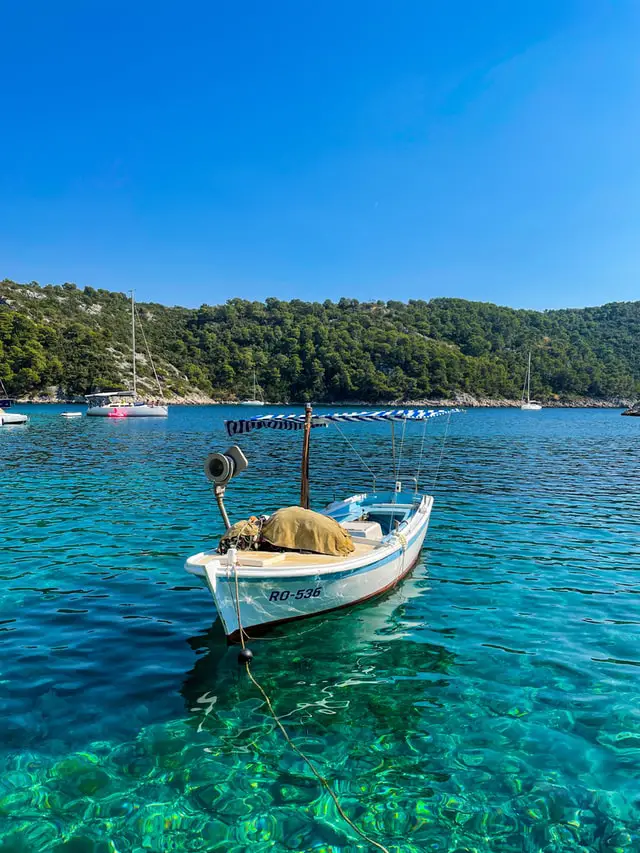 Gorgeous coastal coves and quaint farmland define Solta, a small yet incredible island. It's located just an hour away by ferry from the major Croatian city of Split and is a popular place to visit for locals and tourists alike. While Split is worth visiting and has plenty to offer, Solta is a peaceful and beautiful alternative. If you enjoy fishing, you'll have plenty of opportunities to try it in Solta. If you're not a fan of fishing but you enjoy the byproduct, you can also enjoy some delicious fresh seafood dishes when you visit!
The lush land of Solta means that the food produced here is excellent. While everything is good, Solta specializes in honey, olive oil, and red wine. These rich flavors and more make Solta a can-t-miss Croatian island destination.
6. Krapanj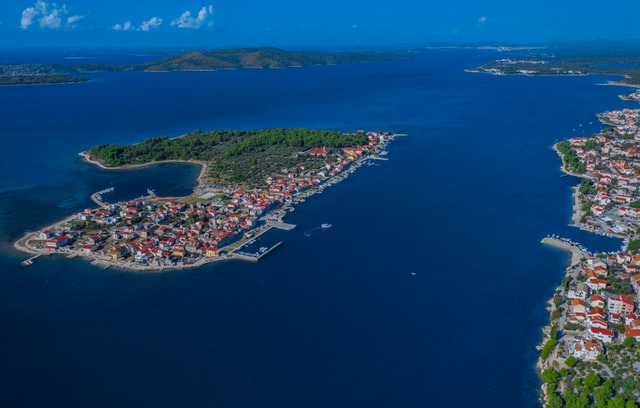 If you're looking for a small island getaway, look no further than Krapanj. Naturally made from limestone and dolomite, Krapanj is about .14 square miles in total. Although small, Krapanj is worth visiting for anyone who is interested in underwater diving as that has long been the primary industry of the island. Interestingly, the main reason for this diving was to collect natural sea sponges and Krapanj is even home to a sponge museum! Today you can dive simply for pleasure and there are many opportunities to rent equipment or take lessons if you're not quite as experienced with the activity.
7. Hvar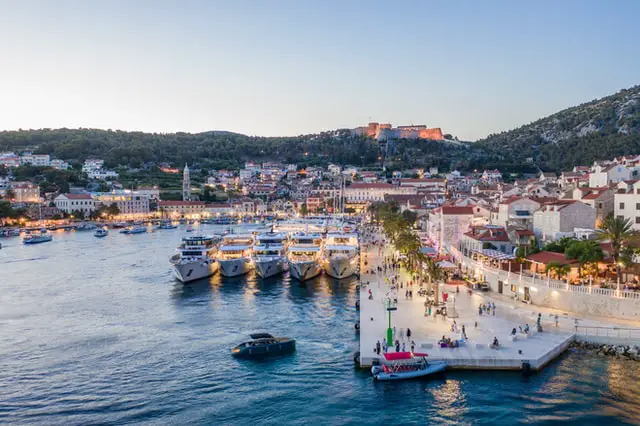 It's no secret that the Croatian island of Hvar is one of the best and most beautiful islands in Croatia to visit. It has a long list of celebrity visitors, many of whom have enjoyed the nightlife and parties the island has to offer as well as the charm of the rugged coastal landscape. The crystalline turquoise waters of the Adriatic sea sparkle in the Mediterranean sun and provide an amazing location to swim, go boating, or even try your hand at scuba diving or snorkeling.
Hvar also has several amazing towns such as the historic Stari Grad. It offers a relaxed atmosphere where you can admire the white-washed buildings and explore small shops and cafes. Hvar Town is also a great place to visit when you're on the island. It offers many of the perks of a historic European town and has also had a long prominent artistic and cultural history. It's also the site of the Hvar Summer Festival, a celebration of classical music that takes place both indoors and outdoors. You could easily spend weeks on the island of Hvar without getting bored and it's just one of the many incredible Croatian islands that you can visit on your next vacation to the area.
Video Guide: Coming Soon
Related Posts
Additional Resources for Planning a Trip to Croatia
You looking for the best islands in Croatia to visit and our travel resources make planning your trip to these destinations easier! Check out our recommended travel resources below. You can search and find the best flights, transportation options, hotels to stay in, tours/activities, and things you can do in each destination in Croatia during your trip.
Flights: 
Agoda: Search thousands of destinations around the world & quickly compare prices to find amazing deals on the best flights.
CheapOAir: You can find airline tickets, hotel rooms, rental cars, and vacation packages all on one site!
Kiwi.com: What we like about Kiwi is the fact that they are able to create combinations of flight, train, and bus tickets and offer them in a single itinerary. Also, Kiwi has what they called "Nomad" which helps you find the best way of visiting multiple destinations, saving you time and money.
JetRadar: You can search and compare airfares from 726 airlines and dozens of travel agencies and systems.
Hotels: 
Agoda: Agoda is one of the world's largest online travel accommodation platforms with a network of over 2,000,000 vacation rentals and hotels worldwide.
Hotellook: They have more than 250,000 hotels in 205 countries, working with data from more than 10 online booking systems, such as Booking.com, Agoda.com, Hotels.com, Expedia, and others.
Transportations: 
Airport Transfers: KiwiTaxi, Viator
Train: Trainline or RailEurope 
Bus: Flixbus: Very affordable (as low as $6) and convenient way to transfer between cities in Europe.
Car Rentals: AutoEurope, EconomyBookings, or  GetTransfer (transfers & car rentals with a personal driver)
Bike Rental: BikesBooking (Bikes & scooter rentals) 
Transportation Comparison: Omio (search, compare, and book tickets for buses, trains, and flights all in one site)
Tours & Activities:
TakeWalks (WalkofItaly): This is our favorite site for walking tours & day trips.
Tiqets: Great site for entrance tickets. It offers directly bookable, instantly available, and completely mobile tickets for museums, shows, and attractions all over the world.
Musement: They have good activities and tours in Italy and Spain, also many great day trips you can choose from.
GetYourGuide: A large number of tours, excursions, and other travel activities
Viator: The largest one. It has everything from tours, attractions, shore excursions, and private guides in over 2,700 destinations worldwide. It also has many transportations and transfers options and some unique experiences we didn't find anywhere else.
Need help planning a trip to Croatia?
Can't decide which islands in Croatia to visit or want to plan a trip to visit more destinations in Croatia, nearby cities, or countries but don't know where to begin? If you find this type of trip planning to be too complicated to plan on your own, we're here to help!
At MultiCityTrips, multi-destination travel and complicated itineraries such as a multi-city trip to Croatia are our specialties. Contact us today to learn more about how one of our experienced travel experts/destination specialists can personalize your multi-city vacations at the best price.
Don't want to start from scratch and need some trip inspiration? Check out our marketplace for customizable pre-designed packages available right now for many amazing destinations.
To learn more about how our process of trip planning works in detail, please see our "How It Works" page or check out our video on "How to Plan a Multi-City Trip to Europe in  5 Easy Steps"  here.
Have questions for us? Schedule a FREE Call with us here or contact one of the travel experts/destination specialists at [email protected], call/text us at (888)223-2316 today.