Greece and Croatia are two incredible destinations in Europe and if you're planning on visiting, these three Greece and Croatia itinerary ideas will help you plan the perfect two-week trip to the area. Each of these three travel guides is designed for a particular type of traveler so whether you're visiting for the first time, looking for outdoor adventure, or are hoping for a vacation that focuses on history, you'll find something that appeals to you here.
Read on to discover three amazing itineraries for a two-week vacation to Greece or Croatia.
Related Posts:
Two-Week Greece and Croatia Itinerary For First-Timers:
If you're heading to Greece and Croatia for the first time and you want to fit in as many of the iconic sights in the region as you can, this itinerary is perfect for you!
Start your first trip to the region by heading to Zagreb, Croatia's capital city. It offers a wide range of activities so you can spend your time here exploring museums, immersing yourself in Croatian culture, and getting adjusted to the country.
Next, continue to Split. Another iconic Croatian destination, this city is known for You can see various landmarks when you visit including the Diocletian Palace, a UNESCO World Heritage Site. The palace was built in the 4th century AD for the Roman Emperor Diocletian and today you can see a big portion of the structure as part of Split's Old Town area.
After you spend a few days in Dubrovnik, you'll fly south to start the Greek portion of your vacation in Athens. You can find direct flights from Dubrovnik to Athens that take under five hours. Once you land in Athens you can spend the rest of your day resting or exploring the city. There are many museums, notable historic sites, shops, and restaurants to visit and if you aren't sure where to start, consider a guided tour. You have plenty of choices for these tours, but if you'd rather explore on your own, make sure you check out the Acropolis and the Parthenon as they are the most iconic sites in the city.
After you get a taste of Athens, you'll be heading on to the sunny island of Santorini. This island is one of Greece's most iconic locations, and you'll be able to spend a few days exploring the narrow alleyways and staircases that lead you through the whitewashed, blue domed structures that contrast with the bright pops of color provided by the flowers and greenery that decorate the area. See the famous Santorini sunset, visit the ancient city of Thera, and spend at least a few hours relaxing and soaking in the beauty of Santorini.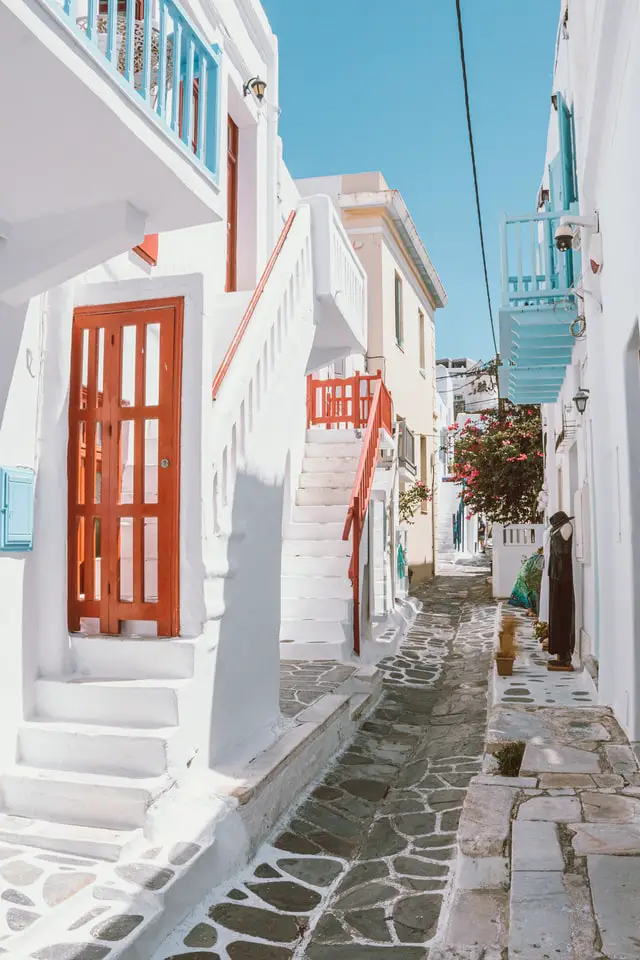 From Santorini, you'll continue onwards to Mykonos which is known for its vibrant nightlife scene as well as its beautiful beaches. This is your last stop on your trip before heading home so make sure you take advantage of everything Mykonos has to offer.
Two-Week Greece and Croatia Itinerary For the Adventure Seeker
If your idea of a dream vacation includes the great outdoors, physical activities, and new and thrilling experiences, this itinerary will take you to places in Croatia and Greece that will get your adrenaline flowing!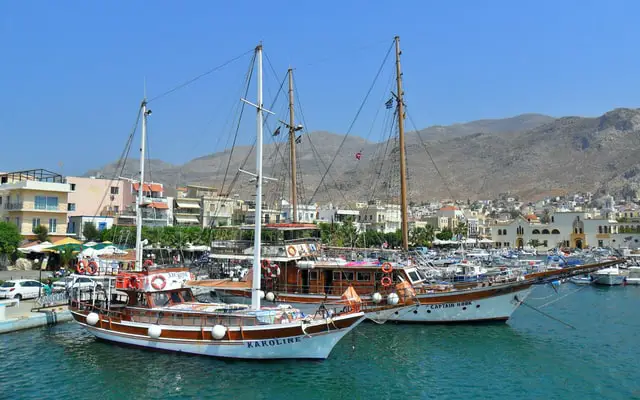 Start your adventure in Greece. Although you won't be spending much time here, you'll start by flying into Athens. There are a few other travel options to get you to your first destination, but flying into Athens is significantly cheaper and less time-consuming than other routes. From Athens, you will head on to the island of Kalymnos which is known for its incredible rock climbing opportunities. You can also spend your time here swimming, kayaking, and enjoying the nice weather.
Next, you'll continue onwards to Croatia. The easiest way to do this is to head to the nearby city of Athens to catch a flight to Dubrovnik. You can spend some time exploring the city (make sure you check out the historic walls!) and then you will continue onwards to the island of Korcula where you can spend a day or two hiking, walking, and exploring rocky cliff sides and caves.
After spending a day in Korcula, I continued onwards to Hvar. Hvar is a popular island that is known for its beautiful beaches which provide the perfect place to relax on the warm sand, or if you're looking for adventure you'll be able to find a wide variety of water sports to explore when you are there. Try swimming, parasailing, scuba diving, and more!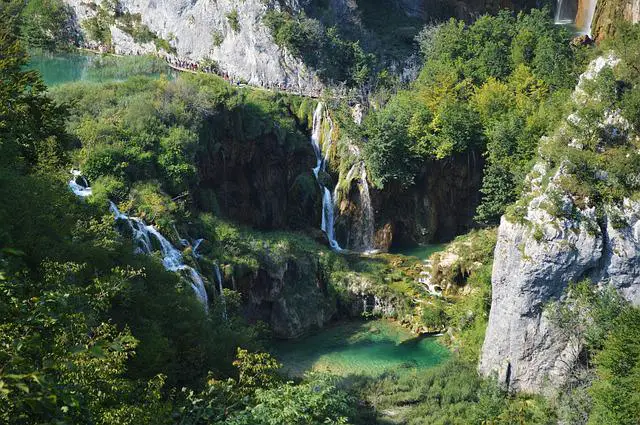 After a few days of exploring Hvar, you'll head to your final destination: Plitvice National Park by way of Split. You can drive or head to Zadar where you can catch a bus to the park. Plitvice Lakes National Park is the largest and oldest national park in Croatia. It was designated a UNESCO World Heritage Site in 1979 for its outstanding natural beauty, particularly its series of lakes and caves linked by a series of bright blue waterfalls and dotted with tufa limestone formations.
Once you are done visiting this iconic national park, you can either head back to Split or further northeast to Zagreb to find a nearby international airport to start your journey back home.
Two-Week Greece and Croatia Itinerary For the History Buff
If the main reason you're heading to Croatia and Greece is to walk in the footsteps of their historical figures and see ancient ruins, this two-week itinerary is what you're looking for.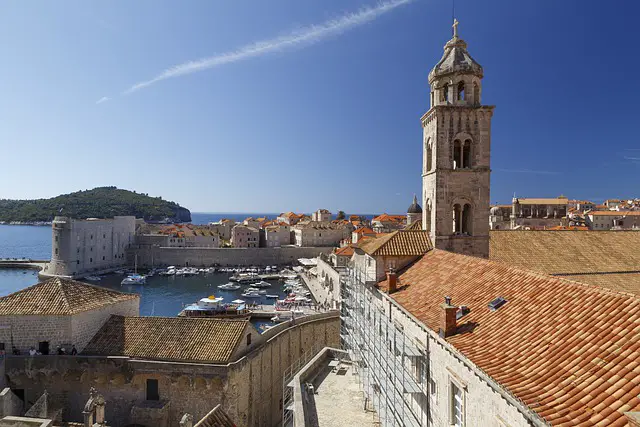 Start your two weeks off in Dubrovnik. The Dubrovnik Walls are one of the city's most famous attractions; you can walk along them and admire the view of the Old Town area, as well as climb Minceta Tower. The Renaissance Sponza Palace and the Gothic Rector's Palace, which is now a history museum, are also worth visiting to learn about the city's amazing history.
After several days in Dubrovnik, continue on to Greece by way of Athens. You can drive into Greece if you would prefer, but the trip can be quite long and there are no public buses or trains that allow you to make the journey easily. Instead, you can fly into Athens and continue on by using public transportation or renting a car.
Since you're in Athens, spend at least a day exploring the city. The Parthenon and the Acropolis are two of the most incredible historic landmarks in Greece if not all of Europe.
After Athens, head north to Delphi to see incredible archeological sites and museums. The ancient Greeks considered Delphi to be a mystical location and the center of the world. It was also the location where the Oracle of Delphi, a priestess named Pythia, lived. Today, visitors to Delphia can see the ruins of an ancient theater, the historic Temple of Apollo (where the Oracle of Delphi could be found), and much more.
Next, head west to the iconic historic site of Ancient Olympia, which is where the Ancient Olympic Games were originally held. Today, the ruins of some of those original venues can be seen, including a stadium where the judges stand and a tunnel that would have led competitors into the arena.
Next, finish your vacation through Croatia and Greece by heading to Sparta. You can explore the ruins of this historic city and learn about the fierce Spartan warriors. Sparta was also known for its social and political progress, which you can learn about at The Archeological Museum of Sparta. There is also an impressive statue of King Leonidas, the famous Spartan ruler who led his army to victory at the Battle of Thermopylae.
Video Guide: 3 Amazing 2-Week Greece & Croatia Itinerary Ideas
Related Posts
Additional travel resources for planning a trip to Greece and Croatia
To make planning a trip to Greece and Croatia easier, we included some of our recommended travel resources below. You can search and find the best flights, transportation options, hotels to stay in, tours/activities, and things you can do in each destination during your trip to Greece and Croatia, and other European cities.
Flights: 
Agoda: Search thousands of destinations around the world & quickly compare prices to find amazing deals on the best flights.
CheapOAir: You can find airline tickets, hotel rooms, rental cars, and vacation packages all on one site!
Kiwi.com: What we like about Kiwi is the fact that they are able to create combinations of flight, train, and bus tickets and offer them in a single itinerary. Also, Kiwi has what they called "Nomad" which helps you find the best way of visiting multiple destinations, saving you time and money.
JetRadar: You can search and compare airfares from 726 airlines and dozens of travel agencies and systems.
Hotels: 
Agoda: Agoda is one of the world's largest online travel accommodation platforms with a network of over 2,000,000 vacation rentals and hotels worldwide.
Hotellook: They have more than 250,000 hotels in 205 countries, working with data from more than 10 online booking systems, such as Booking.com, Agoda.com, Hotels.com, Expedia, and others.
Transportations: 
Airport Transfers: KiwiTaxi, Viator
Train: EuRail, Trainline or RailEurope 
Bus: Flixbus: Very affordable (as low as $6) and a convenient way to transfer between cities in Europe.
Car Rentals: AutoEurope, EconomyBookings, or  GetTransfer (transfers & car rentals with a personal driver)
Bike Rental: BikesBooking (Bikes & scooter rentals) 
Transportation Comparison: Omio (search, compare, and book tickets for buses, trains, and flights all in one site)
Tours & Activities:
TakeWalks (WalkofItaly): This is our favorite site for walking tours & day trips.
Tiqets: Great site for entrance tickets. It offers directly bookable, instantly available, and completely mobile tickets for museums, shows, and attractions all over the world.
Musement: They have good activities and tours in Italy and Spain, also many great day trips you can choose from.
GetYourGuide: A large number of tours, excursions, and other travel activities
Viator: The largest one. It has everything from tours, attractions, shore excursions, and private guides in over 2,700 destinations worldwide. It also has many transportations and transfer options and some unique experiences we didn't find anywhere else.
Need help planning a two-week trip to Greece and Croatia?
Want to plan a two-week or fourteen-day trip to Greece and Croatia but don't know where to begin? If you find this type of trip planning to be too complicated to plan on your own, we're here to help!
At MultiCityTrips, multi-destination travel and complicated itineraries such as a multi-city trip to Greece and Croatia are our specialties. Contact us today to learn more about how one of our experienced travel experts/destination specialists can personalize your multi-city vacations at the best price.
Don't want to start from scratch and need some trip inspiration? Check out our marketplace for customizable pre-designed packages available right now for many amazing destinations.
To learn more about how our process of trip planning works in detail, please see our "How It Works" page or check out our video on "How to Plan a Multi-City Trip to Europe in  5 Easy Steps"  here.
Have questions for us? Schedule a FREE Call with us here or contact one of the travel experts/destination specialists at [email protected], call/text us at (888)223-2316 today.