Switzerland is known for its breathtaking landscapes and natural wonders, including some of the world's most stunning lakes. These pristine bodies of water, located in the Swiss Alps, showcase the country's rich wilderness and natural heritage. Explore the "10 Most Beautiful Lakes in Switzerland," each offering a unique blend of tranquility, adventure, and scenic splendor. These lakes offer a unique experience for travelers seeking outdoor adventures, cultural experiences, or simply basking in nature's grandeur.
Related Posts:
1. Lake Lugano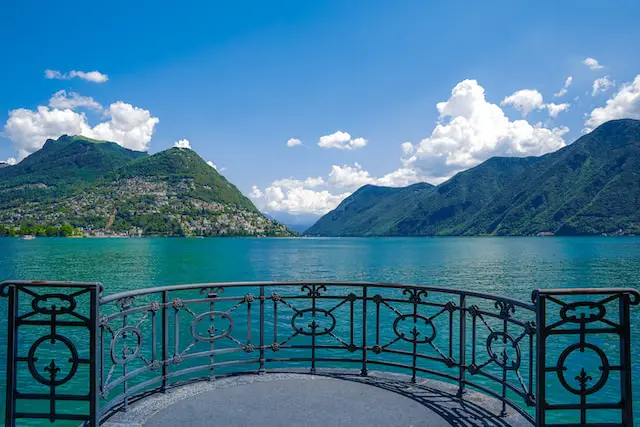 Lake Lugano, also known as Lake Ceresio, is a stunning natural wonder in southern Switzerland. With a long history dating back to the Bronze Age, it has been crucial to the region's economy and transportation, facilitating trade between Switzerland and Italy. The lake's deep blue hues make it ideal for water sports, swimming, boating, and other activities. The Swiss Alps surround the lake, providing an impressive backdrop for winter and spring.
Lake Lugano offers panoramic views from Monte Brè and Monte San Salvatore, and Swiss landmarks can be seen in Swiss Miniatur, an outdoor miniature park near Lugano. This tranquil haven combines Mediterranean charm with the Swiss Alps, offering outdoor experiences, sightseeing in old towns, and leisure time by the water.
2. Lake Neuchâtel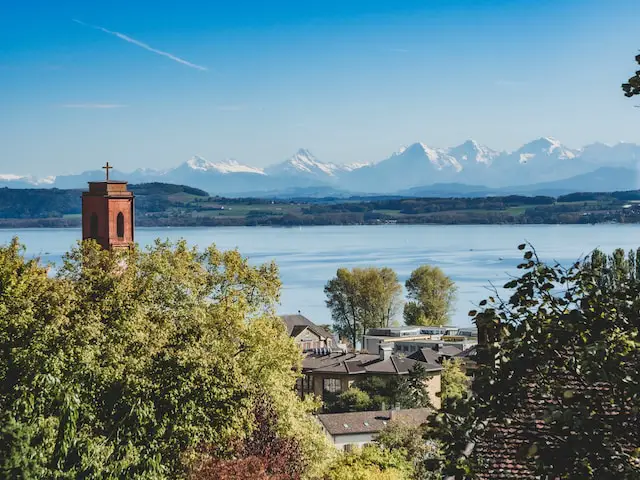 Lake Neuchâtel, the largest lake in Switzerland, has a rich history dating back to western Switzerland. Its strategic location has led to cultural and economic development, attracting tourists interested in history, trade, transportation, and regional industries like winemaking, watchmaking, and fishing. The lake's scenic setting, including lush vineyards, quaint villages, and the Jura Mountains, makes it an ideal location for swimming, water sports, and waterfowl species.
The lake's historic communities, including Neuchâtel, Yverdon-les-Bains, and Estavayer-le-Lac, offer unique charm and well-preserved medieval architecture. Visitors can explore Neuchâtel Castle, enjoy a relaxing lake cruise, and explore La Grande Cariçaie's expansive lakeside wetland. The lake offers a unique blend of scenic beauty, historical significance, and outdoor pursuits, making it a must-visit destination for tourists seeking a typical Swiss experience.
3. Lake Maggiore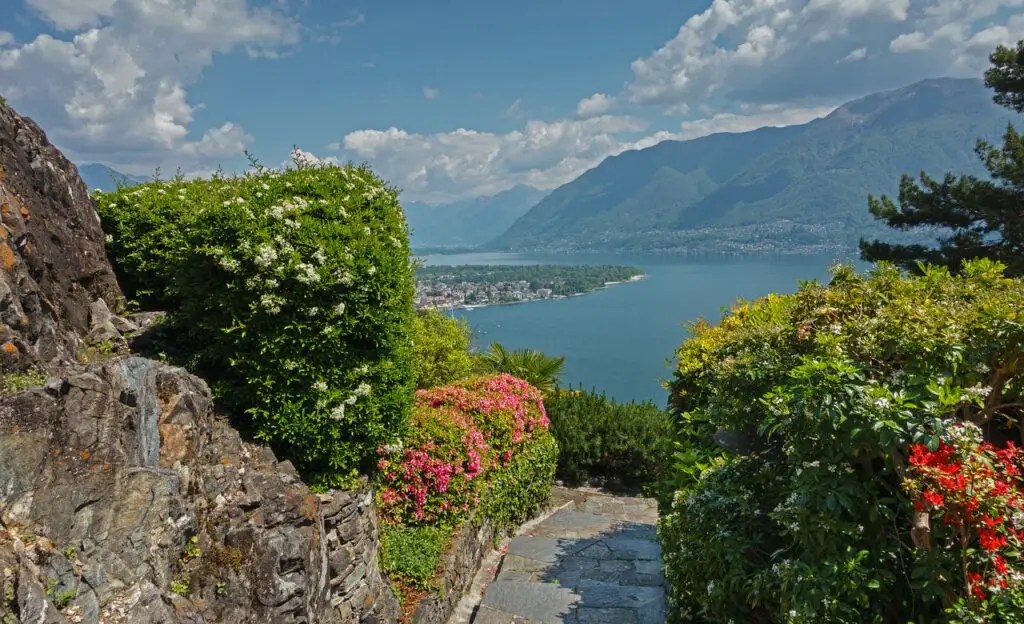 Lake Maggiore, located on the border between Switzerland and Italy, has a rich and captivating history dating back to the last Ice Age, around 10,000 years ago. Its shores have been inhabited by various civilizations, including the Celts and Romans, and the region around Lake Maggiore played a strategic role in trade and defense during this period. In the 19th century, the lake became a popular destination for European nobility, with wealthy families building magnificent villas along its shores.
Lake Maggiore has inspired numerous artists, writers, and musicians, including Ernest Hemingway, who set parts of his novel "A Farewell to Arms" in the area. Its extraordinary beauty is due to its stunning scenery, mild climate, Borromean Islands, and vibrant culture. Visitors can explore the Borromean Islands, Stresa, Villa Taranto Botanical Gardens, water sports, hiking, cultural exploration, and local cuisine.
Lake Maggiore's combination of natural beauty, historical significance, and cultural richness makes it a must-visit destination in Switzerland, offering something for every traveler to enjoy.
4. Lake Lucerne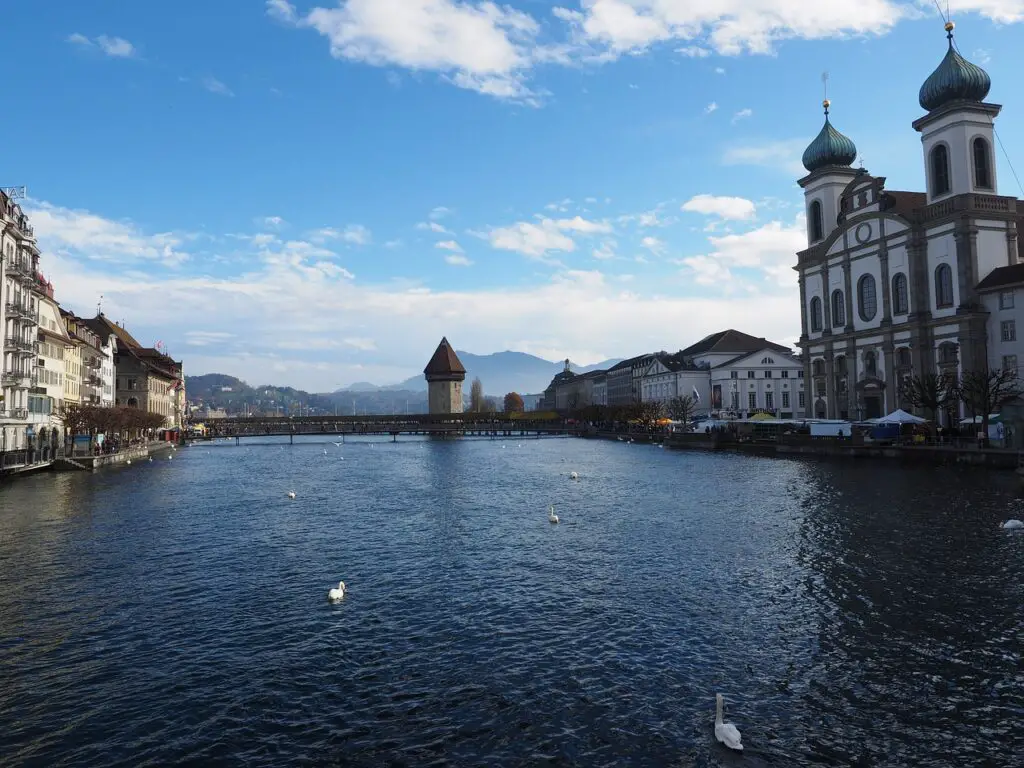 Lake Lucerne, also known as "Vierwaldstättersee" in German, is a picturesque lake in Switzerland with a rich history dating back to prehistoric times. Its name is derived from the nearby city of Lucerne, which is steeped in history and culture. The lake's beauty is renowned for its panoramic views, crystal-clear waters, and historical charm.
The lakeside towns and villages, such as Lucerne, Weggis, and Vitznau, exude old-world charm with well-preserved medieval architecture. Visitors can enjoy various recreational activities, such as hiking, biking, fishing, and paragliding, while also exploring the lake's historic Old Town, swimming, water sports, hiking trails, and museums like the Swiss Museum of Transport in Lucerne and the Richard Wagner Museum in Tribschen. Lake Lucerne serves as a window into Switzerland's rich history and a playground for outdoor enthusiasts.
5. Lake Walen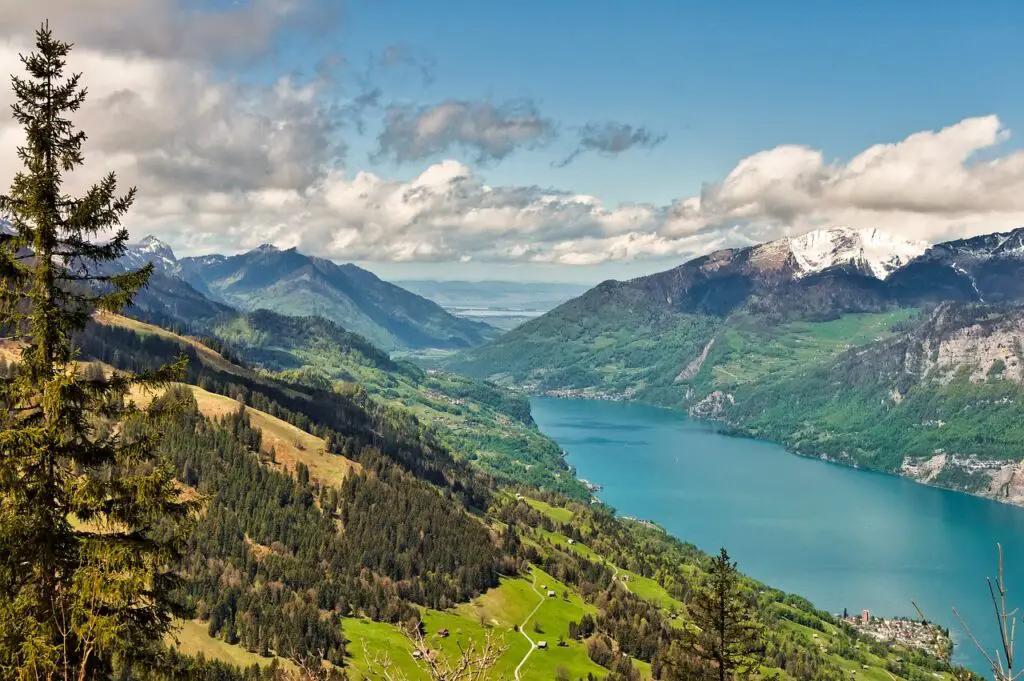 Lake Walen, also known as Walensee in German, is a stunning natural gem in Switzerland, with its history deeply intertwined with its surrounding region. Its formation dates back to the last Ice Age, and its shores have been inhabited for centuries, with settlements dating back to Roman times. The lake's beauty extends beyond the surface, offering a myriad of recreational activities, including swimming, boating, hiking, and fishing. Its picturesque villages, including Walenstadt, Weesen, and Quinten, add to its charm.
Cultural attractions in the region include historic churches, museums, and local festivals. Lake Walen offers a perfect blend of natural splendor, historical significance, and recreational opportunities, making it an ideal destination for relaxation, outdoor adventures, cultural immersion, and photography paradise. Activities to do on Lake Walen include boat trips, hiking trails, swimming, windsurfing, visiting Quinten, and cultural tours.
Lake Walen is a true Swiss treasure, offering a combination of natural beauty, cultural richness, and recreational opportunities that make it a must-visit destination for travelers seeking an authentic Swiss experience. The serene ambiance of the lake and its surroundings make it an ideal place for relaxation and rejuvenation.
6. Lake Thun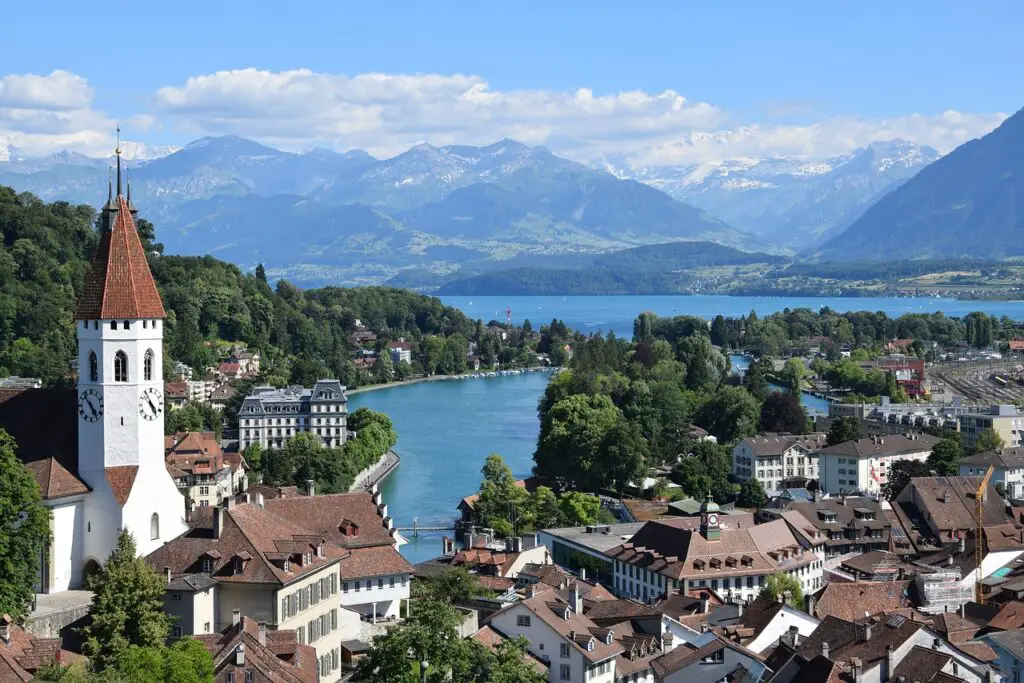 Lake Thun, also known as "Thunersee" in German, is a stunning natural gem in Switzerland's Bernese Oberland region. Its history is intertwined with its picturesque landscapes and charming towns. The lake was formed during the last Ice Age by glaciers, and its crystal-clear waters reflect the surrounding snow-capped mountains and lush green hillsides.
The region around Lake Thun began to take shape in the Middle Ages, with towns like Thun and Spiez. It offers adventure opportunities such as swimming, sailing, windsurfing, fishing, hiking, biking, and boat cruises. The Niesen Funicular provides panoramic views of Lake Thun and the Bernese Oberland from the top. Lake Thun is a true Swiss gem, offering a blend of natural beauty, cultural richness, and recreational opportunities.
7. Lake Geneva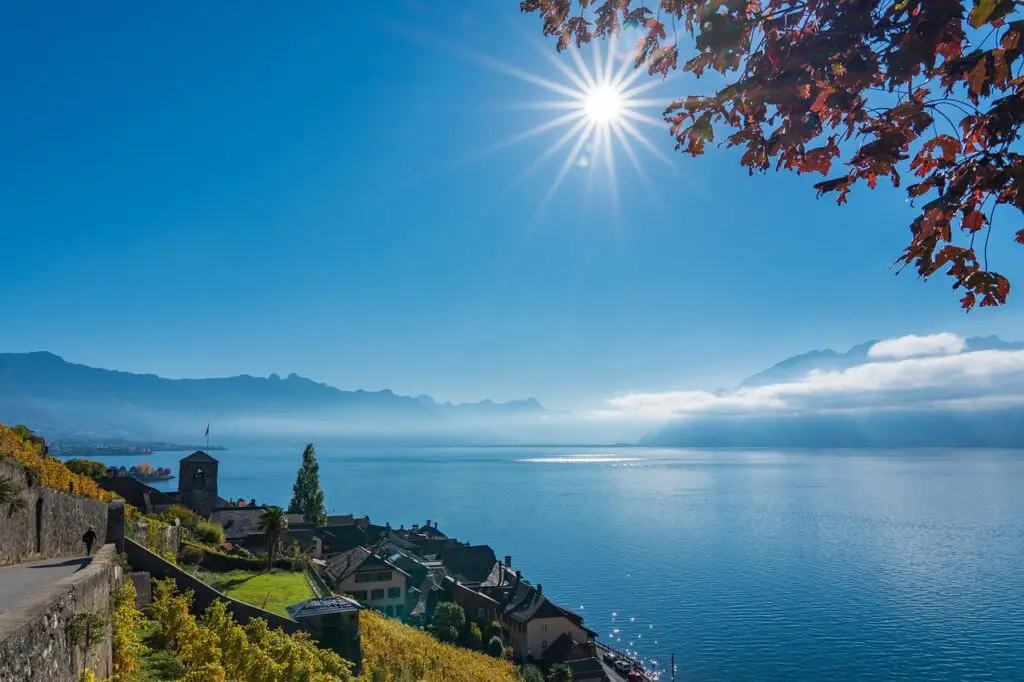 Lake Geneva, also known as Lac Léman, is a significant historical and cultural destination in Switzerland. With a rich history dating back thousands of years, it has played a vital role in trade, transportation, and diplomacy. Influential figures like Jean-Jacques Rousseau and Voltaire have found inspiration in its serene beauty.
The region has also become a favorite destination for European aristocracy and writers like Lord Byron, Mary Shelley, and Victor Hugo. Lake Geneva's natural beauty and picturesque surroundings offer a glimpse into Swiss culture, inspiring artists, writers, and thinkers for centuries. Outdoor activities include water sports, hiking, and strolling along promenades. Visitors can enjoy Swiss cuisine at lakeside restaurants and explore local vineyards and wineries. Historical sites like Chillon Castle and the Olympic Museum in Lausanne are also worth exploring. Lake Geneva offers boat cruises, watersports, hiking trails, Chillon Castle, the Montreux Jazz Festival, wine tasting, and visiting Lausanne.
8. Lake Constance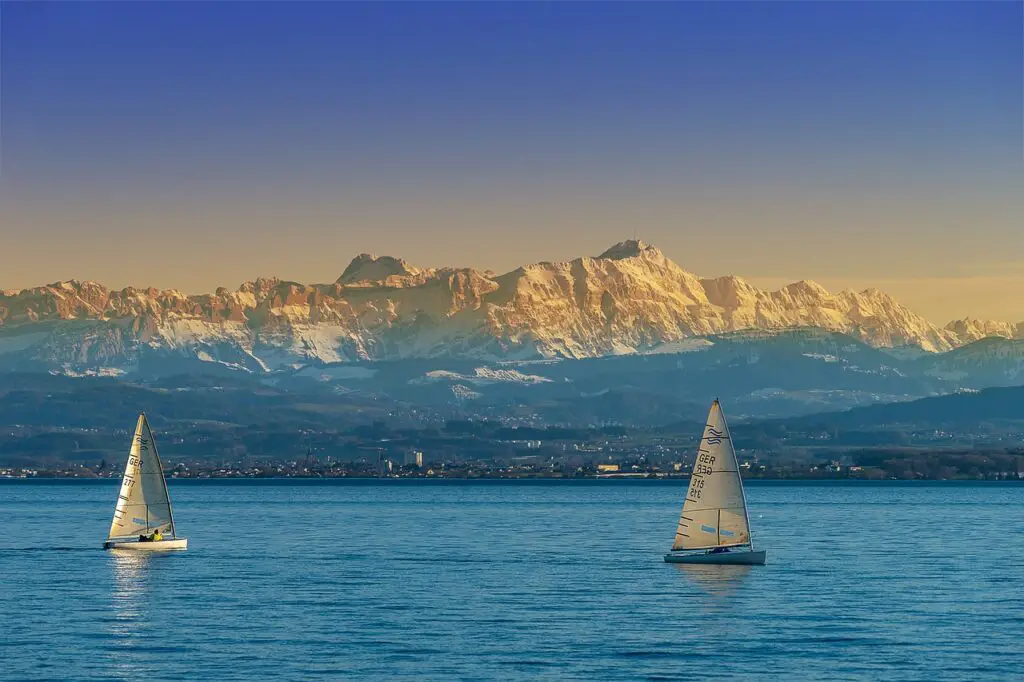 Lake Constance, also known as "Bodensee" in German, is a stunning freshwater lake in Central Europe, bordering Germany, Austria, and Switzerland. Its history spans thousands of years, with prehistoric roots dating back to the Stone Age, Roman times as a vital trade route, the medieval era with picturesque towns and fortresses, and modern times as a popular destination for relaxation, recreation, and cultural enrichment. The lake's picturesque surroundings, crystal-clear waters, blooming gardens, historical towns, and cultural richness make it a popular destination for tourists seeking relaxation, recreation, and cultural enrichment.
Highlights and unique attractions include Mainau Island, the Zeppelin Museum in Friedrichshafen, Pfahlbauten (Stilt Houses), the Bregenz Festival in Austria, and water sports like sailing, windsurfing, paddleboarding, and swimming. Lake Constance offers something for everyone, including nature enthusiasts, history buffs, outdoor enthusiasts, relaxation seekers, and art and culture enthusiasts.
9. Lake Zurich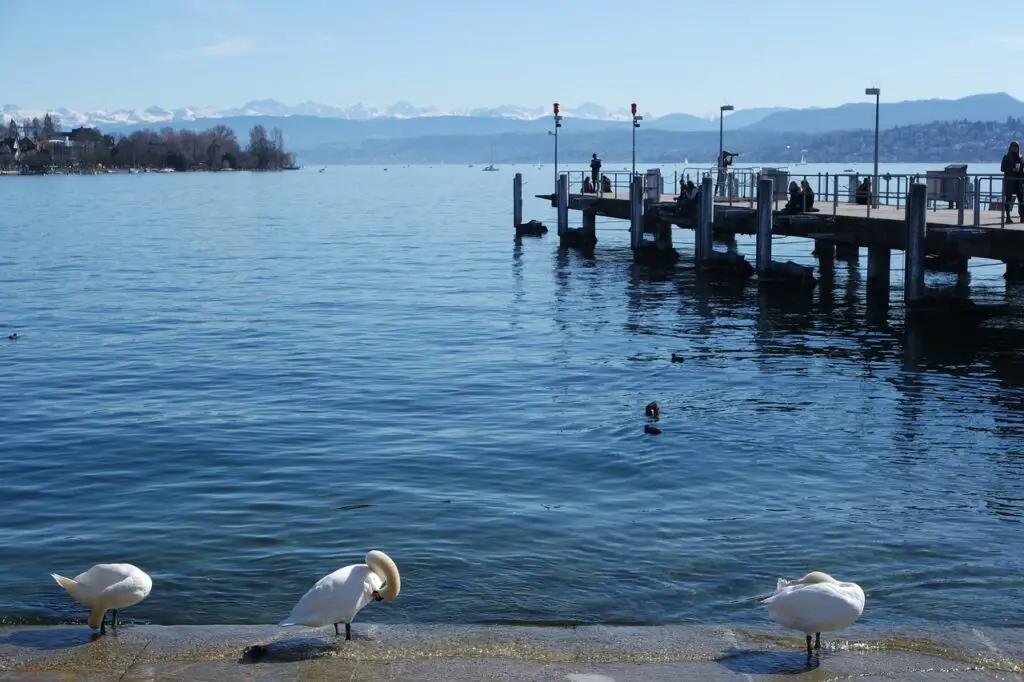 Lake Zurich, also known as "Zürichsee," is a picturesque lake in Zurich, Switzerland. Its rich history dates back to Roman times and has been a transportation route, freshwater source, and hub for cultural and recreational activities. Despite industrialization in the 19th century, efforts to preserve its natural beauty and promote tourism have maintained its allure.
Lake Zurich offers a serene environment, clear waters, and a harmonious blend of nature and city life, making it an ideal destination for visitors. Its unique features include the Swiss National Museum, the Zurich Opera House, Lindenhof, and boat trips. The lake's serene waters and Alpine panorama make it a visual feast for nature lovers and photographers. It also offers cultural attractions like museums, theaters, and historical sites, making it a perfect blend of culture and leisure.
Lake Zurich's excellent public transportation system makes it a convenient getaway from the city center. Activities include boat tours, swimming, cycling, dining, picnicking, and watersports like paddleboarding, windsurfing, and sailing.
10. Lake Brienz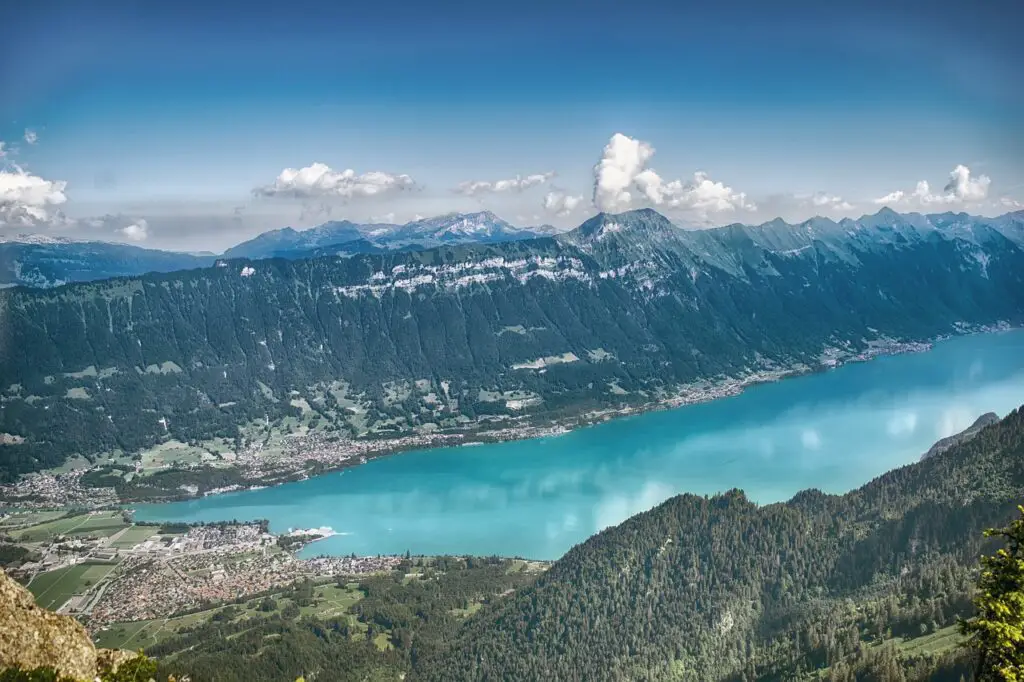 Lake Brienz, located in the Bernese Oberland region of Switzerland, is a stunning glacial lake with a rich history dating back over 10,000 years. Named after the nearby town of Brienz, it is known for its charming Swiss architecture and woodcarving traditions. The lake's crystal-clear waters are a result of glaciers and minerals deposited in it. The region is enveloped by the Bernese Alps, creating a dramatic backdrop. The area is also known for its stunning waterfalls, including the Giessbach Falls.
Lake Brienz is less crowded than other lakes, making it an oasis of tranquility. Visitors can explore the charming village of Brienz, take boat tours, hike or take a funicular ride to witness the Giessbach Falls, or embark on a journey to Brienzer Rothorn for panoramic views of the lake and the Alps. Water activities include swimming, paddleboarding, and kayaking in the clear waters.
Switzerland's lakes offer serene surroundings that captivate the eye and nourish the soul. These serene lakes provide a perfect backdrop for outdoor adventures, relaxation, and cultural exploration. The majesty of the Alps and charming villages along the lake shores linger in memory. These lakes are living testament to Switzerland's commitment to preserving its natural treasures. Explore the grandeur of Lake Geneva or the tranquility of Lake Brienz, and you'll be rewarded with an unforgettable experience. Switzerland's lakes are invitations to connect with the natural world and the rich culture that thrives in their embrace.
Video Guide: Coming soon…
Related Posts:
Need help planning a trip to visit the most beautiful lakes in Switzerland?

Want to plan a trip to Europe and visit small towns and villages in Switzerland, but don't know where to begin? If you find this type of multi-city trip planning to be too complicated to plan on your own, we're here to help!
At MultiCityTrips, multi-destination travel and complicated itineraries such as a trip visiting the most beautiful lakes in Switzerland are our specialties. Contact us today to learn more about how one of our experienced travel experts/destination specialists can personalize your multi-city European trip and craft your European vacation package at the best price.
Don't want to start from scratch and need some trip inspiration? Check out our marketplace for customizable pre-designed packages available right now for many amazing destinations in Europe.
To learn more about how our process of trip planning works in detail, please see our "How It Works" page or check out our video on "How to Plan a Multi-City Trip to Europe in  5 Easy Steps"  here.
Have questions for us? Schedule a FREE Call with us here or contact one of the travel experts/destination specialists at [email protected], call/text us at (888)223-2316 today