Paris is famous for its well-earned reputation as the city of love, and while it's a fantastic place to visit with your partner, there are many other romantic destinations in France that are equally as beautiful. From fairytale villages to coastal towns, France has a wide variety of locales with one thing in common: they're all wonderfully romantic destinations where you and your partner can create lasting memories.
Related Posts:
You can visit beautiful wine regions like Bordeaux or Colmar, or retreat to the lake when you go to Annecy. Nice is a stunning seaside retreat, and Carcassonne is bursting with history and significant cultural sites. No matter where you go, you'll be able to find a romantic retreat that's perfect for you and your partner.
Here are five of the most romantic destinations in France that aren't Paris:
Colmar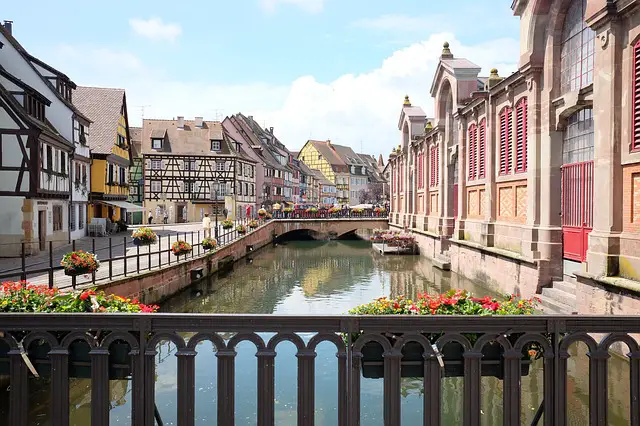 Located on the eastern border of France, this fairytale city is full of beautiful canals that are lined with medieval structures. In fact, it's said that this picturesque town inspired Belle's home village in the Disney animated classic Beauty and the Beast. While this has never been confirmed, it's undeniable that the village has the perfect mix of historic structures and storybook charm to fit into any fairytale.
Colmar is the place to go if you are seeking a beautiful place where you can slow down and connect with your partner. There aren't any flashy tourist attractions – while that's a fine way to spend time, sometimes the quieter ambiance can have significant benefits. It might sound cliche, but it's the perfect place to wander.
Colmar is also known as the capital of Alsatian wine and in general, is a prominent wine destination. The region primarily produces whites, and you can try wines made from the grapes of Riesling, Pinot Blanc, Gewurztraminer, Pinot Gris, Pinot Noir (the only red), Sylvaner, and Muscat d'Alsace.
Related to Colmar Travel:
Find the best flights, train tickets, or rent a car for your trip to Colmar. Find the most romantic hotels in Colmar to stay in and find top attractions and things to do in the area in addition to what already mentioned above here.
Annecy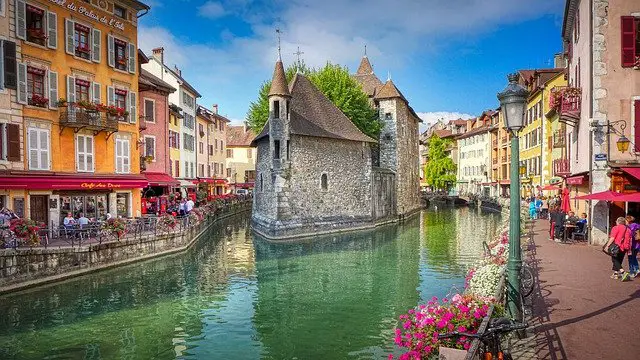 This lakeside retreat in the southeastern portion of France is an incredibly picturesque destination. You can wander through the city's old town area which is defined by cobblestone streets, bright flowers, and pastel buildings in warm tones. Annecy is also known as the "Venice of the Alps" due to the canals that wind through it. These gorgeous flower-lined waterways are beautiful to look at, but they also serve as a mode of transportation throughout the city.
In addition to traveling by canal, you can enjoy the larger water features of the area. Lake Annecy is France's third-largest lake and is a great place to come in the summer. You can try paddleboarding, boating, or scuba diving in the waters of the lake, and relax on its sandy or grassy shores.
Related to Annecy Travel:
You can find the best flights, train tickets, or rent a car for your trip to Annecy. Also, find the most romantic hotels in Annecy to stay in and find top attractions and things to do in the area in addition to what already mentioned above here.
Bordeaux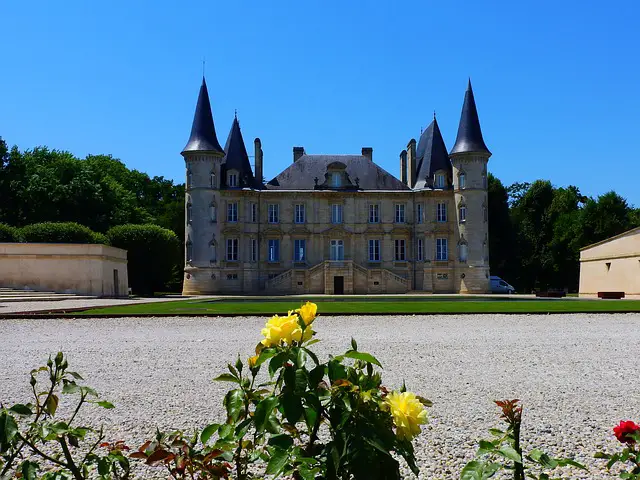 Perhaps one of the most famous wine regions in the world, Bordeaux is an essential destination if you and your partner are wine lovers and are passionate about learning more about the history and culture of the drink. The region is well situated for producing the best quality wine, and the climate and the earth itself combined with the traditions and knowledge that have been perfected over the past centuries lead to the iconic Bordeaux blends which typically consist of Cabernet Sauvignon and Merlot.
Apart from wine drinking, there's plenty to do in Bordeaux. You can visit any of the 20 museums that are located within the city that highlight a variety of subject matter. One of the newest examples is the Bassins de Lumières, which is the largest digital art museum in the world. You can explore the city on a bike tour or splash around in the Miroir d'Eau, the world's largest reflecting pool. This UNESCO World Heritage Site is the most photographed site in Bordeaux.
Related to Bordeaux Travel:
You can find the best flights, train tickets, or rent a car for your trip to Bordeaux. Also, find the most romantic hotels in Bordeaux to stay in and find top attractions and more things to do in the area in addition to what already mentioned above here.
Nice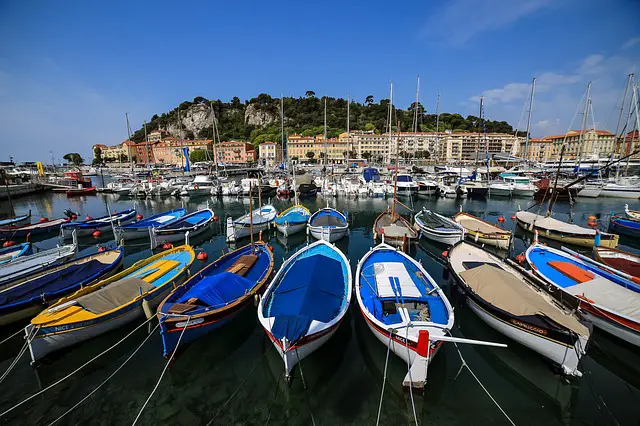 Nice blends the best of the Mediterranean lifestyle with the French Riviera. It offers a delightfully warm climate and a unique history. Nice was part of Italy before it was part of France, and you can see evidence of the city's diverse history in the area.
The Promenade des Anglais is a seaside walk that is approximately four miles long. It's a great place to go on a walk or sit and enjoy the view of the Meditteranean. It was first built in the second half of the 18th century and was a place where the English aristocracy would summer and walk along the promenade.
Visit Castle Hill. Originally it was the location of the Castle of Nice, which was a military citadel that was destroyed in 1706. While it's not a castle at this point, it's a great place to get a panoramic view of Nice. This picturesque city is full of neutral and warm-toned structures and bright blue water.
If you're interested in art, stop by the Matisse Museum. Famed artist Henri Matisse actually lived in Nice, and this museum houses the largest collection of his works. Some of the pieces that are part of the museum's permanent collection were donated by Matisse himself.
Related to Nice Travel:
Here you can find the best flights, train tickets, or rent a car for your trip to Nice. Also, find the most romantic hotels in Nice to stay in and find top attractions and more things to do in the area in addition to what already mentioned above here.
Carcassonne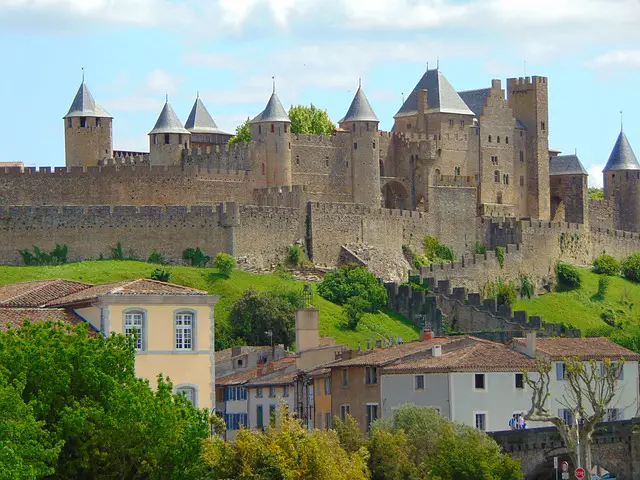 Carcassonne is a fortified medieval town in the southwestern part of France. This 13th-century town is the ultimate destination if you're interested in historic structures and cobblestone streets. The most famous attraction in the town is the Cité de Carcassonne, a medieval citadel that was built over 2,500 years ago. This UNESCO World Heritage site is a popular place to visit and learn about the history of the region.
Carcassonne's beautiful streets are lined with unique shops and restaurants that have something for everyone. You can also take a stroll across the Vieux Pont d'Albi, a bridge built in 1040 that crosses the river Arve. Not only is the bridge itself beautiful, but while you walk across it you'll get stunning views of the region.
It's the perfect romantic retreat if you're looking for the historic and artistic charm that France is so famous for, but you can avoid the busy crowds and modern architecture that you might see elsewhere. While Carcassonne has many modern comforts, the town has the same welcoming culture and beautiful views that it's had for years.
Related to Carcassonne Travel:
Here you can find the best flights, train tickets, or rent a car for your trip to Carcassonne. Also, find the most romantic hotels in Carcassonne to stay in and find top attractions and more things to do in the area in addition to what already mentioned above here.
Video Guide: 5 Top Romantic Destinations in France (That Aren't Paris)
Travel Resources for Planning a Romantic Trip to France
To make planning your trip to any of the romantic destinations in France easier, we included some of our recommended travel resources below. You can search and find the best flights, transportation options, hotels to stay in, tours/activities, and things you can do in each destination during your trip.
Flights: 
Agoda: Search thousands of destinations around the world & quickly compare prices to find amazing deals on the best flights.
CheapOAir: You can find airline tickets, hotel rooms, rental cars, and vacation packages all on one site!
Kiwi.com: What we like about Kiwi is the fact that they are able to create combinations of flight, train, and bus tickets and offer them in a single itinerary. Also, Kiwi has what they called "Nomad" which helps you find the best way of visiting multiple destinations, saving you time and money.
JetRadar: You can search and compare airfares from 726 airlines and dozens of travel agencies and systems.
Hotels: 
Agoda: Agoda is one of the world's largest online travel accommodation platforms with a network of over 2,000,000 vacation rentals and hotels worldwide.
Hotellook: They have more than 250,000 hotels in 205 countries, working with data from more than 10 online booking systems, such as Booking.com, Agoda.com, Hotels.com, Expedia, and others.
Transportations: 
Airport Transfers: KiwiTaxi, Viator
Train: Trainline or RailEurope 
Bus: Flixbus: Very affordable (as low as $6) and convenient way to transfer between cities in Europe.
Car Rentals: AutoEurope, EconomyBookings, or  GetTransfer (transfers & car rentals with a personal driver)
Bike Rental: BikesBooking (Bikes & scooter rentals) 
Transportation Comparison: Omio (search, compare, and book tickets for buses, trains, and flights all in one site)
Tours & Activities:
TakeWalks (WalkofItaly): This is our favorite site for walking tours & day trips.
Tiqets: Great site for entrance tickets. It offers directly bookable, instantly available, and completely mobile tickets for museums, shows, and attractions all over the world.
Musement: They have good activities and tours in Italy and Spain, also many great day trips you can choose from.
GetYourGuide: A large number of tours, excursions, and other travel activities
Viator: The largest one. It has everything from tours, attractions, shore excursions, and private guides in over 2,700 destinations worldwide. It also has many transportations and transfers options and some unique experiences we didn't find anywhere else.
Need help planning a romantic trip to France?
Want to plan a trip to one of these romantic destinations in France but don't know where to begin? If you find this type of trip planning to be too complicated to plan on your own, we're here to help!
At MultiCityTrips, multi-destination travel and complicated itineraries such as a romance trip to France are our specialties. Contact us today to learn more about how one of our experienced travel experts/destination specialists can personalize your multi-city vacations at the best price.
Don't want to start from scratch and need some trip inspiration? Check out our marketplace for customizable pre-designed packages available right now for many amazing destinations.
To learn more about how our process of trip planning works in detail, please see our "How It Works" page or check out our video on "How to Plan a Multi-City Trip to Europe in  5 Easy Steps"  here.
Have questions for us? Schedule a FREE Call with us here or contact one of the travel experts/destination specialists at [email protected], call/text us at (888)223-2316 today.
Related Posts: