Normandy is a region of northern France and is one of the fascinating destinations to visit. You can explore colorful seaside towns along the coastline and admire ancient cities packed with history. You can also visit D-Day Beaches, and picturesque coastal villages that have inspired generations of artists and painters. There are so many things to do and see in the region and if you are overwhelmed by the choices and not sure where to begin, these ten best things to do in Normandy will help you get started.


Related Posts
1. Mont Saint-Michel: A Rocky Marvel in the Bay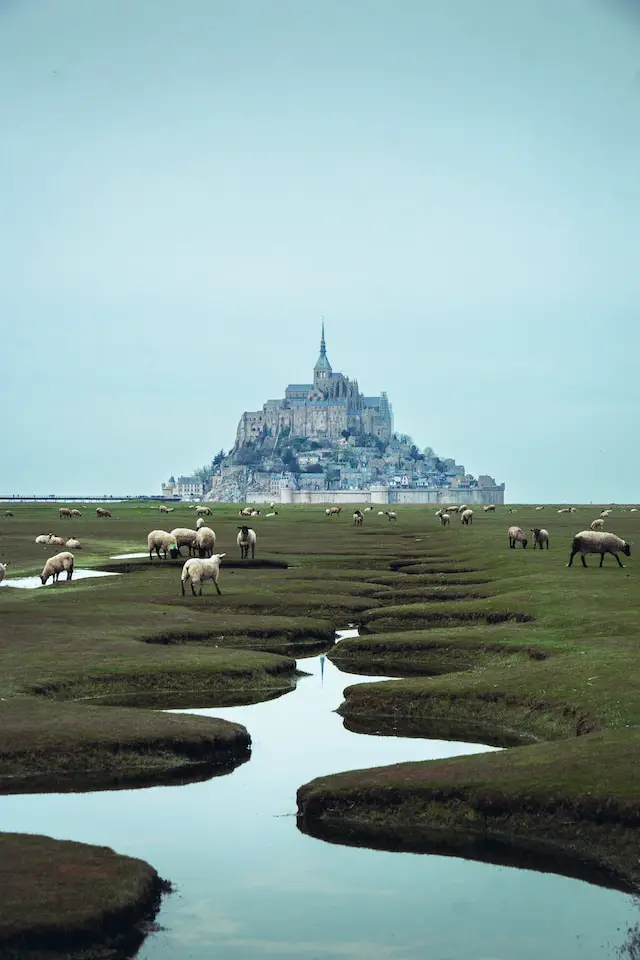 When you get to Mont Saint-Michel, an island rapidly rising from the bay and crowned with a medieval abbey, you will feel like you have entered a fairytale. This architectural wonder has served as a sentinel for generations, and it now extends an invitation to you to investigate its winding passageways and learn more about its extensive past. Watch as the island is transformed into a solitary realm by the ebb and flow of the tides; it is a sight that is enchanting and sobering at the same time.
Mont Saint-Michel has a long and illustrious history, beginning as a little hermitage in the eighth century and eventually becoming a majestic monastery. During the Hundred Years' War, its position as a critical crossroads rendered it an invincible fortress. Today, the best time to see the stunning causeway that leads to the island is during low tide.
2. D-Day Beaches: Where Heroes Walked Along the Coast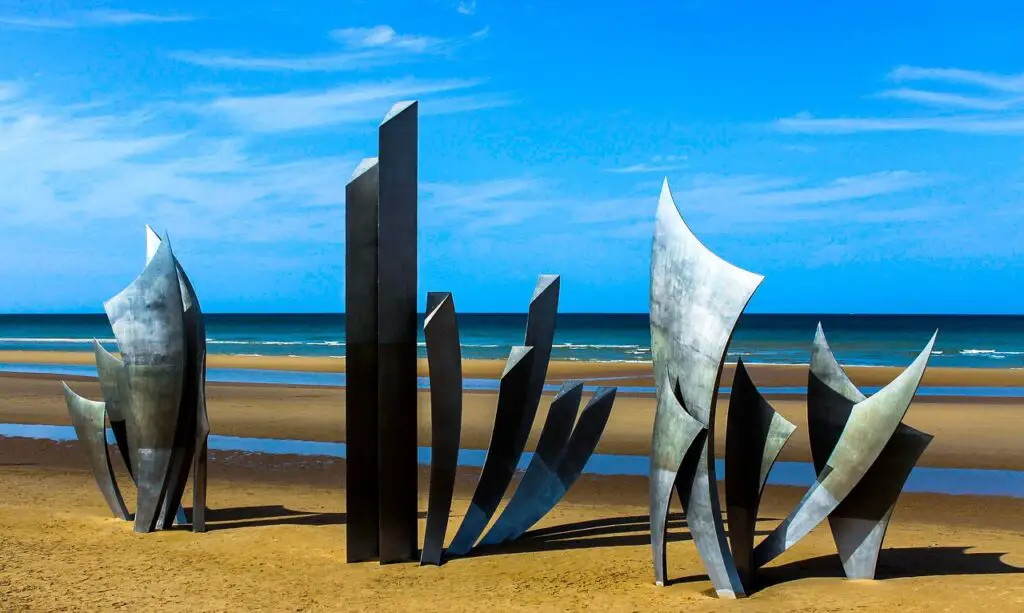 Normandy's rocky, storm-tossed beaches retain accounts of extraordinary bravery and self-sacrifice. At Omaha Beach and Utah Beach, you can walk in the footsteps of those who changed the course of history during World War II. Along the coast, several memorials and museums pay tribute to the bravery of those who battled for independence. You will have a solid connection to the past and an overwhelming respect for the sacrifices made when you walk on these hallowed grounds.
The D-Day Landing Museum provides visitors with an in-depth look at the events that transpired on June 6, 1944. Participating in a guided tour adds value to the experience by giving authoritative narratives.
3. Giverny's Impressionist Canvas in the Heart
Giverny is a paradise for art fans, where the beauty that once inspired Monet's brushstrokes is now your playground. Giverny should be on your bucket list if you are an art enthusiast. Explore the fascinating gardens that inspired him; each nook and cranny is a living beauty waiting to be discovered. As you go through this cultural haven, you will have the distinct impression that you have entered a work of art. The artist Claude Monet's home has been preserved over the ages, and within its walls are priceless artifacts that shed light on his life and the creative process behind his most famous works.
Claude Monet spent so much time perfecting his art, evidenced by the residence he built in Giverny. Going early in the day to avoid crowds and to get the most out of the peaceful atmosphere that inspired Monet's brilliance. During high-demand times, purchasing tickets in advance is strongly encouraged.
4. Culinary Odyssey: Camembert and Calvados Flavors in Markets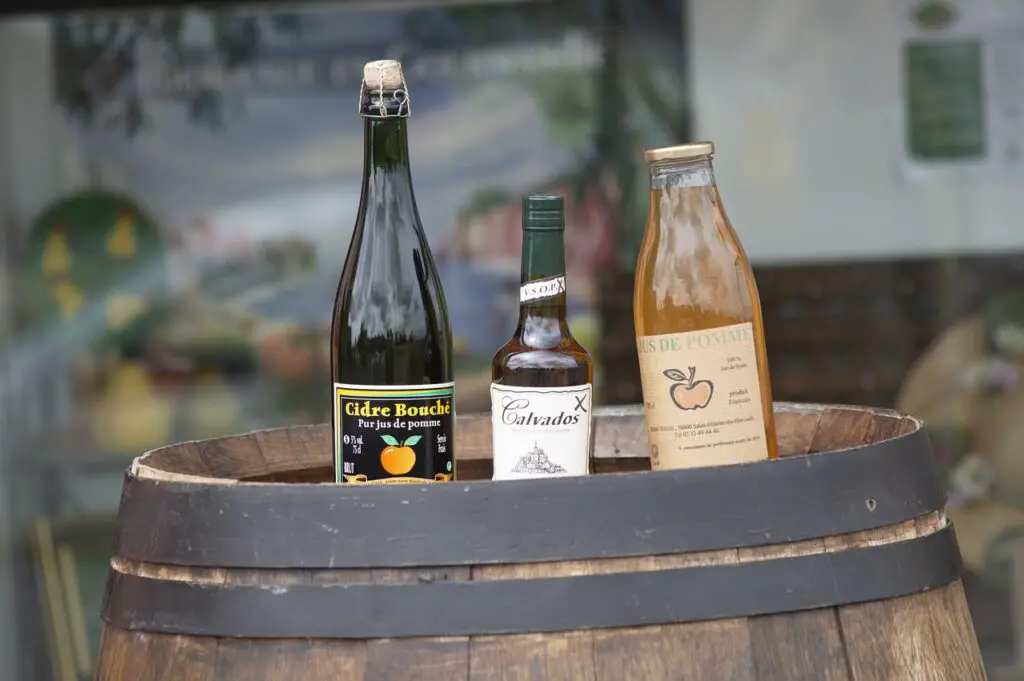 Get ready for an experience your taste buds will always remember as we take you on a gourmet adventure through Normandy. Begin with Camembert cheese, a delicacy that exemplifies the region's mastery of dairy crafting and is a perfect example of the region's competence. Spend some time learning about the traditions that go into creating cheese, particularly Camembert, so that you may genuinely immerse yourself in the culture of cheesemaking. And when it's time to raise a glass, indulge in some Calvados, a brandy made from apples that perfectly captures the orchard-filled vistas of Normandy. Stroll through bustling marketplaces, start conversations with local creators, and sample flavors that have been fine-tuned throughout several generations.
The region's extensive agricultural production heavily influences the gastronomic history of Normandy. Since ancient times, this region has produced camembert cheese, known for its velvety consistency and earthy flavor. Calvados, a type of apple brandy, may trace its origins back to the orchards of Normandy.
5. Honfleur's Enigmatic Charms by the Seine's Edge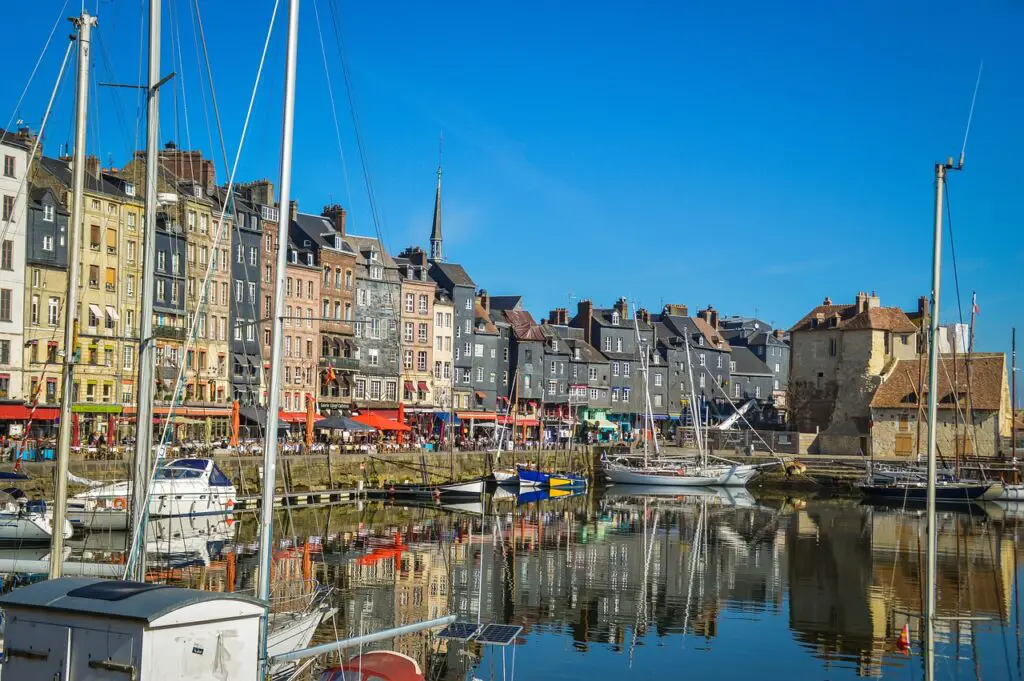 The gorgeous allure of Honfleur has long been a source of inspiration for writers, poets, and dreamers. The town's cobbled alleyways take you on a winding journey through centuries of maritime history to the town's famous harbor. Visit the Sainte-Catherine Church, a piece of architecture that combines nautical and medieval aesthetics. Honfleur's status as a center of creative activity is attributable, in large part, to the proliferation of art spaces, such as galleries and studios around the town.
6. Etretat Cliffs: Nature's Sculptures Along the Alabaster Coast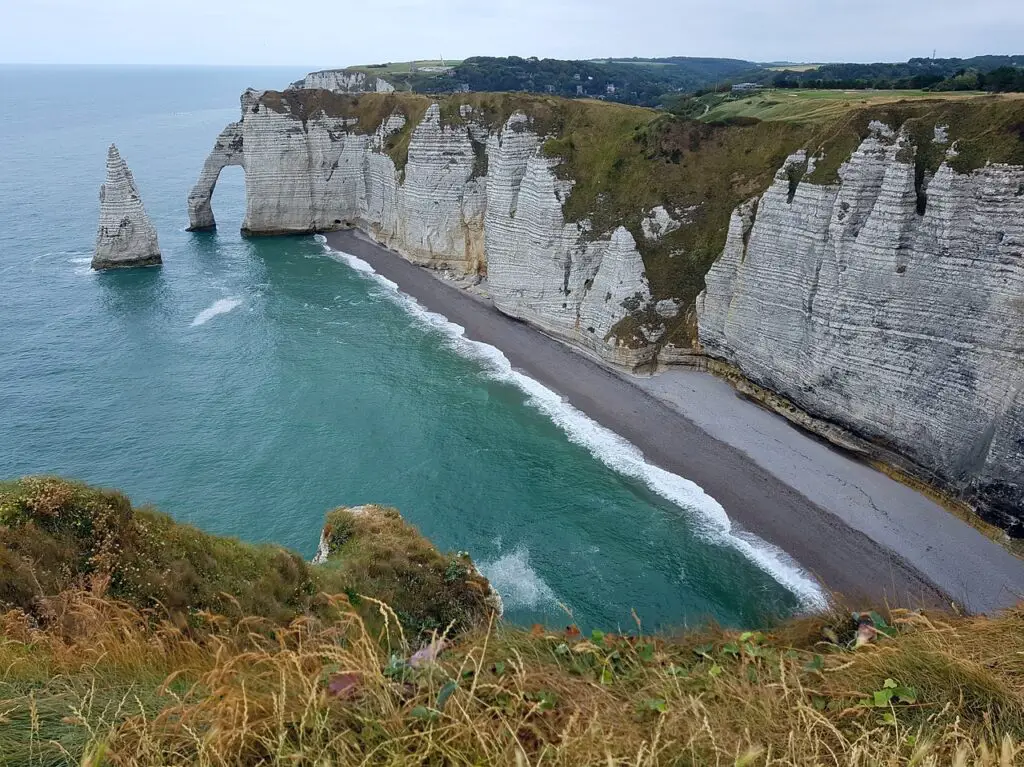 At the Etretat Cliffs, you are about to see a work of art created by Mother Nature. Stand back and be amazed. The passage of time and the action of the water have sculpted these towering chalk cliffs into beautiful works of art. Embark on a stroll along the coast that provides breathtaking vistas of these natural beauties, the majesty of which is accentuated by the sound of the waves pounding against them. When you stand on top of the cliffs, you will experience a sense of modesty because of nature's incredible force and craftsmanship.
The cliffs of Etretat have motivated many authors and artists throughout history, notably Guy de Maupassant and Gustave Courbet. Geological forces have been working here for millions of years, sculpting these cliffs into the breathtaking arches and formations we can observe today.
7. Rouen's Timeless Elegance in the Heart of Normandy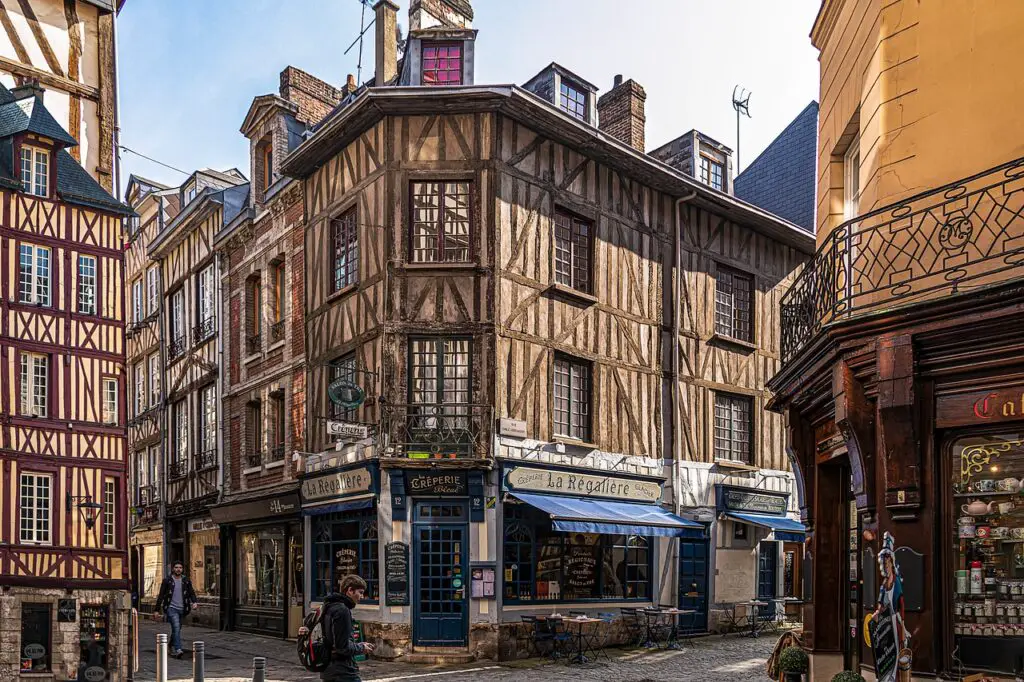 Rouen's historic cobblestone streets tell stories. Rouen Cathedral, the crown jewel, inspired Monet. Explore the city's well-preserved architecture, attractive squares, and narratives to learn about its rich history.
Rouen's architecture has evolved since Roman times. Monet's Rouen Cathedral is a Gothic masterpiece. Joan of Arc was executed in Old Market Square.
8. Bayeux: Threads of Legacy Through the Tapestry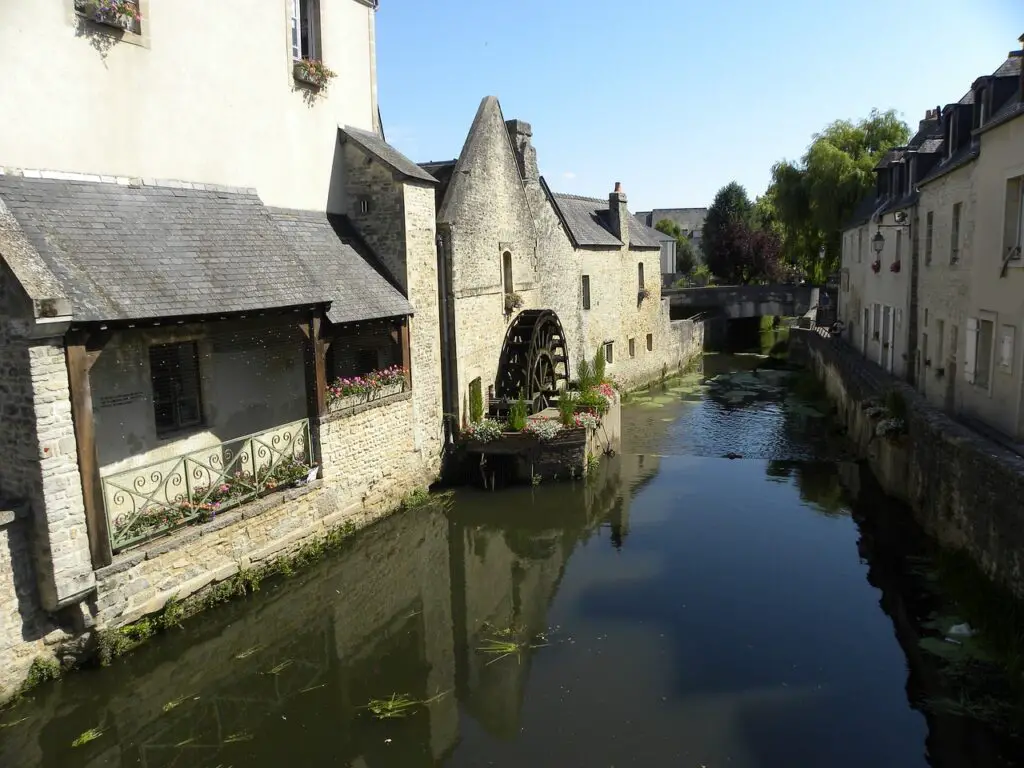 The fantastic tapestry Bayeux results from history and art being woven together. The unique Bayeux Tapestry, created in the Middle Ages, tells the story of the events that occurred in the years leading up to the Norman invasion of England. Be amazed by this story that stretches for 70 meters, and then enter the town to see its medieval streets, lined with timber-framed houses that emit an air of the old world.
The Bayeux Tapestry is a one-of-a-kind historical artifact woven in the 11th century and depicts the events that took place during that period. It provides a graphic narrative of the Battle of Hastings and the rise to power of William the Conqueror. The city of Bayeux has a long and eventful history since it has endured centuries of conflict and progress.
9. The Alabaster Coast's Whispers of Serenity and Tranquility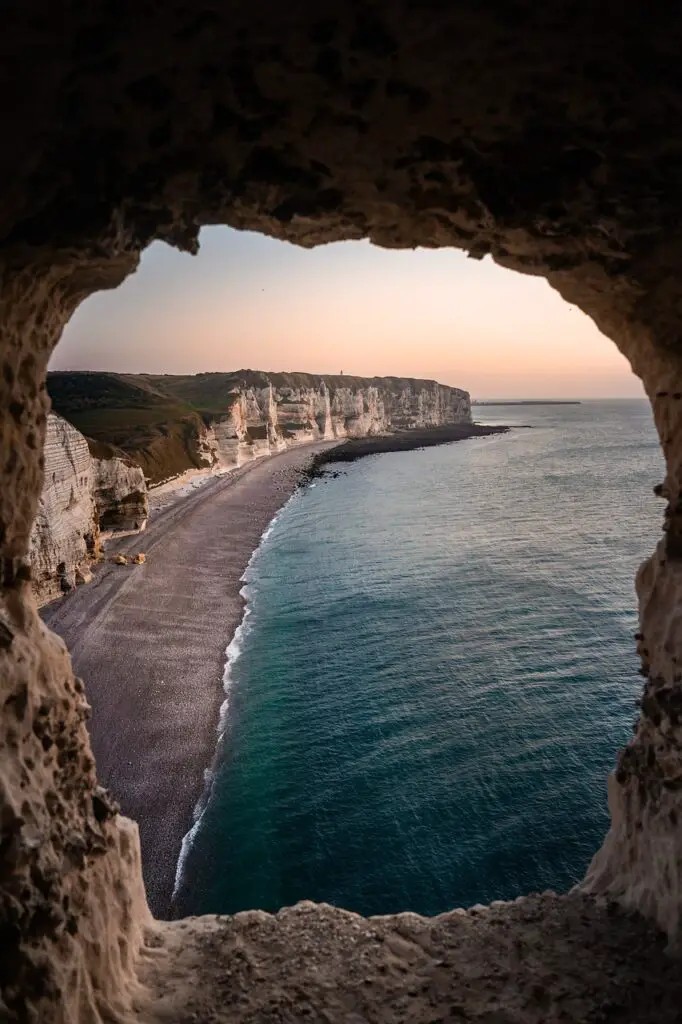 As you travel along the Alabaster Coast, you will be greeted by scenery that emanates calmness in every corner of the region. The serene and peaceful atmosphere is created by the chalky cliffs that tower majestically above the calm waters of the English Channel. Explore the picturesque coastal communities that give the impression that time has stood still there, providing a look into a more relaxed way of life.
Geological processes have worked throughout millions of years to create breathtaking cliffs along the Alabaster Coast. The white cliffs, composed of chalk, have always been a defining characteristic of this area. Coastal communities such as Fécamp and Veules-les-Roses have developed their distinctive histories and customs throughout the years.
10. Abbeys of Caen: A Glimpse into Eternity and Spirituality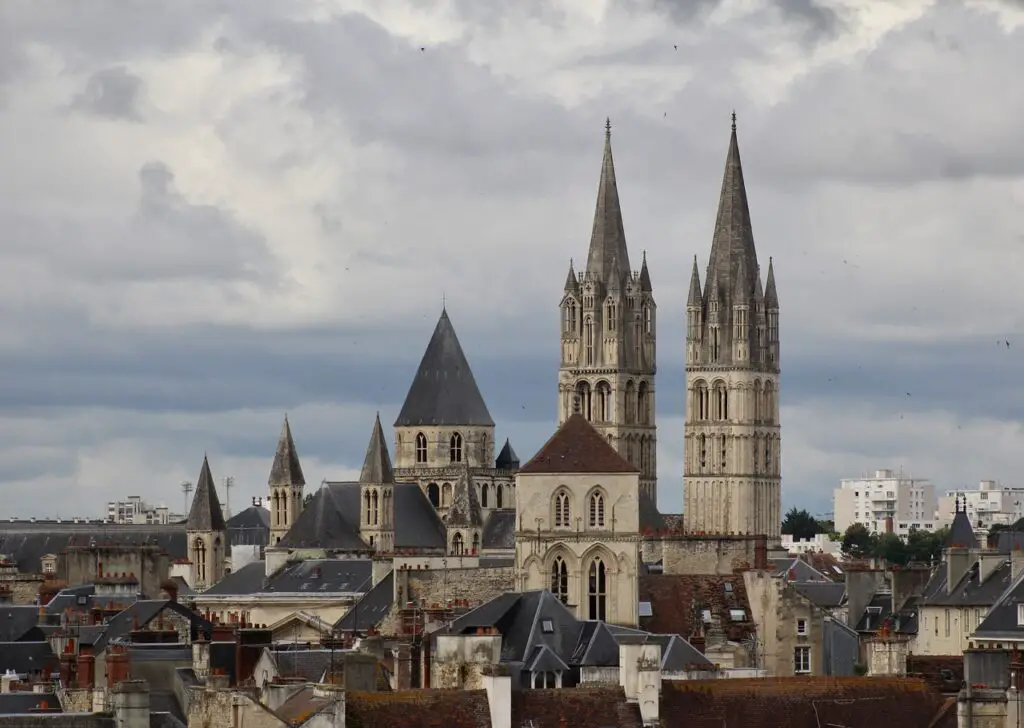 Both the Abbaye aux Hommes and the Abbaye aux Dames are located here. The spirituality and architecture of the Norman era are both on display in these two identical abbeys. While investigating the minute intricacies of magnificent buildings that date back hundreds of years, you might lose yourself in the peaceful setting. They provide an opportunity for introspection and link you to the spiritual energy that has always been present in Normandy's bloodstream.
The Abbaye aux Hommes and the Abbaye aux Dames were established in the 11th century by William the Conqueror and Matilda, his wife at the time. These abbeys have been around for hundreds of years, through multiple wars and countless renovations. Caen is a city that holds a significant place in history since it played an essential role in the Hundred Years' War (also known as the War of One Hundred Years).
Video Guide: Coming Soon
Related Posts
Travel Resources for Planning a Trip to Normandy France
To make planning a trip to Normandy France easier, we included some of our recommended travel resources below. You can search and find the best flights, transportation options, hotels to stay in, tours/activities, and more best things to do in Normandy.
Flights: 
Agoda: Search thousands of destinations around the world & quickly compare prices to find amazing deals on the best flights.
CheapOAir: You can find airline tickets, hotel rooms, rental cars, and vacation packages all on one site!
Kiwi.com: What we like about Kiwi is the fact that they are able to create combinations of flight, train, and bus tickets and offer them in a single itinerary. Also, Kiwi has what they called "Nomad" which helps you find the best way of visiting multiple destinations, saving you time and money.
JetRadar: You can search and compare airfares from 726 airlines and dozens of travel agencies and systems.
Hotels: 
Agoda: Agoda is one of the world's largest online travel accommodation platforms with a network of over 2,000,000 vacation rentals and hotels worldwide.
Hotellook: They have more than 250,000 hotels in 205 countries, working with data from more than 10 online booking systems, such as Booking.com, Agoda.com, Hotels.com, Expedia, and others.
Transportations: 
Airport Transfers: KiwiTaxi, Viator
Train: EuRail, Trainline or RailEurope 
Bus: Flixbus: Very affordable (as low as $6) and convenient way to transfer between cities in Europe.
Car Rentals: AutoEurope, EconomyBookings, or  GetTransfer (transfers & car rentals with a personal driver)
Bike Rental: BikesBooking (Bikes & scooter rentals) 
Transportation Comparison: Omio (search, compare, and book tickets for buses, trains, and flights all in one site)
Tours & Activities:
TakeWalks (WalkofItaly): This is our favorite site for walking tours & day trips.
Tiqets: Great site for entrance tickets. It offers directly bookable, instantly available, and completely mobile tickets for museums, shows, and attractions all over the world.
Musement: They have good activities and tours in Italy and Spain, also many great day trips you can choose from.
GetYourGuide: A large number of tours, excursions, and other travel activities
Viator: The largest one. It has everything from tours, attractions, shore excursions, and private guides in over 2,700 destinations worldwide. It also has many transportation and transfer options and some unique experiences we didn't find anywhere else.
Need help planning a trip to Normandy?
Want to plan a trip to the Normandy region in France but don't know where to begin? If you find this type of trip planning to be too complicated to plan on your own, we're here to help!
At MultiCityTrips, multi-destination travel and complicated itineraries such as a multi-city trip to Normandy France are our specialties. Contact us today to learn more about how one of our experienced travel experts/destination specialists can personalize your multi-city vacations at the best price.
Don't want to start from scratch and need some trip inspiration? Check out our marketplace for customizable pre-designed packages available right now for many amazing destinations.
To learn more about how our process of trip planning works in detail, please see our "How It Works" page or check out our video on "How to Plan a Multi-City Trip to Europe in  5 Easy Steps"  here.
Have questions for us? Schedule a FREE Call with us here or contact one of the travel experts/destination specialists at [email protected], call/text us at (888)223-2316 today.