Europe is a truly magical place in the winter and if you have a chance to visit during the season, you absolutely should. There are many places that see a low number of tourists during the colder months which means you're more likely to see the sights without a crowd. Additionally, you'll get to experience a blanket of snow covering picturesque alpine towns, charming Christmas markets, and stunning views and night skies.
There are so many places you can visit if you're planning a winter vacation in Europe – read on to discover ten of the best destinations that you can't go wrong with.
Related Posts
1. Prague, Czech Republic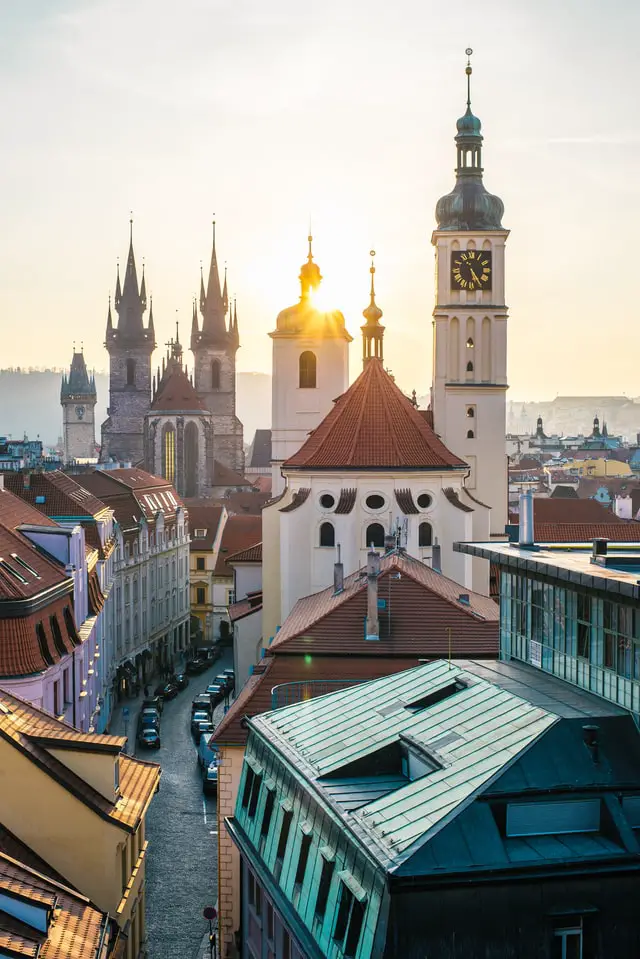 The capital of the Czech Republic, Prague, was founded in the fifth century and grew significantly in the 14th. It has since gained a reputation as an incredible destination for tourists thanks to its preserved architecture and beautiful views as well as its culinary heritage which includes an impressive brewing history.
If you want to visit Prague, there are many reasons to pick the winter. There are fewer tourists in the colder months so you'll be able to enjoy the sights without the crowds. Prague also has a great public transportation system which allows you to move around the city for a low price while staying warm! The Old Town Square Christmas market is the best and the biggest in the city but you can also find smaller ones that are less crowded and feature local artisans.
You can spend your evenings bundled up and enjoying ice skating and the rich flavors of a mulled wine called svařák. Svařák is a hot red wine that is infused with cinnamon, cloves, brown sugar, oranges, lemons, and more. It carries that quintessential warmth that will accompany your winter Prague adventure perfectly.
2. Salzburg, Austria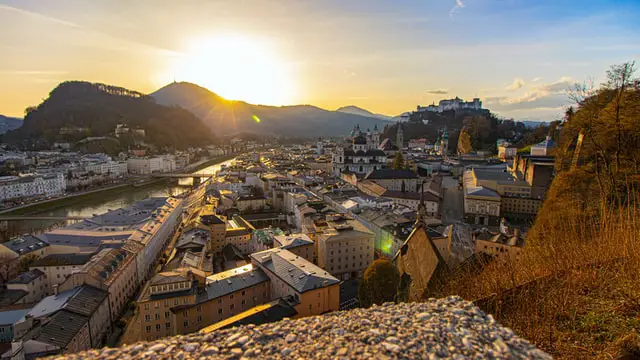 Known as the birthplace of the noted composer Wolfgang Amadeus Mozart, the city of Salzburg is defined by baroque architecture, well-preserved structures, and its location near the Alps. If you visit in January you have the best chance of seeing the city under a blanket of glittering snow. You can warm up with a cup of hot chocolate at Cafe Tomaselli or schnapps, a type of alcohol that is often infused with fruit or herbs. Explore the Christmas markets and pick up some locally made gifts to give your friends back home for the holidays. If you like snow globes, you should get one in the city which is actually the birthplace of the magical trinket.
3. Nuremberg, Germany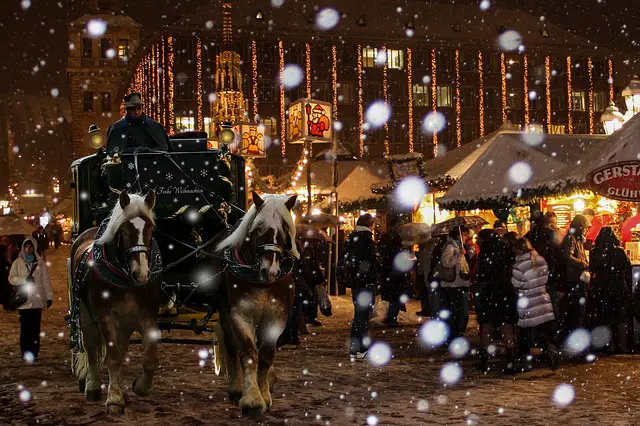 The second largest city in Bavaria, Nuremberg, is notable for being an artistic hub with plenty to do. It was once the home of the German Grand Prix, a former major motor race, which is just one of the many reasons people have flocked to the area. In the wintertime, Nuremberg is blanketed in snow and you may be able to smell the fresh gingerbread being prepared in local bakeries.
You can explore museums in Nuremberg during the day such as the Toy Museum. This unique museum was founded in 1971 and features toys from all throughout history. The Staatstheater Nürnberg is a historic theater where you can see ballet, theater, orchestral, and choir performances. And like many European cities, Nuremberg is also home to an incredible Christmas market.
4. Budapest, Hungary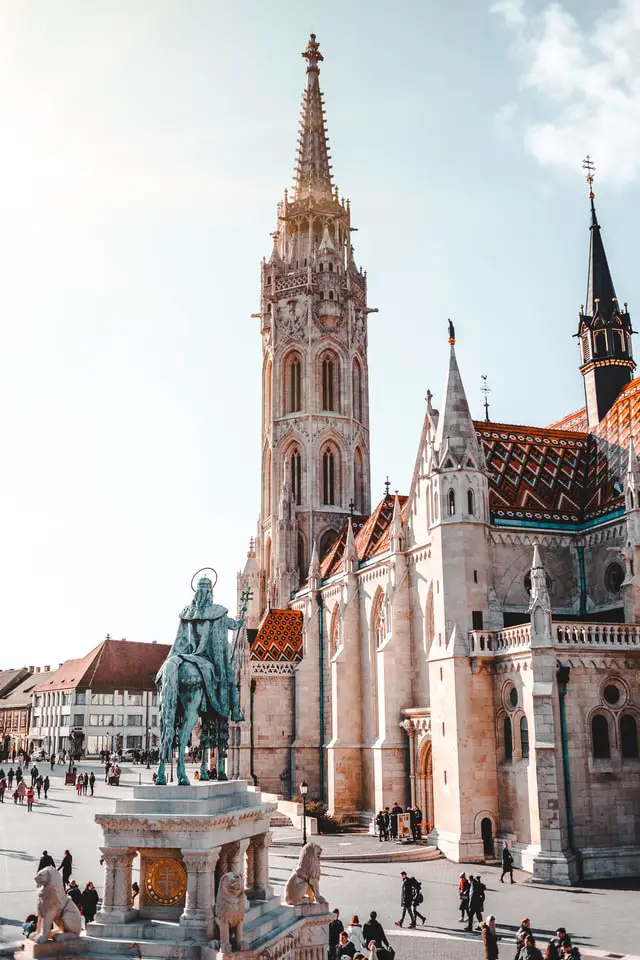 Hungary's capital city, Budapest, is home to varied architecture and a well-preserved cityscape that showcases a rich history. It's a popular place to visit when the weather is warm but if you can visit during the winter you'll see a unique side of this historic city. There are plenty of opportunities to go skiing nearby and you'll also find cheaper prices for hotels and other accommodations and necessities. Take a dip in a thermal bath or visit a sauna to warm up or lace up your ice skates to explore the City Park ice skating rink.
5. Rovaniemi, Finland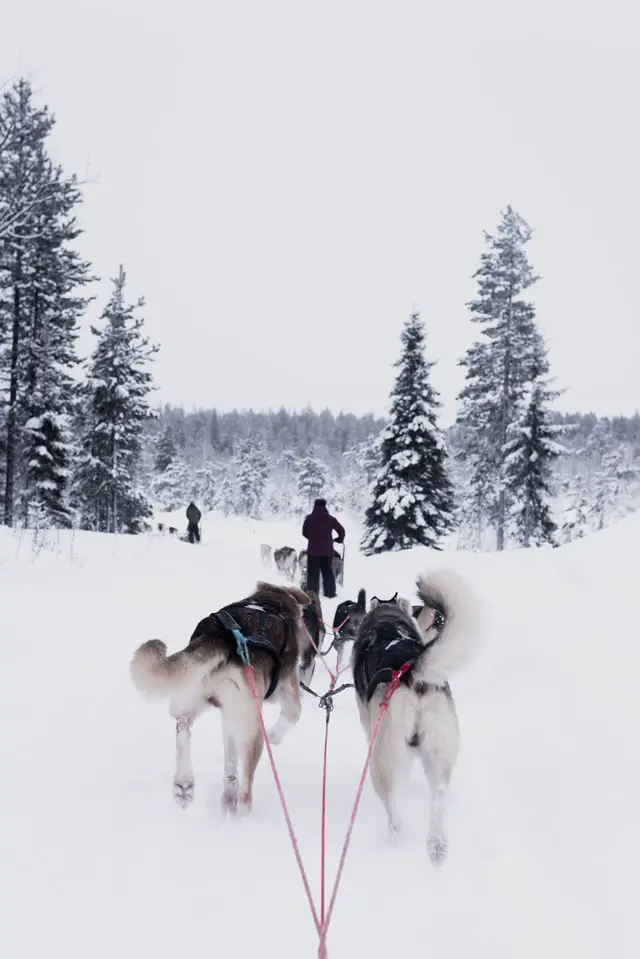 Located on the Arctic Circle, the small town of Rovaniemi in Finland is extremely charming, walkable, and is a generally affordable place to visit. One of the best reasons to visit Rovaniemi during the winter months is to see the northern lights as this natural phenomenon is more likely to be seen in the winter sky over the town. If you want a unique place to stay in Rovaniemi you can book a stay at the Glass Igloos in the area. These are essentially cozy cabins that are topped by a glass dome which are ideal for enjoying the stunning beauty of the night sky and, if you visit during the right time, you can see the colorful northern lights while you're cozy in your bed.
6. Bergen, Norway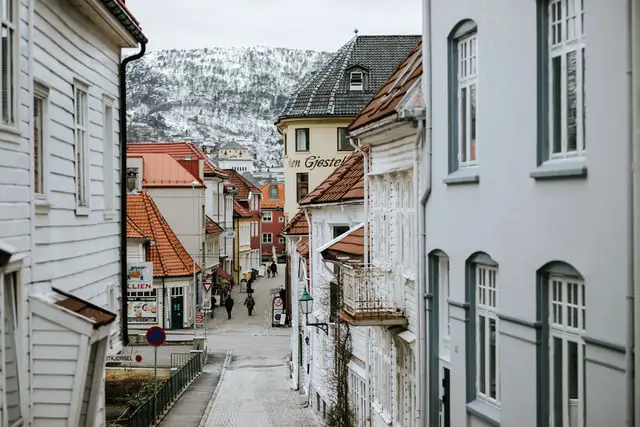 Bergen is a town on Norway's west coast that is often known by travelers as a port city as it's a common stop for cruise ships. Although many might associate Bergen with the warm weather, winter brings the opportunity to see not only the city but the surrounding landscape covered in a white blanket of snow. You'll also get to enjoy the snow sports available nearby as well as the reduced number of crowds as there are less cruises during this part of the year.
Visit the fjords and enjoy the view of the snow capped mountains. The sight of Bergen's bright yellow and red structures contrast beautifully against the white snow. You can also take the Fløibanen funicular to the mountains overlooking the city for an extra special view.
7. Interlaken, Switzerland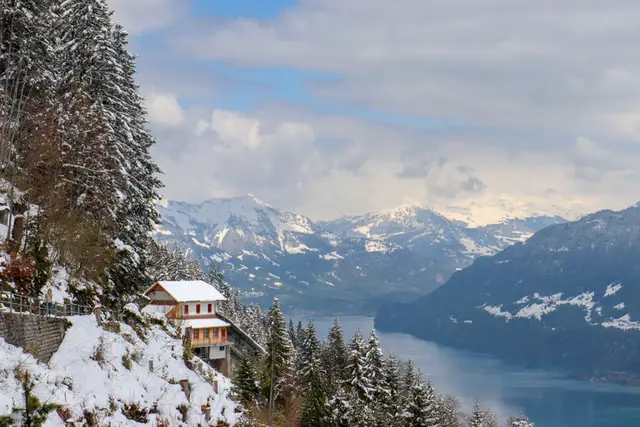 The charming town of Interlaken is centrally located and serves as a great base for exploring the mountain region during the winter months. As the name suggests it is located between two lakes, Lake Brienz and Lake Thun. You can try snowshoeing or take a guided skiing or snowboarding tour if you want to learn more about the area and get recommendations about which route to take.
8. Zermatt, Switzerland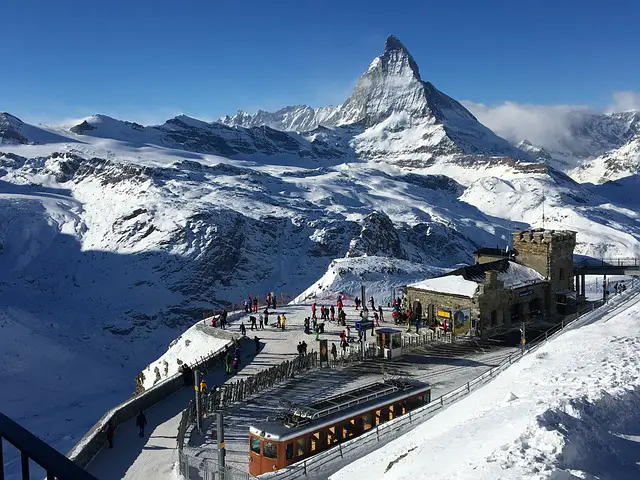 Zermatt is an absolute paradise for those who are passionate about the outdoors. Nestled at the base of the famous Matterhorn mountain, this town draws many visitors throughout the year but especially during the winter months. If you love to ski, climb mountains, or even hike through the snowy landscape, Zermatt is perfect for you as there are many opportunities to do so. If you're not interested in athletics but are still hoping to experience the mountain, you can instead choose to take a cable car up to enjoy the view. There are several public skating rinks located throughout the town where you can enjoy not only the sport of skating but the cozy atmosphere as well.
9. Andorra de Vella, Andorra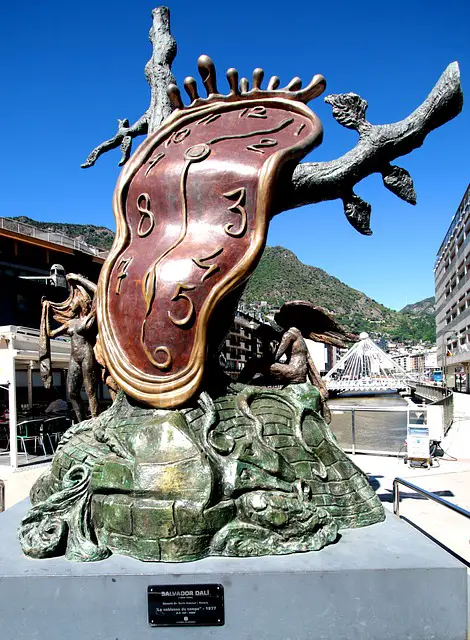 Andorra de Vella is the capital city of Andorra and a notable winter travel destination, especially if you're interested in skiing. There are several ski resorts surrounding the city at a variety of price points. Andorra has the largest ski territory in the Pyrenees at a total of 218 miles of ski slopes. If you're not interested in skiing but still want to experience the slopes, you can try sledding, tubing, snowshoeing, or you can stick to the flatter routes on a cross country skiing tour.
10. Colmar, France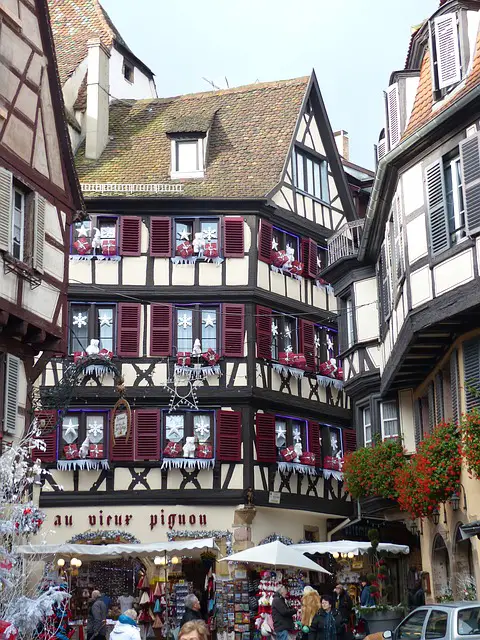 The idyllic French town of Colmar is known for its warm weather and its picturesque canals that wind through the city which takes on a new enchanting environment during the winter when the region is covered in a dusting of snow. Colmar's Old Town is well preserved and charming – it's said to have inspired the creators of Disney's Beauty and the Beast when they were designing Belle's home village. During the holiday season, Colmar is decorated for Christmas with twinkling garlands of lights, boughs of holly and other greenery, and baubles adorning the trees and shrubs that line the streets.
Related Posts
Travel Resources for Planning a Trip to Europe in Winter
To make planning your trip to Europe in Winter easier, we included some of our recommended travel resources below. You can search and find the best flights, transportation options, hotels to stay in, tours/activities, and things you can do in each destination during your trip.
Flights: 
Agoda: Search thousands of destinations around the world & quickly compare prices to find amazing deals on the best flights.
CheapOAir: You can find airline tickets, hotel rooms, rental cars, and vacation packages all on one site!
Kiwi.com: What we like about Kiwi is the fact that they are able to create combinations of flight, train, and bus tickets and offer them in a single itinerary. Also, Kiwi has what they called "Nomad" which helps you find the best way of visiting multiple destinations, saving you time and money.
JetRadar: You can search and compare airfares from 726 airlines and dozens of travel agencies and systems.
Hotels: 
Agoda: Agoda is one of the world's largest online travel accommodation platforms with a network of over 2,000,000 vacation rentals and hotels worldwide.
Hotellook: They have more than 250,000 hotels in 205 countries, working with data from more than 10 online booking systems, such as Booking.com, Agoda.com, Hotels.com, Expedia, and others.
Transportations: 
Airport Transfers: KiwiTaxi, Viator
Train: EuroRail, Trainline or RailEurope 
Bus: Flixbus: Very affordable (as low as $6) and convenient way to transfer between cities in Europe.
Car Rentals: AutoEurope, EconomyBookings, or  GetTransfer (transfers & car rentals with a personal driver)
Bike Rental: BikesBooking (Bikes & scooter rentals) 
Transportation Comparison: Omio (search, compare, and book tickets for buses, trains, and flights all in one site)
Tours & Activities:
TakeWalks (WalkofItaly): This is our favorite site for walking tours & day trips.
Tiqets: Great site for entrance tickets. It offers directly bookable, instantly available, and completely mobile tickets for museums, shows, and attractions all over the world.
Musement: They have good activities and tours in Italy and Spain, also many great day trips you can choose from.
GetYourGuide: A large number of tours, excursions, and other travel activities
Viator: The largest one. It has everything from tours, attractions, shore excursions, and private guides in over 2,700 destinations worldwide. It also has many transportations and transfers options and some unique experiences we didn't find anywhere else.
Need help planning a trip to Europe in Winter?
Planning to visit Europe in Winter? If you find this type of trip planning to be too complicated to plan on your own, we're here to help!
At MultiCityTrips, multi-destination travel and complicated itineraries such as a special trip to Europe in Winter are our specialties. Contact us today to learn more about how one of our experienced travel experts/destination specialists can personalize your multi-city vacations at the best price.
Don't want to start from scratch and need some trip inspiration? Check out our marketplace for customizable pre-designed packages available right now for many amazing destinations.
To learn more about how our process of trip planning works in detail, please see our "How It Works" page or check out our video on "How to Plan a Multi-City Trip to Europe in  5 Easy Steps"  here.
Have questions for us? Schedule a FREE Call with us here or contact one of the travel experts/destination specialists at [email protected], call/text us at (888)223-2316 today.