The Algarve is a gorgeous beach destination along Portugal's southern coast. It's a perfect place to visit for anyone who wants a vacation filled with historic buildings, charming whitewashed villages, lush outdoor landscapes, and dramatic rocky coastlines. There are many incredible things to do during your Algarve vacation, but these ten activities are the best bucket list items to make sure you're getting the most out of your trip.
Related Posts
1. Walk Along the Cliffs at Praia da Marinha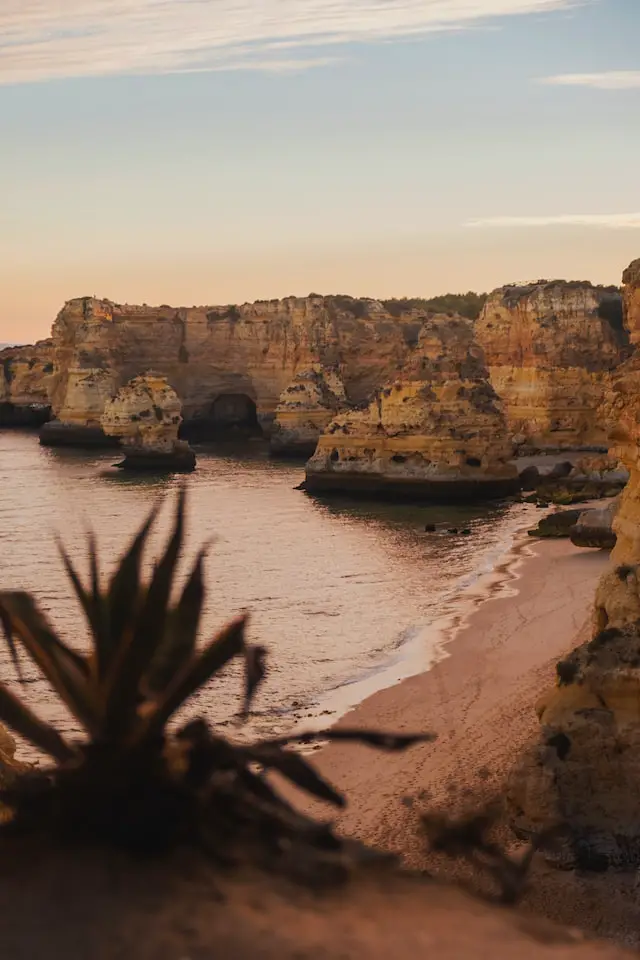 The Algarve is known for its stunning beaches and impressive rocky coastlines so you'll have no shortage of options when it comes to hiking cliffs in the region. If you're looking for the absolute best option, consider the cliffs at Praia da Marinha in Lagos. The cliffs here soar above the beaches and offer incredible vantage points of the region. You can also see the Arcos Naturais – the double rocky arch that is known as el Elefante because the arches can look like the animal from certain angles!
2. Sample Wine at an Algarve Vineyard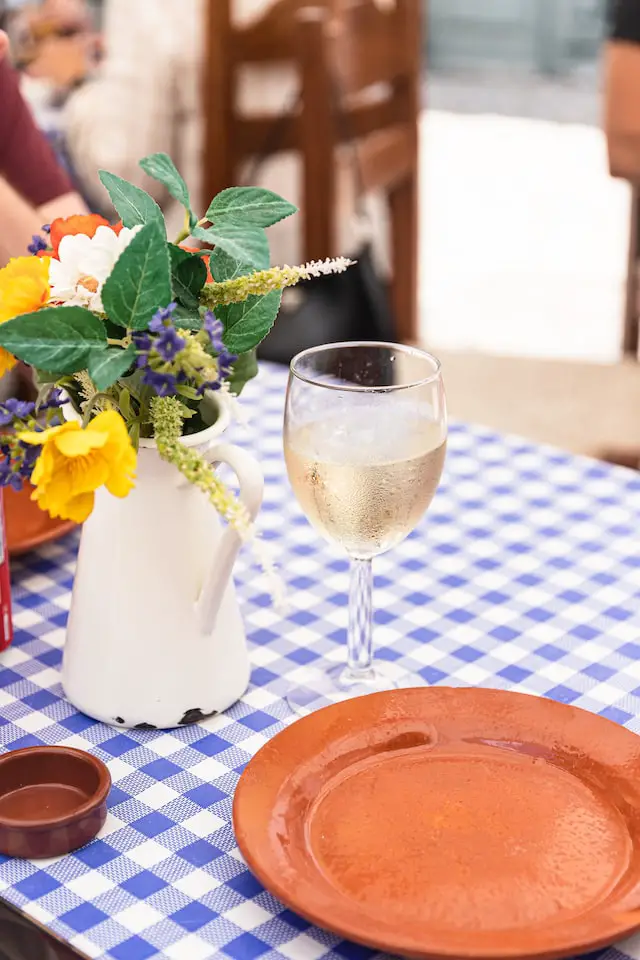 The climate of the Algarve is perfect for more than just enjoying the beach! In fact, the temperate weather is perfect for wine production and there are several wineries to visit when you're in the area. Not only do the wineries here boast amazing varieties, but they feature great views and picturesque settings.
One of the most famous and well-regarded wineries in the Algarve is Quinta Dos Vales, which won "Best Wine of the Algarve" seven times over the past 11 years.
3. Take a Boat Trip to the Benagil Cave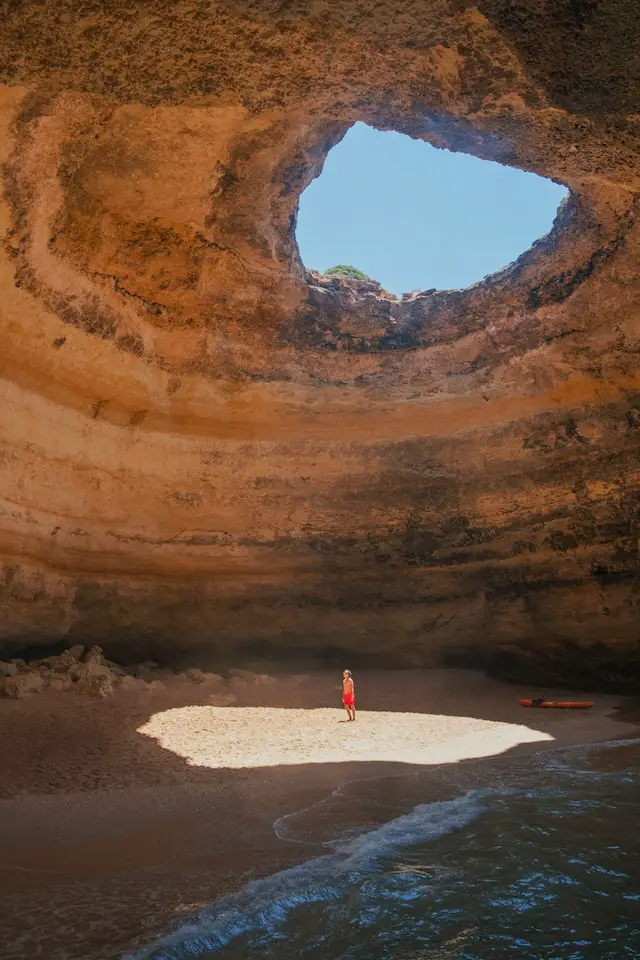 Located along Benagil Beach, the impressive Benagil Cave is one of the Algarve's most stunning natural attractions. It's notable for the rocky archways that emerge from the shallow water of the beach but also for the large gap in the cave that allows for great views of the sky. You can take a guided boat tour to experience the caves up close, or you can venture out there yourself via kayak from a nearby beach. Either way, make sure you bring your camera!
4. Explore the Cobblestone Alleyways of Albufeira
Albufeira is a charming town in the Algarve that is defined by whitewashed buildings and quaint cobblestone alleyways. If you're looking for a place to slow down and enjoy the ambiance of the region, Albufeira is a great place to spend a few days. Step into local shops and pick up a souvenir or enjoy some traditional Portuguese food during your visit.
5. Learn How to Surf in Arrifana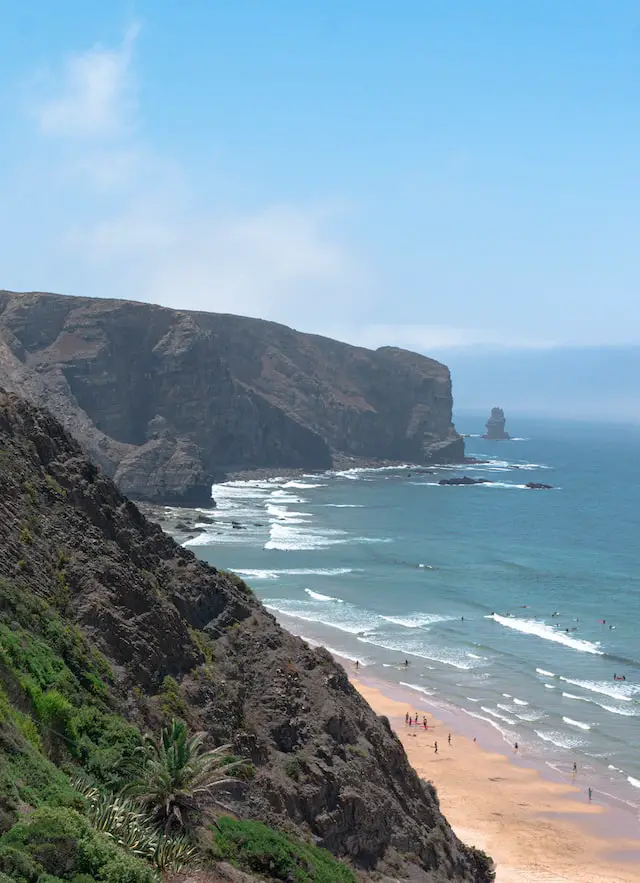 The Portuguese coast has several incredible spots for surfing, but Arrifana is one of the best. Whether you're an experienced surfer or you're hoping to take a lesson, this Algarve town has it all. One of the reasons it's such a great spot for surfing is the waves – they're not particularly big or unusual, but they are consistent, which means you have more time to learn and practice. You can always bring your own equipment, but there are several shops and rental companies where you can outfit yourself for a day out on the waves.
6. See Street Art in Olhão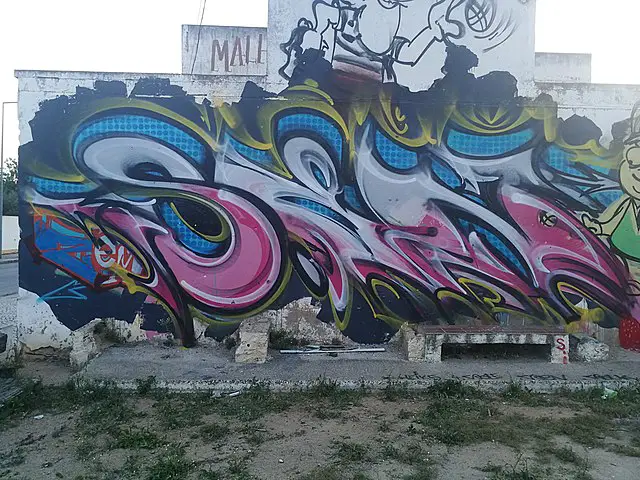 There are multiple ways to explore the culture and art of the Algarve, but one of the most unique is to see the street art throughout Olhão. Although Olhão is primarily known for being a fishing village, it's also home to vibrant works of art which wrap around the buildings of the town. The tradition of street art in Olhão began in an effort to beautify old abandoned buildings and make them into something interesting rather than an eyesore.
7. Visit the Museum at the Lighthouse of Cabo de São Vicente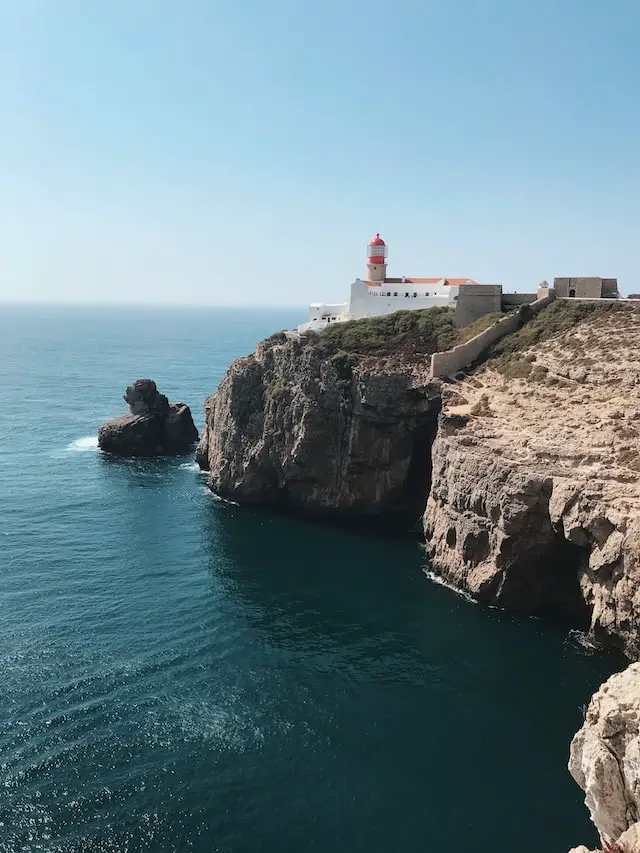 The lighthouse you can see perched atop one of the cliffs of the Cape of St. Vincent dates back to 1500 when a defensive tower structure was built. Although the original structure has suffered damage over the years, there are some elements of the historic structure that remain and you can learn about the history of the lighthouse and the defensive tower when you visit.  There's also a small museum inside that contains several interesting artifacts.
8. See the Shipwreck at Patacho Beach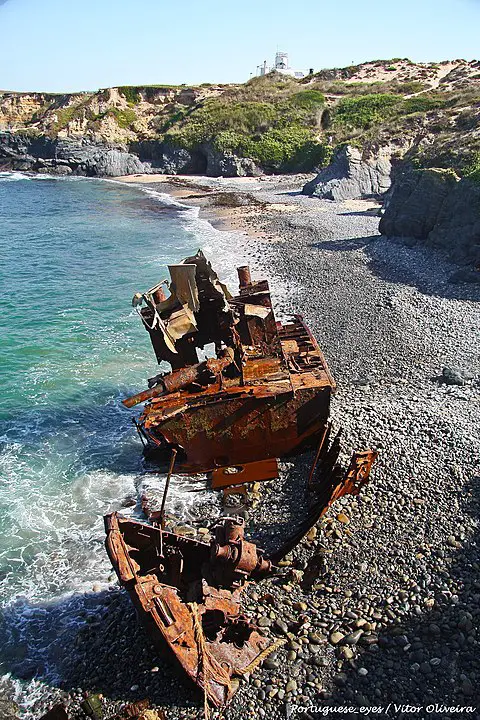 You can find examples of Portugal's long history anywhere you turn in the country, and the beaches are no exception as the waters off the coast of Portugal are home to many fascinating shipwrecks. Most can only be seen on a diving expedition, but there's one exception which can be found on the sandy shores of Patacho Beach. You can see the remnants of a Dutch ship called the Klemens. Apart from the fact that it was wrecked in December of 1996, there isn't too much known about it, but it's a unique reminder that the seafaring history of the region isn't exclusively an ancient and historic thing.
9. Swim in the Warm Waters of Praia da Ilha do Pessegueiro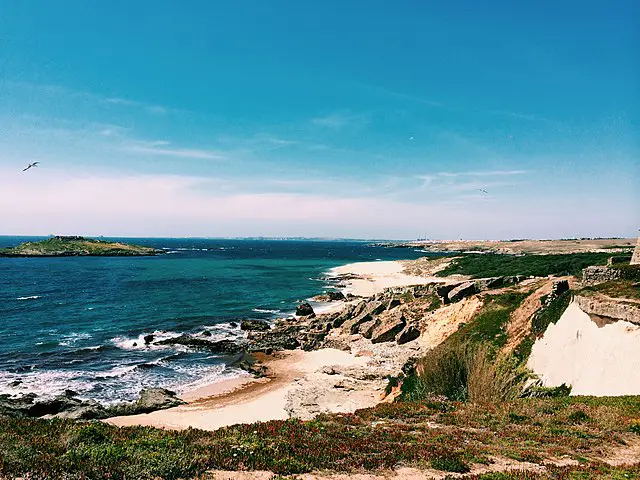 The Algarve has many opportunities for outdoor recreation, including swimming! Plan a day trip to Praia da Ilha do Pessegueiro, a gorgeous beach in the city of Sines. Not only are the waters here warmer than the average beach, but it's also far less crowded than the average Algarve beach. It's also notable for the flowers and rocky areas, which create a more unique beach landscape.
10. Go Dolphin or Whale Watching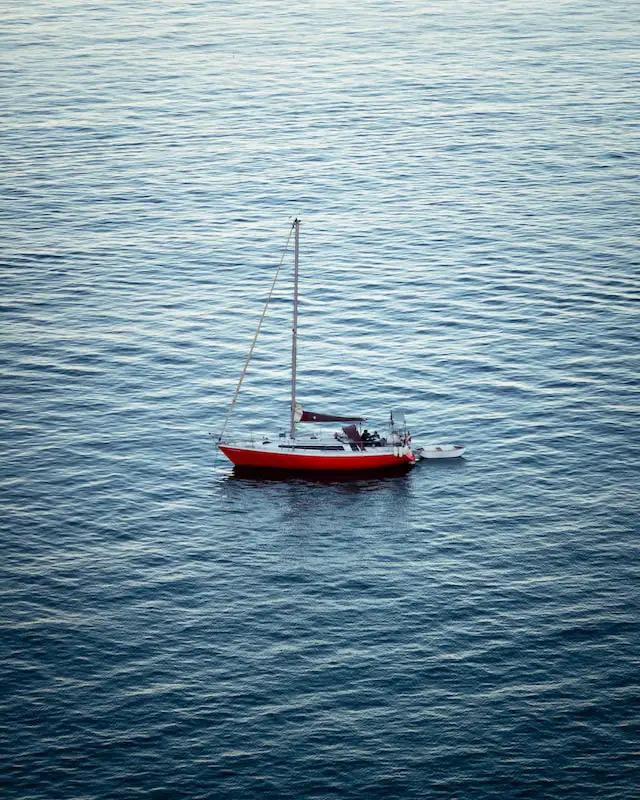 Humans aren't the only ones who are drawn to the beaches of the Algarve! Dolphins and whales flock to the area as well, and you can take a boat tour specifically designed to spot them enjoying their natural habitats. Although these are wild animals and you can't guarantee that you'll see one at any point, you'll have your best shot between June and September. Even if you don't see many of the ocean creatures on your boat tour, you'll be able to enjoy views of the shore while relaxing on the boat.
Video Guide: Coming soon
Related Posts
Travel Resources for Planning a Trip to Portugal
To make planning your trip to Portugal easier, we included some of our recommended travel resources below. You can search and find the best flights, transportation options, hotels to stay in, tours/activities, and things you can do at each destination during your trip.
Flights: 
Agoda: Search thousands of destinations around the world & quickly compare prices to find amazing deals on the best flights.
CheapOAir: You can find airline tickets, hotel rooms, rental cars, and vacation packages all on one site!
Kiwi.com: What we like about Kiwi is the fact that they are able to create combinations of flight, train, and bus tickets and offer them in a single itinerary. Also, Kiwi has what they called "Nomad" which helps you find the best way of visiting multiple destinations, saving you time and money.
JetRadar: You can search and compare airfares from 726 airlines and dozens of travel agencies and systems.
Hotels: 
Agoda: Agoda is one of the world's largest online travel accommodation platforms with a network of over 2,000,000 vacation rentals and hotels worldwide.
Hotellook: They have more than 250,000 hotels in 205 countries, working with data from more than 10 online booking systems, such as Booking.com, Agoda.com, Hotels.com, Expedia, and others.
Transportations: 
Airport Transfers: KiwiTaxi, Viator
Train: EuroRail, Trainline or RailEurope 
Bus: Flixbus: Very affordable (as low as $6) and a convenient way to transfer between cities in Europe.
Car Rentals: AutoEurope, EconomyBookings, or  GetTransfer (transfers & car rentals with a personal driver)
Bike Rental: BikesBooking (Bikes & scooter rentals) 
Transportation Comparison: Omio (search, compare, and book tickets for buses, trains, and flights all in one site)
Tours & Activities:
TakeWalks (WalkofItaly): This is our favorite site for walking tours & day trips.
Tiqets: Great site for entrance tickets. It offers directly bookable, instantly available, and completely mobile tickets for museums, shows, and attractions all over the world.
Musement: They have good activities and tours in Italy and Spain, and also many great day trips you can choose from.
GetYourGuide: A large number of tours, excursions, and other travel activities
Viator: The largest one. It has everything from tours, attractions, shore excursions, and private guides in over 2,700 destinations worldwide. It also has many transportations and transfer options and some unique experiences we didn't find anywhere else.
Need help planning a trip to the Algarve Region in Portugal?
Planning and looking for the best town to stay in while visiting the Algarve? If you find this type of trip planning to be too complicated to plan on your own, we're here to help!
At MultiCityTrips, multi-destination travel and complicated itineraries such as a special trip to the Algarve region are our specialties. Contact us today to learn more about how one of our experienced travel experts/destination specialists can personalize your multi-city vacations at the best price.
Don't want to start from scratch and need some trip inspiration? Check out our marketplace for customizable pre-designed packages available right now for many amazing destinations.
To learn more about how our process of trip planning works in detail, please see our "How It Works" page or check out our video on "How to Plan a Multi-City Trip to Europe in  5 Easy Steps"  here.
Have questions for us? Schedule a FREE Call with us here or contact one of the travel experts/destination specialists at [email protected], call/text us at (888)223-2316 today.