The coastlines of southern Italy offer unparalleled beauty and a serene environment where you can relax and soak in the sun. With so many options, it's a big challenge to figure out which one you should actually visit on your next trip to the region. The seven beaches mentioned on this list are the best beaches in Southern Italy and will offer you a magical seaside experience.
Related Posts:
1. Cala Brandinchi, Sardinia
Cala Brandinchi, located in the northwest part of Sardinia, is known as one of the best beaches in Southern Italy. It's located in between Olbia and San Teodoro, two beautiful coastal locations in their own right, and is very popular, especially during the summer. If you're visiting on a weekday or during the off-season, you may be able to enjoy the beach without too many others around you.
This stunning cove is completely free to use and is open to the public, which makes it easy to visit. You'll enjoy unwinding on the powdery white sand or taking a dip in the crystal clear water that takes on shades of turquoise. The water is not too deep, meaning it is much safer for visitors of all ages to enjoy the waters of this stunning south Italian beach.
2. Torre Dell'Orso, Puglia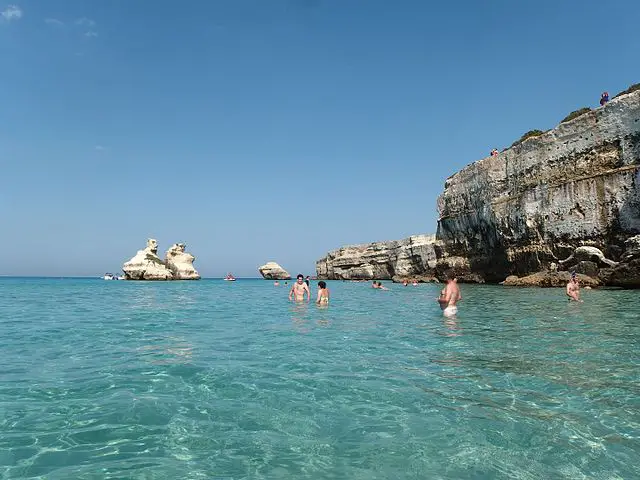 Located in the city of Melendugno, Torre Dell'Orso is a popular beach that many visit to relax on the beach and enjoy the stunning views. One of the most unique features of the beach's landscape is the grove of pine trees that sits behind the sandy beach area. The currents are almost never overwhelming which makes the beach generally safe for even the most inexperienced swimmers. You can go camping near the beach as well.
The most notable feature of the beach is the ruins of the 16th century structure the beach gets its name from. This dilapidated structure is contrasted by Le Due Sorelle, a pair of large rock formations that jut out from the sea. Torre Dell'Orso is also known for its coastal cliffs such as San Cristoforo – this cave is historic and contains the remnants of ancient graffiti!
3. Cala Goloritze, Sardinia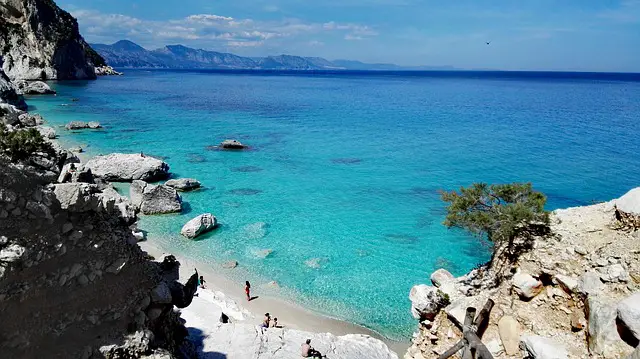 The beautiful Cala Goloritze beach on Sardinia's coast offers gorgeous coastal views and a stunning white sand and pebble beach. Take a boat to Piscine di Venere and swim in the clear turquoise water and see fish and maybe even dolphins! It's also an ideal spot for scuba diving and snorkeling as well as land activities like rock climbing or hiking. Just make sure you bring beach shoes to help you avoid the sharp rocks that may be on the beach or in the water.
There is a small price to enter – around a few euros – and they do limit the amount of people who can enter every day. The total number varies throughout the year but never exceeds 1,000. The best time to visit is between May and October but those mid-summer months will bring more visitors, making it harder to enter. Head to Cala Goloritze during the months of September and October to enjoy the beautiful weather with comparatively smaller crowds.
4. Pescoluse, Puglia
The glittering waters and warm golden sands that define Pescoluse are a picturesque sight you'll have to see to believe. The waters are generally quite shallow and rarely rough which makes the beach perfect for swimmers of all skill levels including children. It's also a great beach to check out as it typically doesn't see a high number of tourists. There are many restaurants and cafes where you can grab a bite to eat if you get hungry while enjoying the sunshine.
5. Tropea, Calabria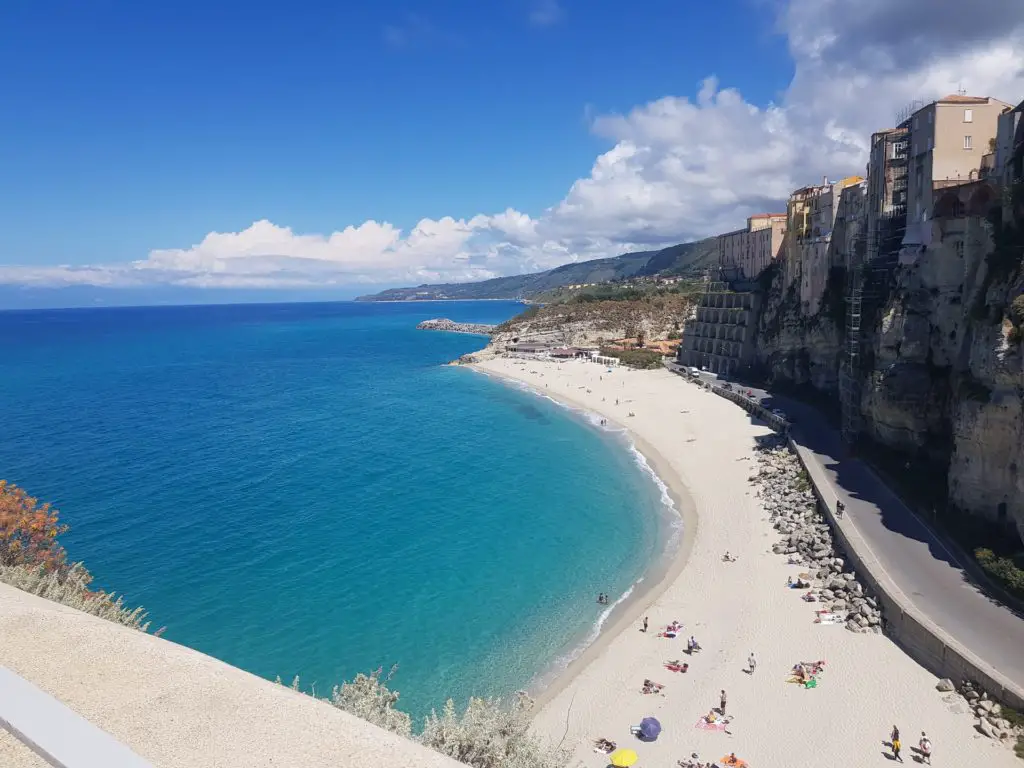 Known as the "Coastline of the Gods", Tropea in Calabria stands out not only for the sparkling beaches but for the imposing white cliffs that jut up from behind them.
Although admiring the beauty of this stretch of coastline is an incredible activity in itself, there are plenty of other things to do on this beach. It's great for families with younger children as there are services available like small paddle boats for hire. There's also easy access to cafes and shops so you'll have everything you need to enjoy an ideal beach vacation.
6. Bagni Di Tiberio, Capri
The beautiful Bagni Di Tiberio is located on the northern portion of the Southern Italian island of Capri. It's widely considered to be the best beach on Capri and one of the best beaches in Southern Italy. This is a great option for anyone but especially for those traveling with small children or elderly relatives as there are restaurants, bathrooms, and other facilities close by.
There is a fantastic beach club you can visit while you are there as well if you're looking for beach chairs or umbrellas to sit under. You'll also have opportunities to venture out on the glass blue waters on a hired boat. You can even swim near ancient Roman ruins for a truly unique beach experience! As with the other beaches on this list, you can visit at any time during the summer months but the early summer or late summer will give you the best chance at experiencing the beach without the crowds.
7. Lama Monachile, Apulia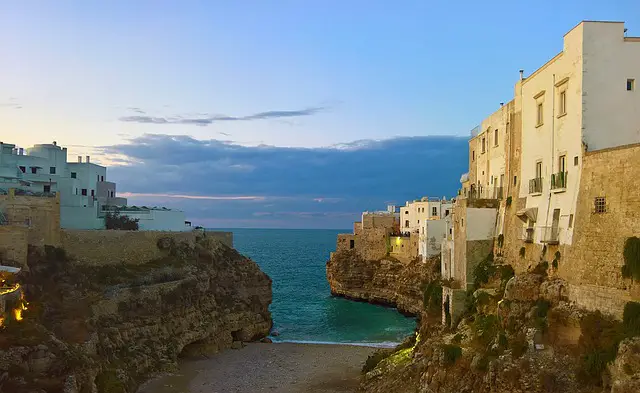 Lama Monachile is a gorgeous beach in Apulia that is characterized by rocky cliffs jutting high above the clear waters and the pebble beach. You may hear the beach referred to as Cala Porto – this is actually its real name and Lama Monachile is a nickname that was given to the cove thanks to the Lama Monachile bridge which is an Old Roman structure that still stands to this day. It's a stunning picturesque spot thanks to the impressive cliffs framing the beautiful beach.
If you visit Lama Monachile, be aware that the high cliffs cast shadows over the beach so you'll want to avoid it on colder days. But during the warmer summer months, it's an ideal spot to enjoy the beach and grab a bite to eat or rent beach equipment from the nearby businesses when you want to mix things up.
Related Posts:
Travel Resources for Planning a Trip to Southern Italy
To make planning your trip to visit some of the best beaches in Southern Italy easier, we included some of our recommended travel resources below. You can search and find the best flights, transportation options, hotels to stay in, tours/activities, and things you can do at each destination during your trip.
Flights: 
Agoda: Search thousands of destinations around the world & quickly compare prices to find amazing deals on the best flights.
CheapOAir: You can find airline tickets, hotel rooms, rental cars, and vacation packages all on one site!
Kiwi.com: What we like about Kiwi is the fact that they are able to create combinations of flight, train, and bus tickets and offer them in a single itinerary. Also, Kiwi has what they called "Nomad" which helps you find the best way of visiting multiple destinations, saving you time and money.
JetRadar: You can search and compare airfares from 726 airlines and dozens of travel agencies and systems.
Hotels: 
Agoda: Agoda is one of the world's largest online travel accommodation platforms with a network of over 2,000,000 vacation rentals and hotels worldwide.
Hotellook: They have more than 250,000 hotels in 205 countries, working with data from more than 10 online booking systems, such as Booking.com, Agoda.com, Hotels.com, Expedia, and others.
Transportations: 
Airport Transfers: GetTransfer offers both airport transfers & car rentals with a personal driver. Other airport transfer options are KiwiTaxi and Viator.
Train:  EuroRail, Trainline, or RailEurope are all great sites for train tickets as well as Rail Passes if you would like to add more flexibility to your trip.
Bus: Flixbus: Very affordable (as low as $6) and convenient way to transfer between cities in Europe.
Car Rentals: AutoEurope, EconomyBookings, or  GetTransfer (transfers & car rentals with a personal driver)
Bike Rental: BikesBooking (Bikes & scooter rentals) 
Transportation Comparison: Omio (search, compare, and book tickets for buses, trains, and flights all in one site)
Tours & Activities:
TakeWalks (WalkofItaly): This is our favorite site for walking tours & day trips.
Tiqets: Great site for entrance tickets. It offers directly bookable, instantly available, and completely mobile tickets for museums, shows, and attractions all over the world.
Musement: They have good activities and tours in Italy and Spain, also many great day trips you can choose from.
GetYourGuide: A large number of tours, excursions, and other travel activities
Viator: The largest one. It has everything from tours, attractions, shore excursions, and private guides in over 2,700 destinations worldwide. It also has many transportations and transfers options and some unique experiences we didn't find anywhere else.
DISCLAIMER: Links included in this description might be affiliate links. If you purchase a product or service with the links, MultiCityTrips may receive a small commission at no additional charge to you.
Need help planning a trip to Southern Italy?

Want to plan a trip to visit some of the best beaches in Southern Italy, and other destinations in Europe but don't know where to begin? If you find this type of multi-city trip planning to be too complicated to plan on your own, we're here to help!
At MultiCityTrips, multi-destination travel and complicated itineraries such as a trip that include visiting multiple cities, and countries throughout Europe are our specialties. Contact us today to learn more about how one of our experienced travel experts/destination specialists can personalize your multi-city European trip and craft your European vacation package at the best price.
Don't want to start from scratch and need some trip inspiration? Check out our marketplace for customizable pre-designed packages available right now for many amazing destinations in Europe.
To learn more about how our process of trip planning works in detail, please see our "How It Works" page or check out our video on "How to Plan a Multi-City Trip to Europe in  5 Easy Steps"  here.
Have questions for us? Schedule a FREE Call with us here or contact one of the travel experts/destination specialists at [email protected], call/text us at (888)223-2316 today