Rome is an incredible and popular place to visit. It's known as a culturally and historically rich city with many things to discover, explore, experience, and taste, and it's earned that reputation. You can see ancient ruins, savor some incredible pizza or pasta dishes, and shop for some incredible local goods – all in the same day! Read on for a list of seven of the best Rome neighborhoods to visit or stay in when you visit Rome:
Related Posts:
1. Trastevere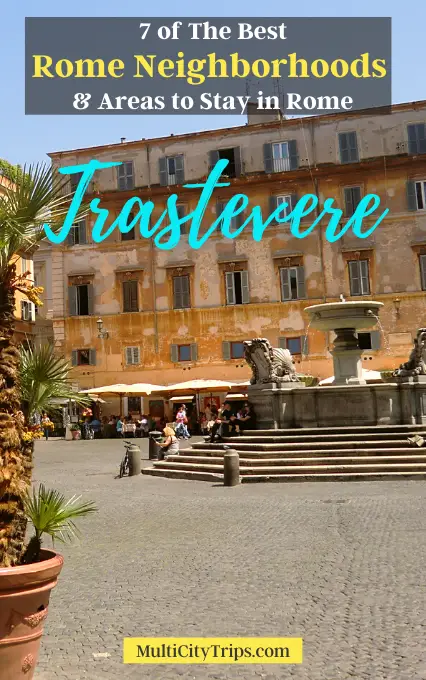 Trastevere is one of the most popular and one of the best Rome neighborhoods to stay in and visit – it has stunning architecture, great food, and many things to do. This is the best neighborhood for you if you love nightlife. The population of this neighborhood tends to be younger as there are many students and recent graduates, so if you're looking to experience bars and clubs, this is a great neighborhood for you.
In what may seem like a sharp contrast, this is also a great neighborhood in Rome for the history lover. Quite a bit of architecture is original, which means it's been preserved since the middle ages. It's also home to the famous Basilica of Santa Maria in Trastevere, one of the oldest churches in Rome.
Where to Stay:
More hotel options in Trastevere can be found here.
Things to Do in Trastevere:
2. Testaccio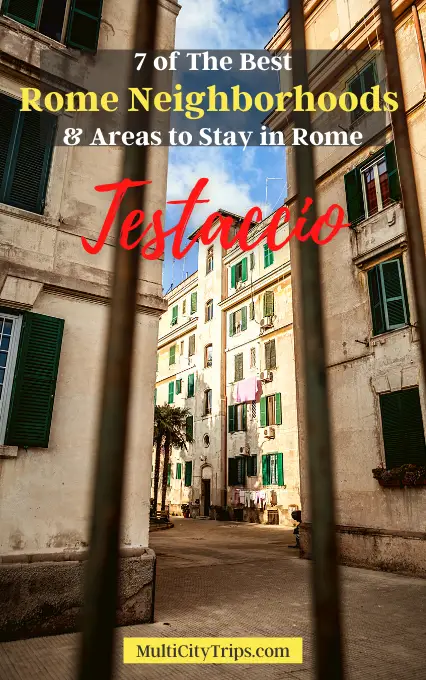 This Roman neighborhood is an incredible place to visit if you're a foodie.
Visit the Mercato di Testaccio. This glass-roofed market that sits atop a Roman archeological site is a great place to walk around while enjoying the local food and culture. If you find yourself craving a panini when you're there, head on over to Mordi e Vai, a food stall that sells some of the best paninis in Rome. Even if you aren't craving one, you won't regret giving this place a try!
Try some of the traditional Roman fare at Agustarello a Testaccio. This small restaurant is popular with the locals so if you want to experience the authentic foodie culture of the neighborhood, you'll want to add this place to your list.
Where to Stay:
Things to Do:
3. Monti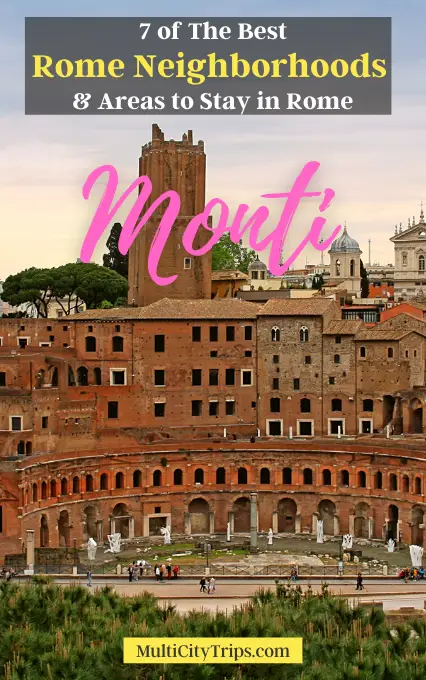 Monti might best be considered a young and hip neighborhood that's great for artists and creative types. If you visit this neighborhood, you can enjoy the cobblestone streets and incredible historic architecture that you see throughout most of Rome, but you can enjoy it with a side of great local art, artisans, and unique vintage shopping opportunities.
On Sundays in Monti, you have the opportunity to visit Mercato Monti, an indoor market where you can buy goods from independent designers and local artists. You can also sift through collections of vintage clothing, jewelry, records, and more!
Where to Stay:
There are so many amazing hotels in Monti, you can see the full list here.
Things to Do:
4. San Giovanni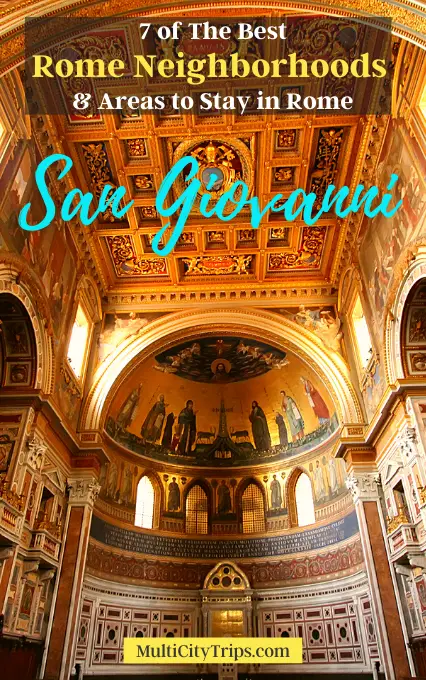 The neighborhood of San Giovanni is the place to go if you're seeking the local experience and hoping to avoid tourists. Quite a bit of the area is residential, so if you're interested in staying long term or simply experiencing what it would be like to live in Rome, San Giovanni is the place for you.
You can also see some exceptional architecture and history in San Giovanni, starting with the Basilica di San Giovanni in Laterano, one of Rome's most important churches. It's also the oldest church in all of Europe. The date it was constructed is unknown, but it is estimated to have been built in the early part of the 4th century.
Where to Stay:
Things to Do:
5. Prati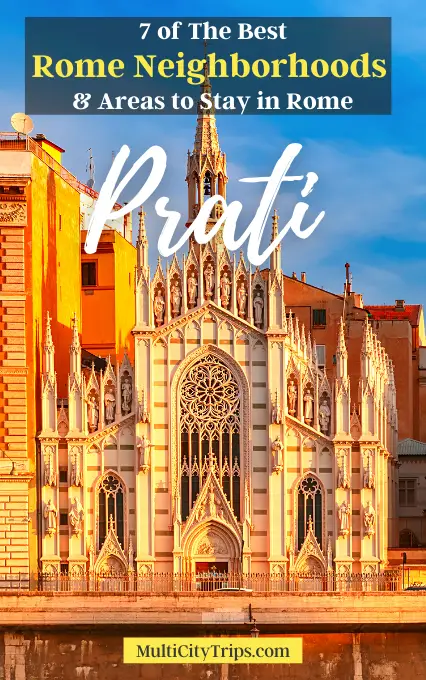 Prati is an upscale neighborhood in Rome that's bursting with art nouveau charm. It's also where the Vatican City is located, so if that's on your itinerary for your trip, you'll want to spend some time here. The Vatican Museums are a great place to soak in some history and see incredible sculptures, paintings, and more. The tours of the museum feature multiple routes that showcase different aspects of the incredible and historic collections.
This is also the place to visit if you want to see the Sistine Chapel, the chapel in the Apostolic Palace (the Pope's official residence). It was consecrated in 1483 and is perhaps most famous for it's frescos: the incredible paintings that cover the ceiling and altar wall were both painted by famed artist Michaelangelo in the early 1500's. Each piece took him roughly four years to complete, so if you're interested in art and history, you'll want to visit the Vatican and see this incredible work of art in person.
Where to Stay:
For more hotel choices in Prati, see our full list of hotels here.
Things to Do:
6. Trevi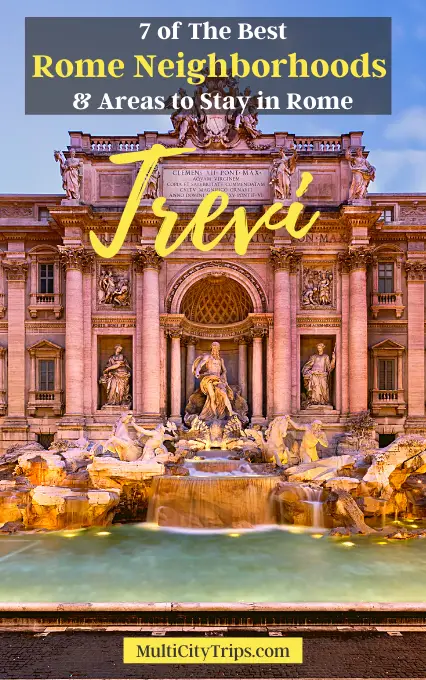 If you want to have the quintessential experience in Rome inspired by the way you've seen it portrayed in television or movies, Trevi is the neighborhood for you. You can ride a vespa over the cobblestone streets like Audrey Hepburn did in Roman Holiday, or toss a coin into the Trevi fountain like many have done before. According to tradition, if you toss a coin in with your right hand over your left shoulder while your back is to the fountain, you will visit Italy again – and after your experiences staying in Trevi, you'll surely hope that legend is true.
Other sites in Trevi include the Spanish Steps. This set of stairs was built in 1723, and eventually became a meeting place for artists. In fact, a home that one belonged to writer and poet John Keats still stands today and is now a museum to both Keats and Percy Bysshe Shelley, amongst other writers. The Spanish Steps is often considered one of the most photographed places in the world, and it is a great place to relax and enjoy the artistic culture of the neighborhood.
Where to Stay:
For more hotel options in Trevi, see our list here.
Things to Do:
7. San Lorenzo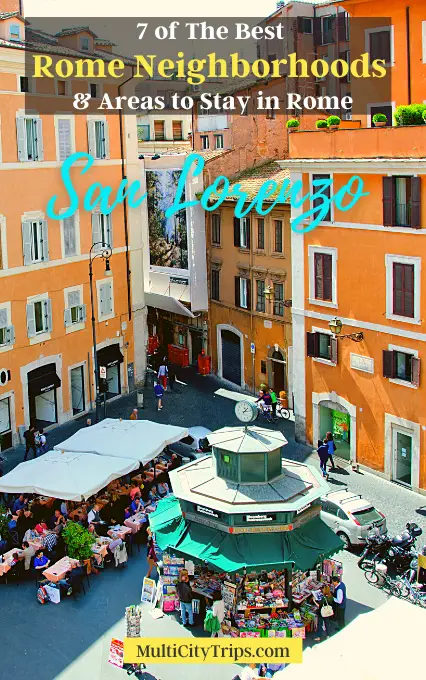 The neighborhood of San Lorenzo is home to Sapienza University, and therefore it's a great area to stay if you want the laid back but fun experience that comes from being surrounded by a significant population of college students and recent graduates.
During World War II, San Lorenzo was bombed heavily and never fully recovered to its original state. Due to the influx of college students, a more modern series of shops, restaurants, and nightclubs have been slowly popping up, consequently replacing some of the older markets. If you're interested in staying in a part of Rome that is affordable, fun, and has a great atmosphere, San Lorenzo is the place for you.
Where to Stay:
See more hotel options in San Lorenzo here.
Things to Do:
Video Guide: Where to Stay in Rome. 7 Top Rome Neighborhoods to Stay in
Related Posts:
Need help planning a trip to Rome?

Need help planning a trip to Rome or want to stay in one of the best Rome neighborhoods but don't know where to begin? If you find this type of Europe trip planning to be too complicated to plan on your own, we're here to help!
At MultiCityTrips, multi-destination travel and complicated itineraries such as multi-city, multi-country European vacations, and finding the best areas and neighborhoods to stay during these trips are our specialties. Contact us today to learn more about how one of our experienced travel experts/destination specialists can personalize your multi-city European trip and craft the best vacation package (with the best areas and neighborhoods for you to stay in of course!) at the best price.
Don't want to start from scratch and need some trip inspiration? Check out our marketplace for customizable pre-designed packages available right now for many amazing destinations in Europe.
To learn more about how our process of trip planning works in detail, please see our "How It Works" page or check out our video on "How to Plan a Multi-City Trip to Europe in  5 Easy Steps"  here.
Have questions for us? Schedule a FREE Call with us here or contact one of the travel experts/destination specialists at [email protected], call/text us at (888)223-2316 today