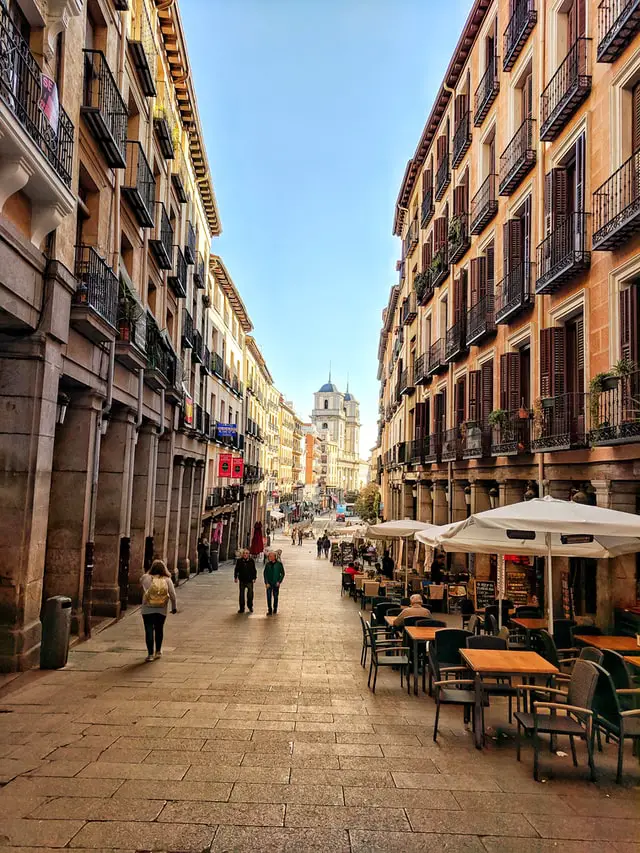 Spain is regarded as one of the best tourist destinations in the world. There's something for everyone here, from vibrant cities to historical landmarks and everything in between. If you are looking for the best places to visit and things to do in Spain and not sure where to begin. Here are the fifteen experiences you should consider adding to your Spain bucket list.
Related Posts
1. Admire the eclectic architecture of the La Sagrada Familia in Barcelona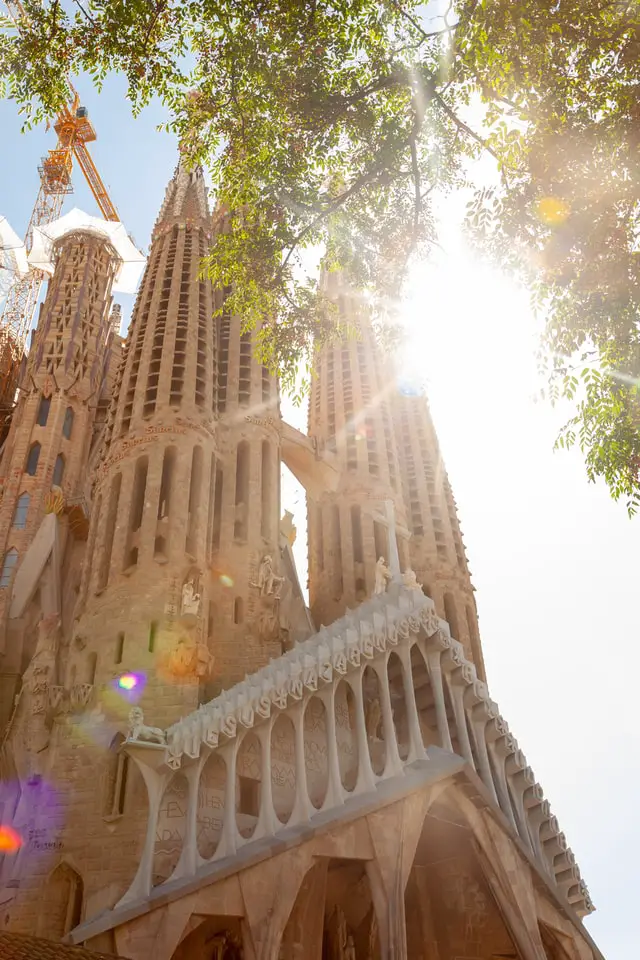 Barcelona's most famous basilica, La Sagrada Familia, is one of the most fascinating examples of a blended architectural style as well as being a beautiful and stunning landmark. The building was designed by the Spanish architect Antoni Gaudi, and it is now a UNESCO World Heritage Site. You can visit any day of the week and you can make your visit smoother by purchasing a skip-the-line ticket.
2. Take a guided tour of the Alhambra in Granada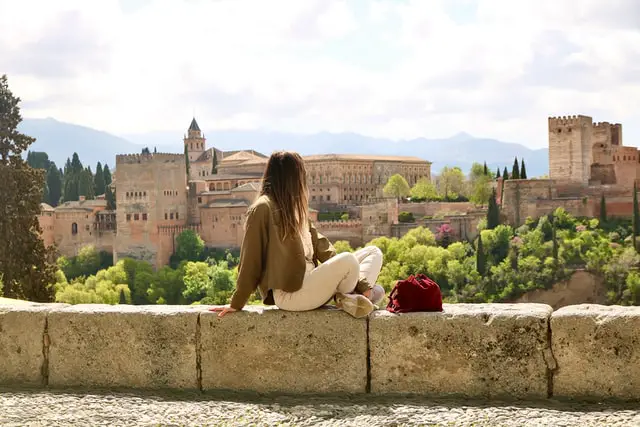 The Alhambra is a beautiful fortified palace in the southern Spanish region of Andalusia. Consisting of the palace grounds as well as a lush garden, the Alhambra provides a place where you can wander and soak in the history and culture of the region. Originally constructed in 893 CE on the site of Roman ruins, it was later rebuilt in the 1300s and that reconstruction mostly stands to this day. If you plan on visiting, it's advisable to purchase a ticket for a guided tour.
3. Admire the view from Toledo's Old City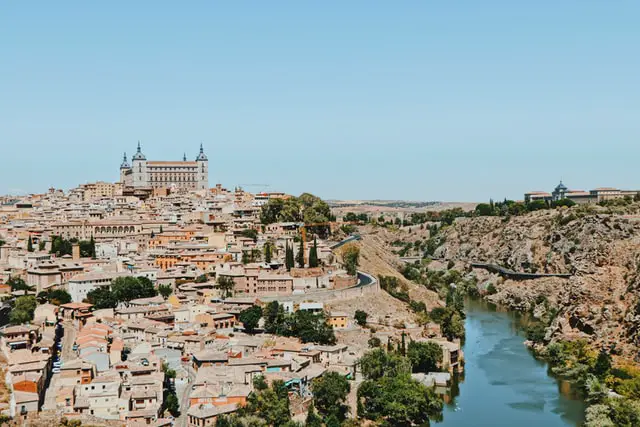 The city of Toledo is the capital city of the province of the same name. The larger cultural landscape of this historic city has a unique heritage as it received various contributions from the Jewish, Christian, and Muslim populations, earning it the nickname "City of Three Cultures." You can both explore the city's history and admire the view from any of the city's many viewpoints.
4. See notable works of art in person at the Guggenheim Museum in Bilbao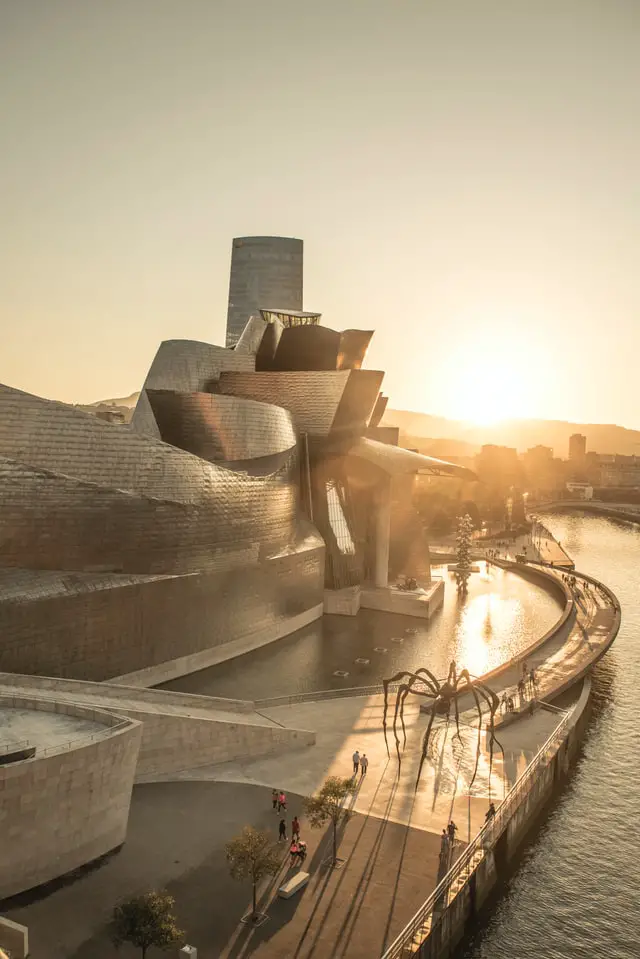 You might associate the Guggenheim with New York City but the spectacular museum has a European branch which can be found in Bilbao. It's home to a wide variety of works from notable artists such as Mark Rothko and Jeff Koons. If you would like to visit this museum it is necessary to purchase a ticket in advance. You can take advantage of the self-guided audio tours to help you explore the 20 galleries available throughout the museum.
5. Tour the historic Seville Cathedral in Seville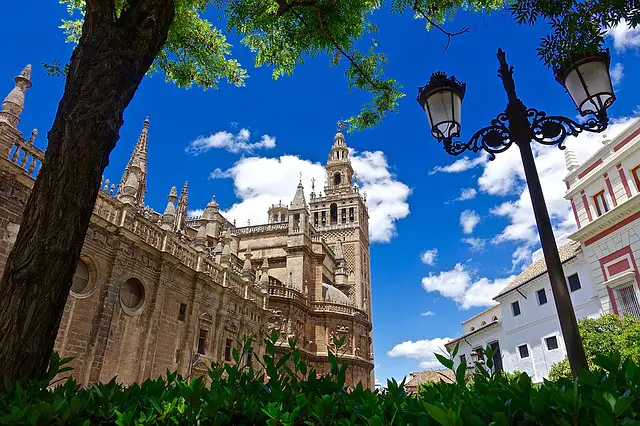 The Seville Cathedral is a masterpiece of Roman Catholic architecture and has been designated a UNESCO World Heritage Site. It is perhaps best known as the final resting place of Christopher Columbus. Originally built as a mosque, some original elements remain including its courtyard and minaret. Tickets are required to visit – you should purchase tickets in advance to save time and avoid lines but you can buy same-day tickets as well.
6. Hike through Spain via El Camino de Santiago
The Camino de Santiago is a series of pilgrimage routes to the Cathedral of Santiago de Compostela. Rather than being one central location, these routes are a series of trails that originate in a variety of different places. The Camino Francés Trail, which leads to the shrine of the apostle Saint James the Great in the cathedral of Santiago de Compostela in Galicia, northwestern Spain, is the most well-known of the trails. The network is considered a UNESCO World Heritage Site.
7. Tour a real royal castle when you visit the Real Alcázar de Sevilla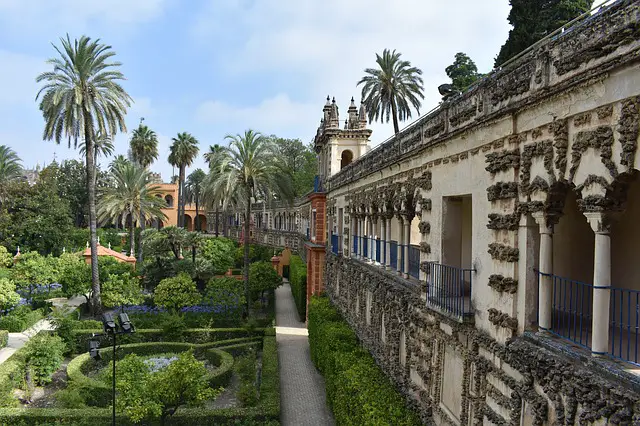 Real Alcázar de Sevilla, also known as al-Qasr al-Muriq and the Alcázar of Seville, is a royal palace in Seville, Spain, built for King Peter of Castile. This beautiful palace complex is considered to be one of the most beautiful sights in all of Spain and is easy to visit with a ticket. Make sure you visit in the afternoon to avoid busy tour groups.
8. Relax in a piece of history at the Plaza Major in Madrid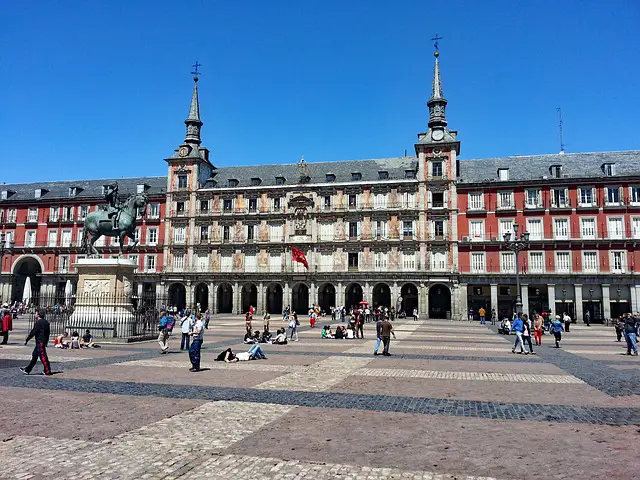 The Plaza Mayor is a grand public space in the heart of Madrid, Spain's capital. It was once the heart of the old city of Madrid. It was first constructed during Philip III's reign, between the years 1580 and 1619. It's a great place to grab a bite to eat, go shopping for a souvenir, and immerse yourself in Madrid's vibrant culture.
9. See works by Picasso and Dali at the Museo Nacional Centro de Arte Reina Sofía, Madrid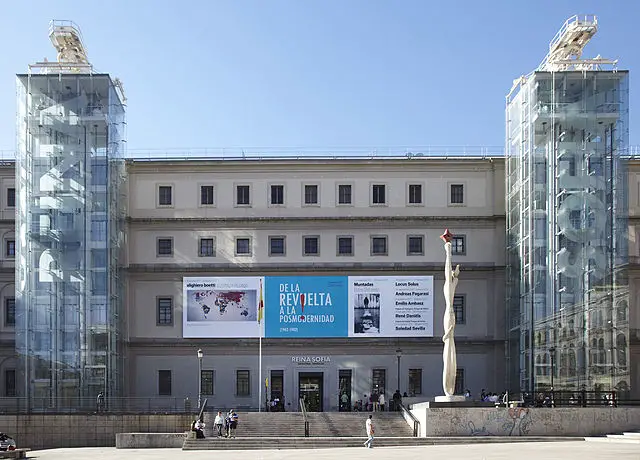 The Museo Nacional Centro de Arte Reina Sofía is Spain's national museum of 20th-century art. The museum features primarily Spanish art and has works from some of the country's greatest artists, Pablo Picasso and Salvador Dali. For example, you can see Picasso's Guernica when you visit.
10. Take a moment to enjoy the peace at the Santa Maria de Montserrat Abbey in Catalonia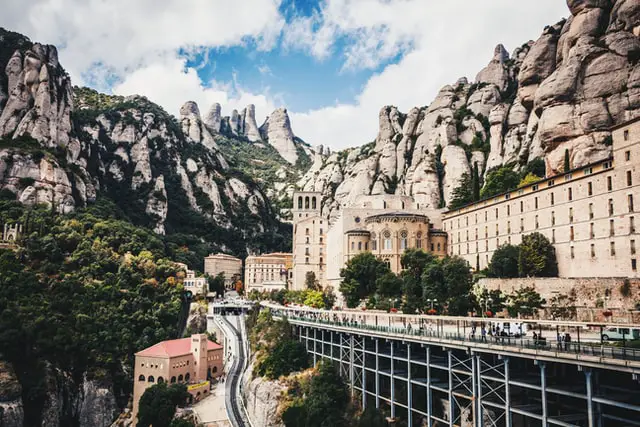 The beautiful Santa Maria de Montserrat Abbey is located on the mountain of Montserrat in Monistrol de Montserrat, Catalonia, Spain. This fine example of grand Gothic and Renaissance architecture was founded in the 11th century and rebuilt in the 19th and 20th centuries. Today it's not just a beautiful historic building – it's still a functional monastery and houses over 70 monks to this day.
11. Enjoy a Mediterranean coastal experience when you visit the Balearic Islands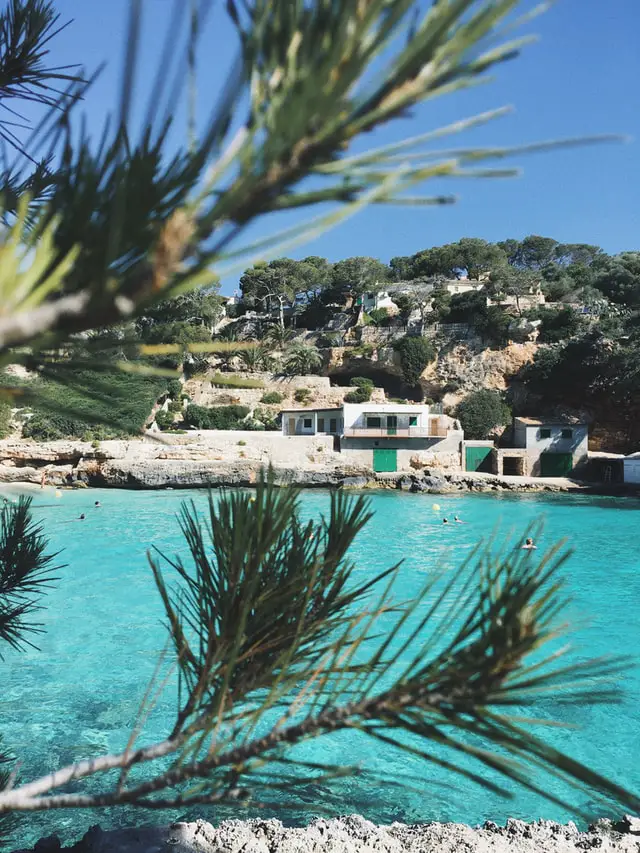 The Balearic Islands are an archipelago off the coast of eastern Spain in the Mediterranean. Majorca, the largest island, is known for its beaches and scenic coastline and is a favorite vacation destination of many Europeans.
12. Take a self-guided audio tour at the Mezquita-Catedral de Córdoba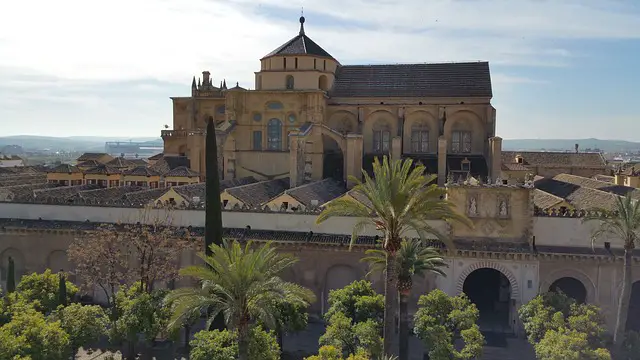 The Mosque–Cathedral of Córdoba is officially known as the Cathedral of Our Lady of the Assumption. It is the cathedral of the Roman Catholic Diocese of Córdoba in the Spanish region of Andalusia. It was originally an Islamic mosque, which is why it is called a Mezquita, or a Mosque.
13. Wander around the Pueblos Blancos in Andalucía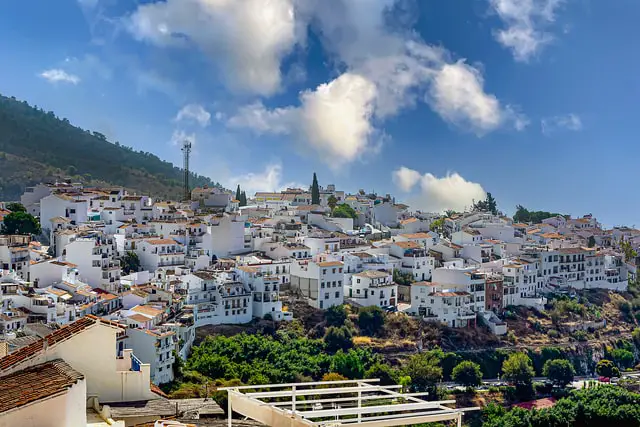 The Pueblos Blancos are a series of towns and villages that are defined by their whitewashed exteriors. They are located primarily in the Sierra de Grazalema Natural Park, in the northern part of the provinces of Cádiz and Málaga in southern Spain. You can visit any number of the villages on your trip, but make sure you spend time wandering the narrow cobblestone alleyways and soaking in the stunning views.
14. Sit on the Serpentine Bench and admire the beauty of Park Güell in Barcelona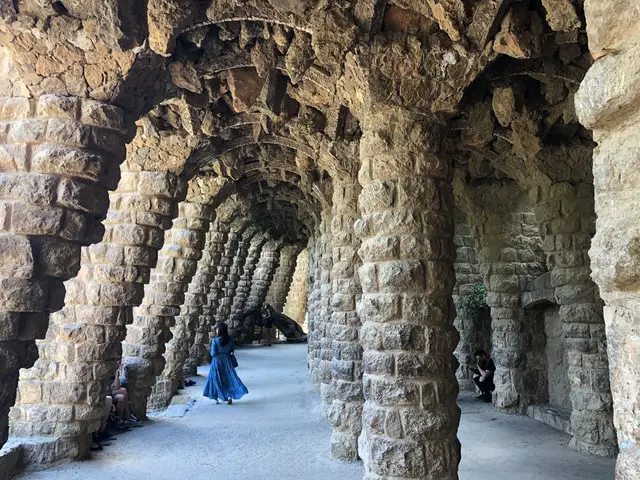 Park Güell in Barcelona is an artistic public park that offers spectacular views of Barcelona. It has been a beloved landmark in the city for nearly 100 years. It was designated a UNESCO World Heritage Site in 1984 for being a notable work of the famous Antonia Gaudi. The Serpentine bench, a long winding bench notable for its intricate mosaic patterns, is one of the many functional works of art throughout the park.
15. Capture some memories at the picturesque town of Ronda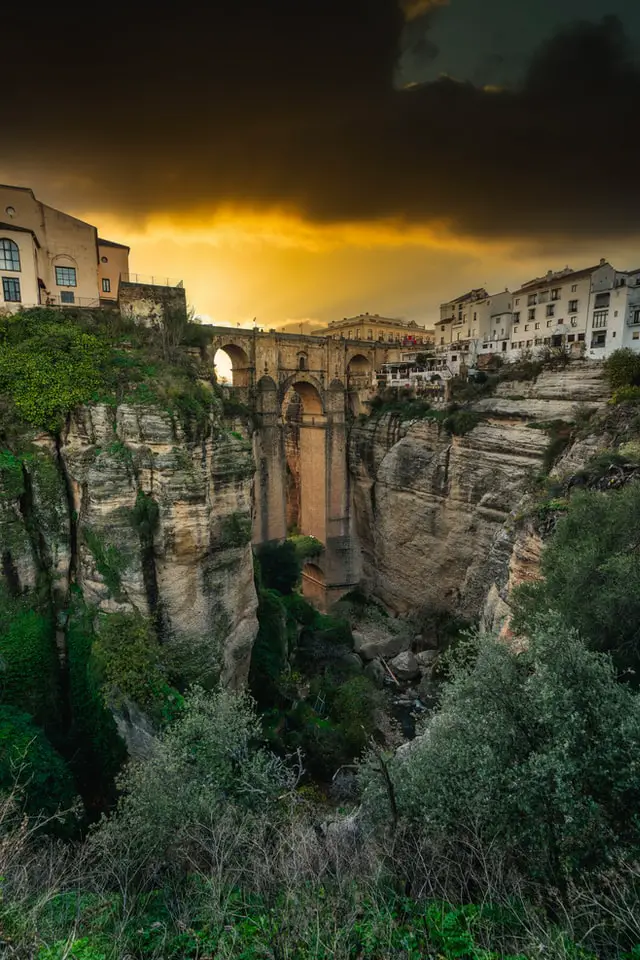 The beautiful mountaintop town of Ronda is a fantastic destination to visit. Not only will you get to see some of the most picturesque views in all of Spain, but you'll have the chance to learn about a unique side of the country's history as well. One of the highlights are the three bridges that date back to the 1700s. These impressive structures that cross the Guadalevín River have varying heights but the tallest, Puente Nuevo, reaches 321 feet!
Video Guide: Spain Bucket List | 15 Best Things to See and Do in Spain
Related Posts
Travel resources for planning a Spain bucket list trip
To make planning your Spain bucket list trip easier, we included some of our recommended travel resources below. You can search and find the best flights, transportation options, hotels to stay in, tours/activities, and things you can do in each destination during your trip.
Flights: 
Agoda: Search thousands of destinations around the world & quickly compare prices to find amazing deals on the best flights.
CheapOAir: You can find airline tickets, hotel rooms, rental cars, and vacation packages all on one site!
Kiwi.com: What we like about Kiwi is the fact that they are able to create combinations of flight, train, and bus tickets and offer them in a single itinerary. Also, Kiwi has what they called "Nomad" which helps you find the best way of visiting multiple destinations, saving you time and money.
JetRadar: You can search and compare airfares from 726 airlines and dozens of travel agencies and systems.
Hotels: 
Agoda: Agoda is one of the world's largest online travel accommodation platforms with a network of over 2,000,000 vacation rentals and hotels worldwide.
Hotellook: They have more than 250,000 hotels in 205 countries, working with data from more than 10 online booking systems, such as Booking.com, Agoda.com, Hotels.com, Expedia, and others.
Transportations: 
Airport Transfers: KiwiTaxi, Viator
Train: EuroRail, Trainline or RailEurope 
Bus: Flixbus: Very affordable (as low as $6) and convenient way to transfer between cities in Europe.
Car Rentals: AutoEurope, EconomyBookings, or  GetTransfer (transfers & car rentals with a personal driver)
Bike Rental: BikesBooking (Bikes & scooter rentals) 
Transportation Comparison: Omio (search, compare, and book tickets for buses, trains, and flights all in one site)
Tours & Activities:
TakeWalks (WalkofItaly): This is our favorite site for walking tours & day trips.
Tiqets: Great site for entrance tickets. It offers directly bookable, instantly available, and completely mobile tickets for museums, shows, and attractions all over the world.
Musement: They have good activities and tours in Italy and Spain, also many great day trips you can choose from.
GetYourGuide: A large number of tours, excursions, and other travel activities
Viator: The largest one. It has everything from tours, attractions, shore excursions, and private guides in over 2,700 destinations worldwide. It also has many transportations and transfers options and some unique experiences we didn't find anywhere else.
Need help planning a Spain bucket list trip?
Want to plan a Spain bucket list trip but don't know where to begin? If you find this type of trip planning to be too complicated to plan on your own, we're here to help!
At MultiCityTrips, multi-destination travel and complicated itineraries such as a Spain bucket list trip are our specialties. Contact us today to learn more about how one of our experienced travel experts/destination specialists can personalize your multi-city vacations at the best price.
Don't want to start from scratch and need some trip inspiration? Check out our marketplace for customizable pre-designed packages available right now for many amazing destinations.
To learn more about how our process of trip planning works in detail, please see our "How It Works" page or check out our video on "How to Plan a Multi-City Trip to Europe in  5 Easy Steps"  here.
Have questions for us? Schedule a FREE Call with us here or contact one of the travel experts/destination specialists at [email protected], call/text us at (888)223-2316 today.