The Spanish island of Mallorca is one of the most stunning holiday destinations in the Mediterranean. Mallorca (or Majorca) has been a prominent vacation destination since the 1950s and although time has passed since then, the hospitality, charm, and relaxing atmosphere that made it so idyllic still lives on and can be enjoyed by vacationers today.
If you're planning on a trip to Mallorca, you might be overwhelmed with the sheer number of incredible attractions and things to do. To help you out, this list covers the ten best things to add to your itinerary for the perfect Mallorca getaway.        
Related Posts
1. Jardines d'Alfàbia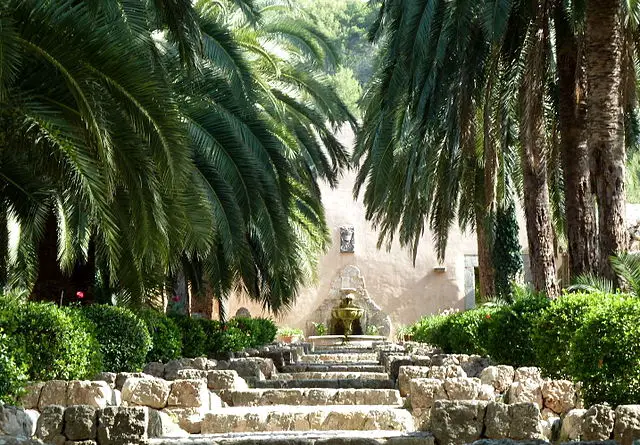 Although Mallorca is synonymous with parties and lounging on the beach, there are a great number of historic landmarks to visit on the island. One of the most beautiful is Jardines de Alfabia, a historic home that dates back to the 12th century. You can step inside or simply visit the lush courtyards. Either way, you'll get to witness the exquisite blend of defining Spanish architecture styles.
2. Ferrocarril de Sóller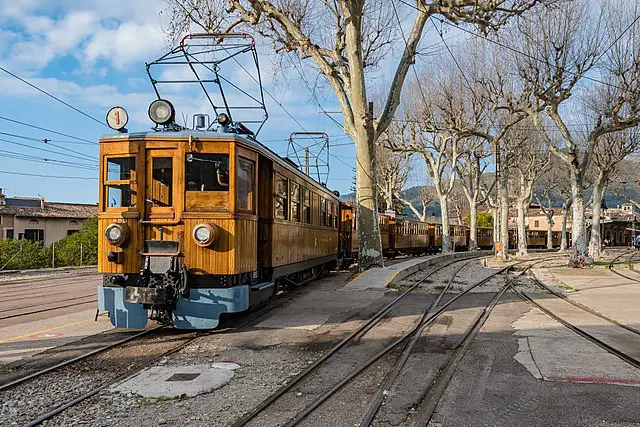 The Ferrocarril de Sóller, also called the FS, is a historic ​​interurban railway that connects the towns of Soller and Palma. It also includes several smaller towns, tunnels, and picturesque views. Not only does the train serve a significant purpose and you may find it extremely helpful on your trip to Mallorca, but the train itself is a popular attraction that transports over a million passengers every year.
3. Serra de Tramuntana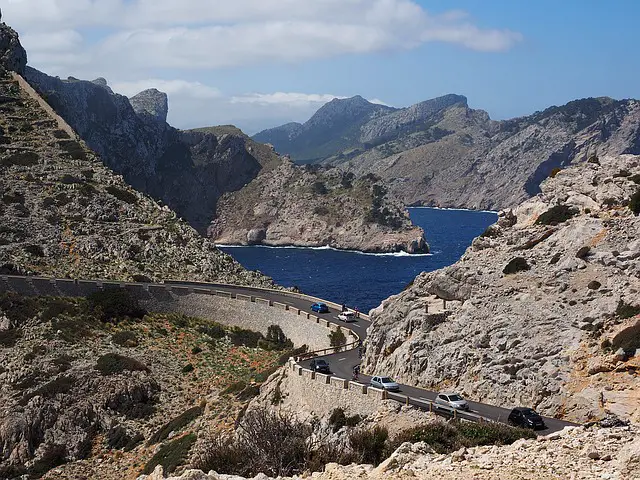 Located near the Jardines de Alfabia and part of the land that the Ferrocarril de Soller crosses, the Serra de Tramuntana is an impressive mountain range that spans the northern edge of Mallorca. It has been designated as an important nature reserve which means that extensive measures have been taken to ensure that the environment of the Serra de Tramuntana is carefully protected. If you visit today you can experience several different hiking trails for hikers of different skill and fitness levels so there is truly something for everyone to enjoy.
4. Museu Fundació Juan March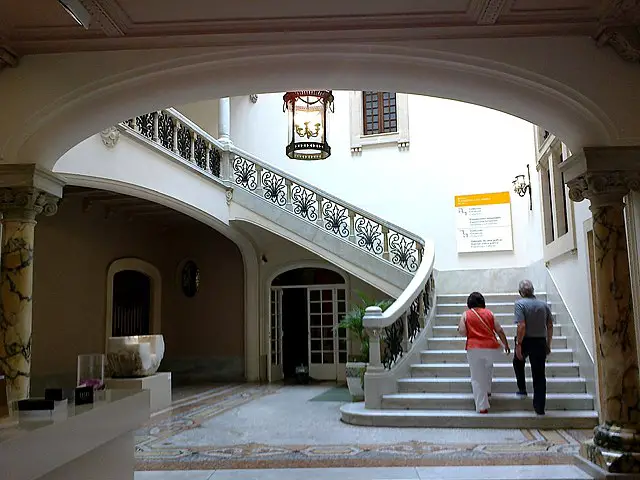 Located in a former historic mansion, the Museu Fundacio Juan March is an unassuming but wondrous art museum that is home to works by iconic artists such as Pablo Picasso, Joan Miro, Salvador Dali, and Juan Gris as well as sculptors like Eduardo Chillida and Julio González. The museum is filled with works that exemplify Spanish contemporary art.
5. Cathedral of Santa Maria of Palma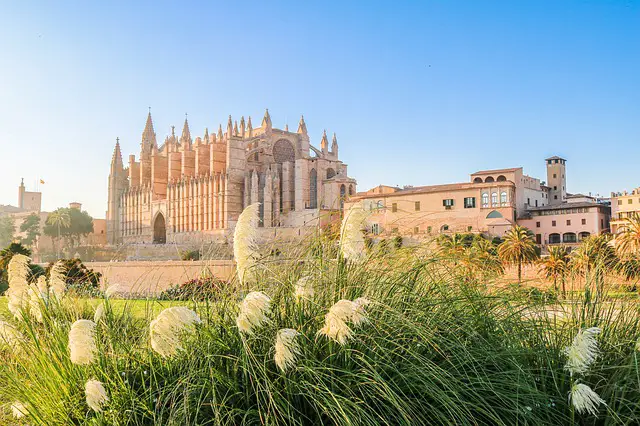 Also known as the Palma Cathedral, the Cathedral of Santa Maria of Palma is a Gothic Roman Catholic cathedral that houses one of the highest church naves in the world. The nave here stretches up an impressive 144 feet towards the sky and is also notable for having the narrowest sustaining pillars of any similar church. The groundbreaking occurred in 1229 under the reign of King James I of Aragon although it took several centuries to complete. Today you can visit the beautiful and historic church for services as well as to experience this magnificent structure.
6. Alcudia Old Town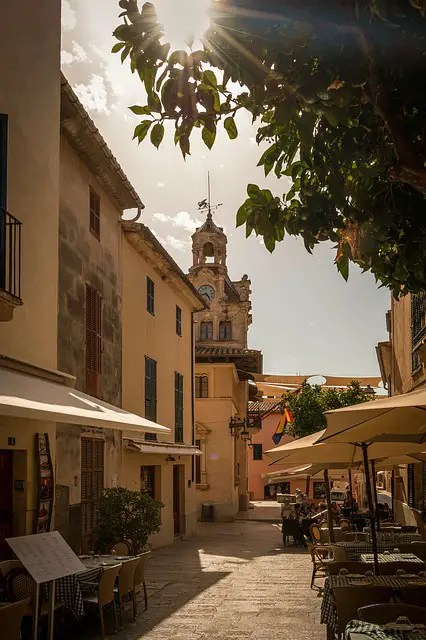 The neighborhood of Alcudia Old Town is the historic center of Mallorca. The original town was established as early as 70 BC by the Romans and was worked on and added to over the years since then. It's considered to be the best preserved town on Mallorca and is a fascinating glimpse into Medieval Spain.
In addition to exploring Alcudia on foot and learning about it's history at the various museums throughout, you can also visit the local market on certain days, shop at local boutiques, and sample some tapas at one of the restaurants and cafes found in town.
7. Cuevas del Drach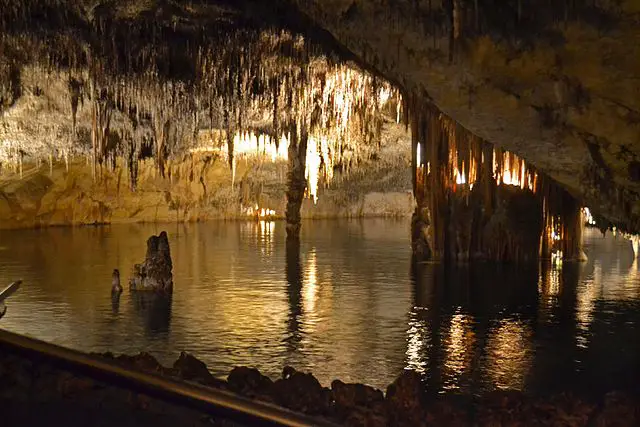 Located in the town of Porto Cristo along Mallorca's east coast, the Cuevas del Drach are a series of caves that extend about 3,600 feet and up to 75 feet below ground level. The caves are a popular tourist attraction and if you venture inside you will be able to see Lake Martel, a lake within the caves that is considered to be one of the largest in the world. This underground lake is home to a unique music event – live classical music has been played at Lake Martel since 1935 as the setting provides unique acoustics.
8. Playa de Muro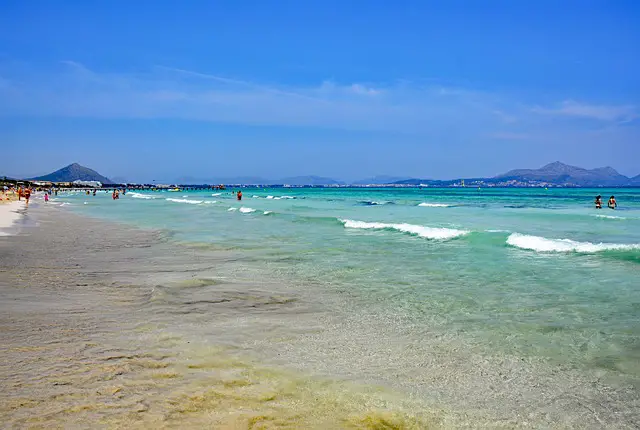 Playa de Muro is a stunning several-mile stretch of white sandy beaches that is designed for a traditional beach vacation in a setting that is anything but typical. It's definitely more of a resort area than the other locations on the list but is worth visiting especially if you are interested in beach activities such as swimming, parasailing, or jet skiing. The beach is also well-equipped for visitors and you can rent umbrellas and beach chairs for your day. Although the waves may get strong at times, they are typically safe to swim in and there is even a lifeguard on duty to help keep you safe while you're enjoying the Mallorcan coast.
9. Cala Llombards
For another, less touristy beach attraction, head to Cala Llombards on Mallorca's southeast coast. This stunning cove is complete with bright turquoise waters and sandy beaches that border a grove of pine trees as well as rocky cliffs. It's a relatively small beach but is far less crowded than Playa de Muro and is typically visited by locals and those who own vacation homes in the area. The only establishment at Cala Llombards is a beach bar where you can purchase small bites and drinks but you are allowed to bring your own food if you would like to have something more substantial during your visit.
10. Castell de Bellver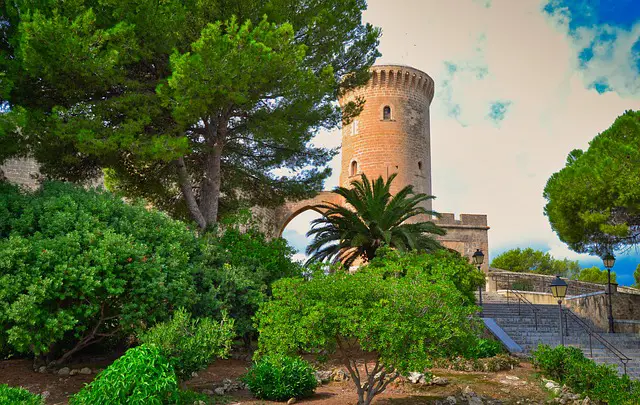 Bellver Castle is a castle near Palma on Mallorca which is renowned for its imposing Gothic architectural style. It was originally a royal residence before it served as a military prison. Today it's owned by Palma and was carefully restored. In addition to being the site of the city's historic museum it is also a place where public ceremonies, cultural acts, and concerts are occasionally held.
Related Posts
Travel Resources for Planning a Trip to Mallorca, Spain
To make planning your trip to Mallorca easier, we included some of our recommended travel resources below. You can search and find the best flights, transportation options, hotels to stay in, tours/activities, and things you can do below.
Flights: 
Agoda: Search thousands of destinations around the world & quickly compare prices to find amazing deals on the best flights.
CheapOAir: You can find airline tickets, hotel rooms, rental cars, and vacation packages all on one site!
Kiwi.com: What we like about Kiwi is the fact that they are able to create combinations of flight, train, and bus tickets and offer them in a single itinerary. Also, Kiwi has what they called "Nomad" which helps you find the best way of visiting multiple destinations, saving you time and money.
JetRadar: You can search and compare airfares from 726 airlines and dozens of travel agencies and systems.
Hotels: 
Agoda: Agoda is one of the world's largest online travel accommodation platforms with a network of over 2,000,000 vacation rentals and hotels worldwide.
Hotellook: They have more than 250,000 hotels in 205 countries, working with data from more than 10 online booking systems, such as Booking.com, Agoda.com, Hotels.com, Expedia, and others.
Transportations: 
Airport Transfers: KiwiTaxi, Viator
Train: EuroRail, Trainline or RailEurope 
Bus: Flixbus: Very affordable (as low as $6) and convenient way to transfer between cities in Europe.
Car Rentals: AutoEurope, EconomyBookings, or  GetTransfer (transfers & car rentals with a personal driver)
Bike Rental: BikesBooking (Bikes & scooter rentals) 
Transportation Comparison: Omio (search, compare, and book tickets for buses, trains, and flights all in one site)
Tours & Activities:
TakeWalks (WalkofItaly): This is our favorite site for walking tours & day trips.
Tiqets: Great site for entrance tickets. It offers directly bookable, instantly available, and completely mobile tickets for museums, shows, and attractions all over the world.
Musement: They have good activities and tours in Italy and Spain, also many great day trips you can choose from.
GetYourGuide: A large number of tours, excursions, and other travel activities
Viator: The largest one. It has everything from tours, attractions, shore excursions, and private guides in over 2,700 destinations worldwide. It also has many transportations and transfers options and some unique experiences we didn't find anywhere else.
Need help planning a trip to Mallorca?
Want to plan a trip to Mallorca or Majorca but don't know where to begin? If you find this type of trip planning to be too complicated to plan on your own, we're here to help!
At MultiCityTrips, multi-destination travel and complicated itineraries such as a special trip to Mallorca Island or other Spain destinations are our specialties. Contact us today to learn more about how one of our experienced travel experts/destination specialists can personalize your multi-city vacations at the best price.
Don't want to start from scratch and need some trip inspiration? Check out our marketplace for customizable pre-designed packages available right now for many amazing destinations.
To learn more about how our process of trip planning works in detail, please see our "How It Works" page or check out our video on "How to Plan a Multi-City Trip to Europe in  5 Easy Steps"  here.
Have questions for us? Schedule a FREE Call with us here or contact one of the travel experts/destination specialists at [email protected], call/text us at (888)223-2316 today.