The canal city of Venice is one of the most iconic travel destinations in the world. Known for its gondoliers and historic structures, Venice is a bucket list location for many. If you're planning a trip to Venice you might start to realize how expensive of a city it can be. While many of the pricier activities or accommodations can totally be worth it, you might be looking for some cost-effective things to do to balance out your itinerary. If that describes you, this list of the ten best free things to do in Venice is for you!
Top Hotels in Venice:
Related Posts:
1. Walk across the Rialto Bridge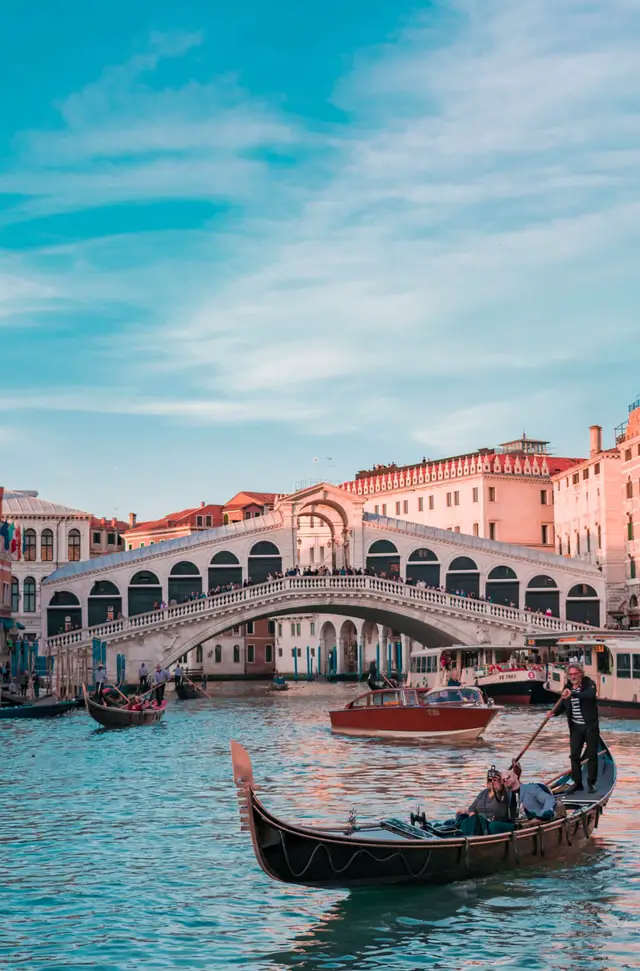 The incredible and historic Rialto Bridge is the oldest of Venice's four bridges. It was built in 1588 and spans the iconic Grand Canal. It is the city's most popular tourist attraction and it's completely free to walk across the structure and enjoy the views of the surrounding area.
2. See the spiral staircase at the Palazzo Contarini del Bovolo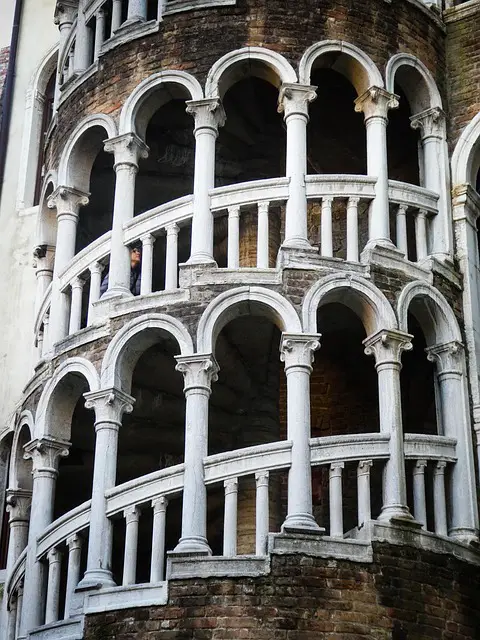 The Palazzo Contarini del Bovolo is one of the many palazzos in Venice, but it's notable for the incredible spiral staircase that was built along the exterior of the building. A palazzo is a building that was built as a residence, and this particular structure was built in the 15th century for the city's prominent Contarini family. The staircase was restored in recent years and has been open to the public since 2016 and you can adventure up the spiral staircase, known as the Scala Contarini del Bovolo. When you climb to the top of the stairs you'll be rewarded with panoramic views of Venice.
3. Visit Santa Maria della Salute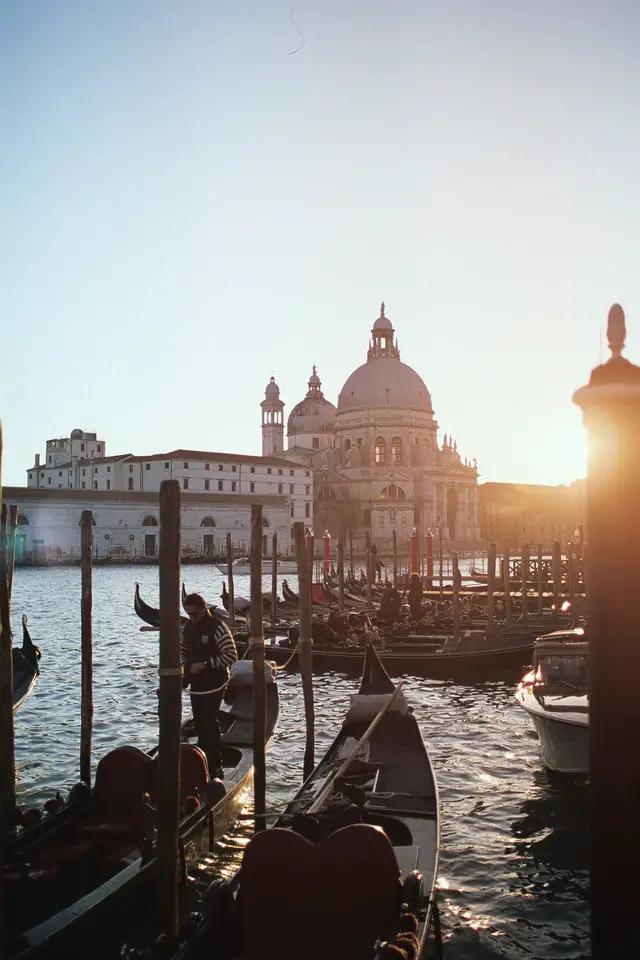 Santa Maria della Salute, known simply as Salute, is one of the structures that make up Venice's quintessential skyline. It was built following the Black Death and was made to commemorate the end of the plague and the city's resilience. It is completely free to enter the church and you'll be able to see the incredible interiors. There is a small fee to visit the sacristy where a lot of the art is housed but you can still see a fair amount of art in the main areas of the church.
4. Explore the Basilica di San Marco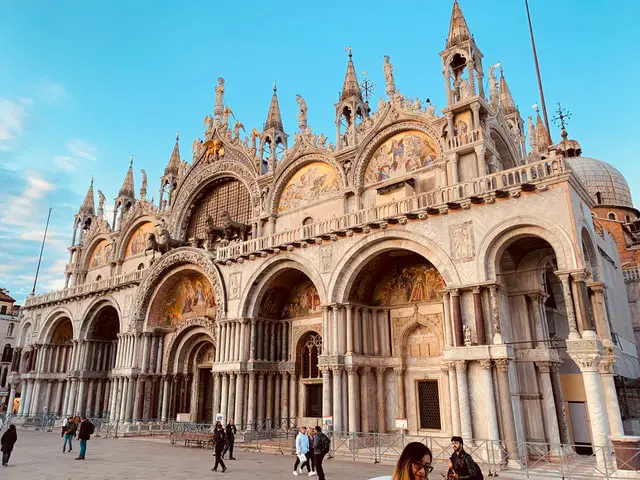 The Basilica di San Marco is one of Venice's most famous churches and best of all – it's completely free to visit as long as you aren't visiting on a major holiday. There are additional tickets you can purchase for sections of the basilica such as the museum but those are completely optional and you can see a lot without spending any money.
5. Visit Gallerie dell'Accademia on the first Sunday of the month
This museum houses an impressive collection of pre-19th century artworks and you can visit for free on the first Sunday of every month. There are many works on display and within the museum's collections, including Leonardo da Vinci's drawing of the Vitruvian Man. Although the piece is rarely on display due to its sensitivity to light, you may have an opportunity to see it or other impressive works when you visit.
6. Experience the lively atmosphere at the Mercato di Rialto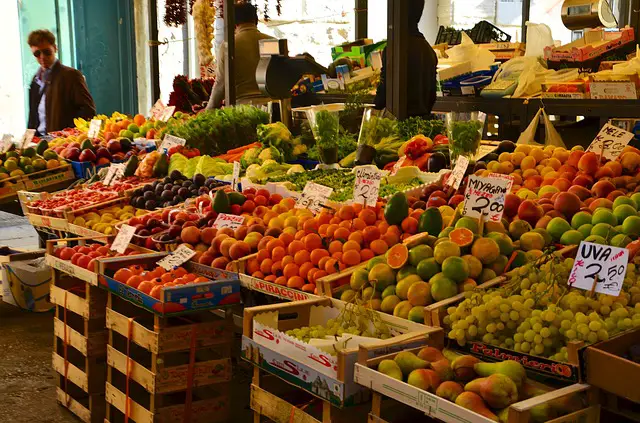 If you're looking for a place to people-watch and really immerse yourself in the culture and traditions of Venice, the Mercato di Rialto is one place you can go to get it all. It's located in the East Bank of the Grand Canal which is one of the oldest parts of the city. The market was first held in 1907 and although you can shop for a variety of goods there, you'll find more seafood than any other type of food. The market is open daily except for Sunday, between the hours of 7:30 AM and 1:30 PM. It's completely free to visit but if you're looking for some fresh and cost-effective groceries, this is a great place to stop during your trip.
7. Catch a glimpse of some of the best views of Venice from the Ponte dell'Accademia bridge
Located near the Gallerie dell'Accademia, the Ponte dell'Accademia is another of Venice's four iconic bridges. It links the sestieri of Dorsoduro and San Marco. Like with any of the bridges in Venice, it's completely free to cross but don't rush when you visit – take the time to take in the stunning views of Venice and its grand canal. It's also a great spot for people watching and letting yourself enjoy the culture of the city.
8. Walk along the Zattere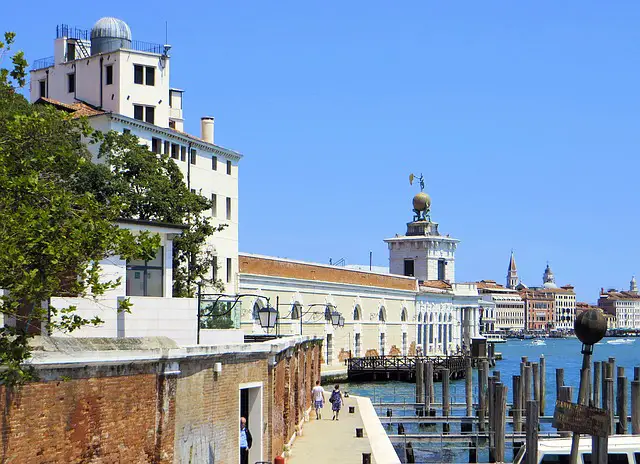 The Fondamenta delle Zattere is a long promenade in the southern part of Venice that was completed in 1516. Walking along the Zattere is a fantastic way to spend a few hours as you can stop along the way to admire historic structures and soak in the culture of the city. One of the most famous sights along the Zattere are the warm-toned buildings and many people spend time under the sun enjoying the views.
9. Explore the Museo della Musica inside the San Maurizio Church
Located in the San Maurizio church, the Museo della Musica is a museum that features a collection of artifacts relating to baroque music such as instruments, documents, and more. You can see exhibits on composers such as Antonio Vivaldi and learn about instrument making throughout history. The Museo della Musica, as well as the rest of the church, is completely free to visit.
10. Relax in the Giardini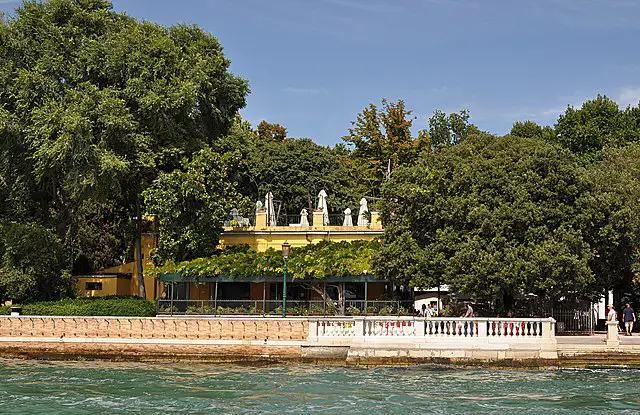 Venice may be known for its many canals and waterways but the city is also home to an abundance of green spaces and public parks. One of the most prominent is the Giardini della Biennale which was created by Napoleon Bonaparte and you can find thirty pavilions throughout the garden that represent various countries and locations. During the Venice Biennale Art Festival, these pavilions are filled with works of art by creators from that particular nation. Visiting during the festival is an exciting opportunity but simply enjoying the scenery during a relaxing afternoon is worth it as well.
Venice Hotels in Near City Center:
Video Guide: 10 Best Free Things to Do in Venice
Related Posts
Additional Resources for Planning a Trip to Venice
To make planning your trip to Venice easier, we included some of our recommended travel resources below. You can search and find the best flights, transportation options, hotels to stay in, tours/activities, and things you can do in Rome in addition to the free things to do in Venice below.
Flights: 
Agoda: Search thousands of destinations around the world & quickly compare prices to find amazing deals on the best flights.
CheapOAir: You can find airline tickets, hotel rooms, rental cars, and vacation packages all on one site!
Kiwi.com: What we like about Kiwi is the fact that they are able to create combinations of flight, train, and bus tickets and offer them in a single itinerary. Also, Kiwi has what they called "Nomad" which helps you find the best way of visiting multiple destinations, saving you time and money.
JetRadar: You can search and compare airfares from 726 airlines and dozens of travel agencies and systems.
Hotels: 
Agoda: Agoda is one of the world's largest online travel accommodation platforms with a network of over 2,000,000 vacation rentals and hotels worldwide.
Hotellook: They have more than 250,000 hotels in 205 countries, working with data from more than 10 online booking systems, such as Booking.com, Agoda.com, Hotels.com, Expedia, and others.
Transportations: 
Airport Transfers: KiwiTaxi, Viator
Train: Trainline or RailEurope 
Bus: Flixbus: Very affordable (as low as $6) and convenient way to transfer between cities in Europe.
Car Rentals: AutoEurope, EconomyBookings, or  GetTransfer (transfers & car rentals with a personal driver)
Bike Rental: BikesBooking (Bikes & scooter rentals) 
Transportation Comparison: Omio (search, compare, and book tickets for buses, trains, and flights all in one site)
Tours & Activities:
TakeWalks (WalkofItaly): This is our favorite site for walking tours & day trips.
Tiqets: Great site for entrance tickets. It offers directly bookable, instantly available, and completely mobile tickets for museums, shows, and attractions all over the world.
Musement: They have good activities and tours in Italy and Spain, also many great day trips you can choose from.
GetYourGuide: A large number of tours, excursions, and other travel activities
Viator: The largest one. It has everything from tours, attractions, shore excursions, and private guides in over 2,700 destinations worldwide. It also has many transportations and transfers options and some unique experiences we didn't find anywhere else.
Need help planning a trip to Venice?
Want to plan a trip to Venice? Perhaps you are looking for both free things to do in Venice as well as some other fun activities you can do in the city but don't know where to begin. If you find this type of trip planning to be too complicated to plan on your own, we're here to help!
At MultiCityTrips, multi-destination travel and complicated itineraries such as a multi-city trip to Venice and other destinations in Italy are our specialties. Contact us today to learn more about how one of our experienced travel experts/destination specialists can personalize your multi-city vacations at the best price.
Don't want to start from scratch and need some trip inspiration? Check out our marketplace for customizable pre-designed packages available right now for many amazing destinations.
To learn more about how our process of trip planning works in detail, please see our "How It Works" page or check out our video on "How to Plan a Multi-City Trip to Europe in  5 Easy Steps"  here.
Have questions for us? Schedule a FREE Call with us here or contact one of the travel experts/destination specialists at [email protected], call/text us at (888)223-2316 today.