Portugal is one of the oldest countries in Europe and is well-known for being a fantastic place to visit. Those who visit will enjoy immense natural beauty, a rich cultural history, and food and drink like no other. There are many well known places to visit and while they are worth seeing, there are so many hidden gems in Portugal that will allow you to have a truly unique and exciting adventure when you visit.
Here are ten of the best hidden gems that you should check out when you visit Portugal.
Related Posts
1. Quinta da Regaleira, Sintra
The historic estate of Quinta Regaleira is located in the town of Sintra, Portugal and is a truly unique and awe-inspiring place to visit. This castle was built in the 18th century and features a chapel and a dynamic outdoor area that includes grottoes, lakes, and fountains. The initiation well is one of the most interesting features of the estate – this deep ceremonial well is bordered by a spiral staircase that takes you down to the entrance to tunnels and other features. It truly feels like something out of a Tomb Raider video game!
Hotels in Sintra:
2. Ilha das Flores, Azores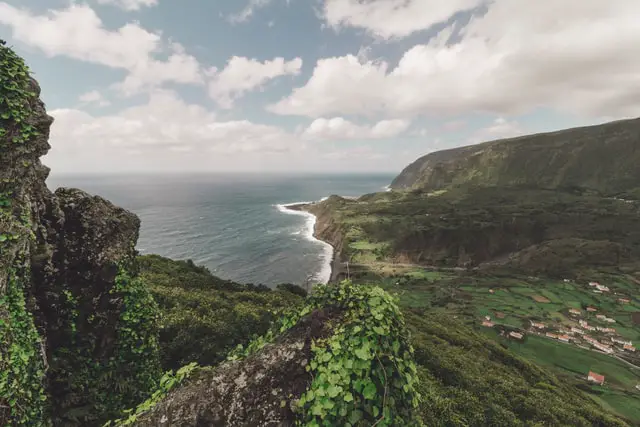 The Portuguese archipelago of the Azores consists of nine lush islands with gorgeous beaches, powerful cliff sides, historic villages, and multiple hiking trails. It's a great place to visit to experience a slower pace of life and the gorgeous climate of the region. Whether you're interested in exploring the land or the waters that surround the island, you'll have plenty to see and experience when you visit. Ilha das Flores is one of the smaller islands as it is far less visited than other Azores islands such as Sao Miguel. It's also small so you can experience quite a bit of it during a short trip to the island.
3. Praia da Costa Nova, Costa Nova
The beautiful beach at Costa Nova is one of the most beautiful in Portugal, notable for the brightly colored and white-striped huts and buildings that line the coast. These were built by fishermen and used to store equipment and work and today they function as cozy vacation rentals and other accommodations for visitors and locals alike. These candy-striped buildings offer an amazing photo opportunity, and the beach itself provides a great place to walk, relax, swim, surf, and more.
Hotels in Aveiro near Costa Nova:
4. Santana, Madeira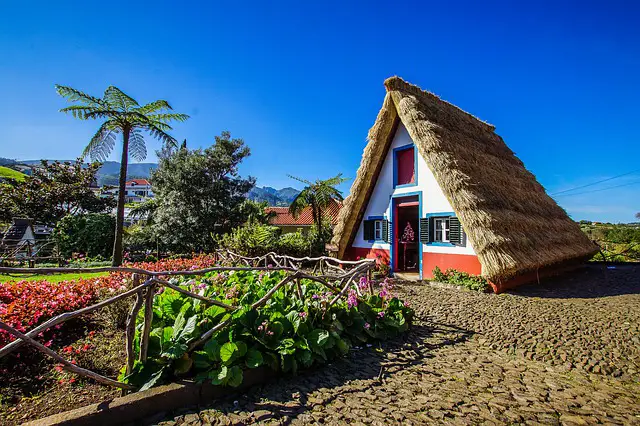 Located on the island of Madeira's northern shore, the town of Santana is one of Portugal's hidden gems. Known for its rugged mountainous environment and triangular buildings with thatched roofs, Santana is a lush island paradise that is a perfect destination for anyone who likes being outdoors. When you visit this island you can hike and admire the views, or you can visit the Madeira Theme Park. This open-air park was created to help visitors engage with and understand the cultures and traditions of Madeira.
Hotels in Santana:
5. Islet of Vila Franca do Campo, Sao Miguel, Azores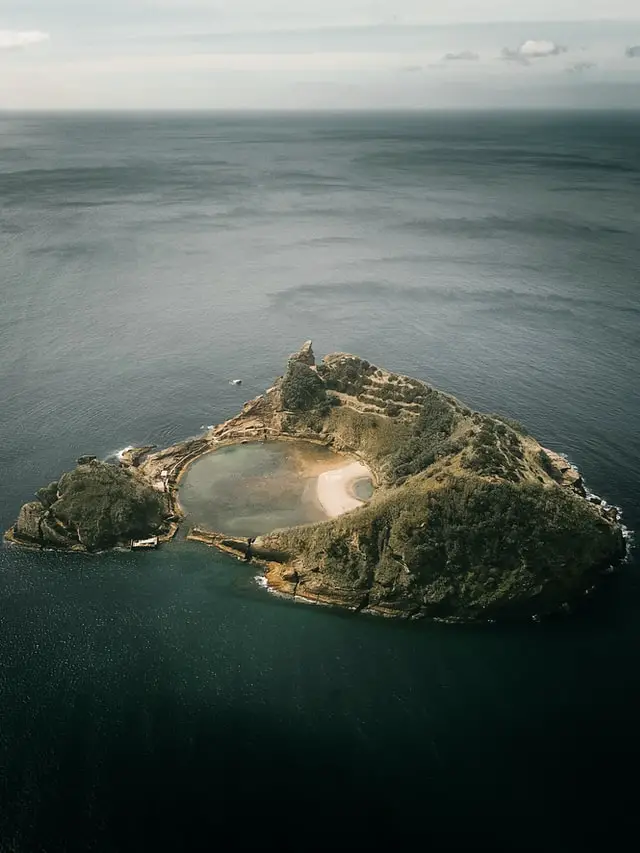 The small islet of Vila Franca do Campo is located off of the coast of Sao Miguel, the largest of the nine Azores islands. This small but beautiful island is classified as a Nature Reserve and was created as a result of ancient volcanic activity – the circular cove was a direct result of the eruption that happened so many years ago. Today the crystal clear waters and the natural peaks create a popular destination for swimmers and cliff divers alike.
6. Odeceixe, Algarve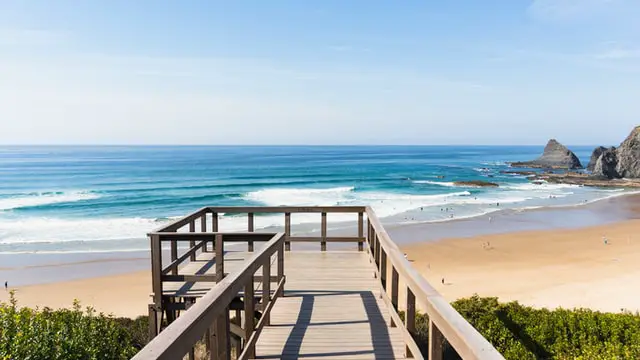 Located in the beautiful coastal region of the Algarve, Odeceixe is known for its magnificent horseshoe shaped beach and lush outdoor scenery. Visitors will enjoy relaxing on the warm sand beaches or swimming in the bright blue waters that border it. The waves are perfect for surfing and there is even a local surfing school where you can take lessons or simply rent equipment if you're already experienced.
Find the best hotels to stay in Odeceixe here or check out top hotels with the best ratings to stay in Odeceixe.
7. Sanctuary of Bom Jesus do Monte, Tenoes, Braga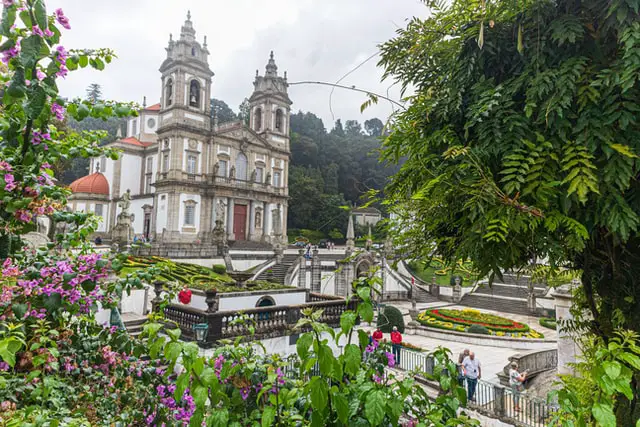 The Sanctuary of Bom Jesus do Monte is a Catholic shrine that dates back to the 18th century. It was built carefully over the years and features a beautiful staircase built in a Baroque architectural style. These stairs climb nearly 400 feet and are Braga's most famous tourist attraction. Spend a half day admiring the architecture and making the climb yourself.
Top Hotels to Stay in Braga:
8. Monsanto, Idanha-a-Nova
The historic village of Monsanto is notable for having strict preservation laws which means that when you visit you'll be able to see authentic structures as opposed to recreations. It's a fantastic place to learn about Portugal's history and see some of the more imposing parts of its rocky landscape – the village was built around massive boulders creating a unique dynamic throughout the village. In some cases, the boulders are used as parts of the buildings and are sometimes seen as roofs or walls of homes, restaurants, or other businesses. The unique architecture of Monsanto makes it one of Portugal's most unique hidden gems.
Hotels to Stay in Monsanto:
9. Piodao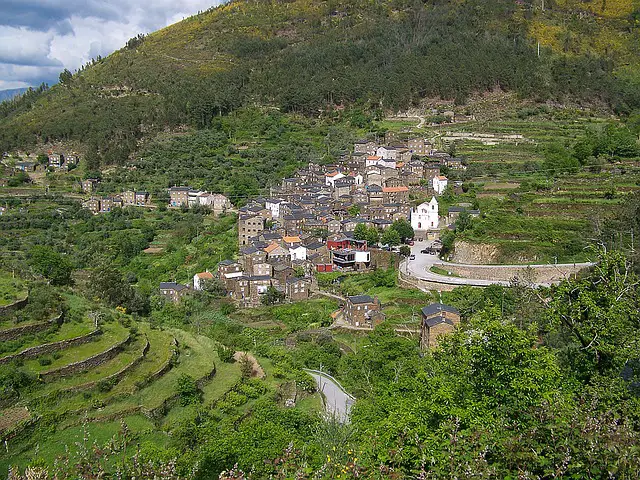 The small mountain village of Piodao is built into the slopes of the Serra do Açor mountains and looks like something out of a fairytale. It doesn't get as many visitors as other historic villages in Portugal and the number of permanent residents is under 250 so it's far less crowded and commercialized than other locations in the country. You can enjoy a taste of rustic mountain life in Piodao at one of the small eateries in town or learn about life in the village at the Piadao town museum.
Hotels to Stay in Piodao:
10. Marvao, Alentejo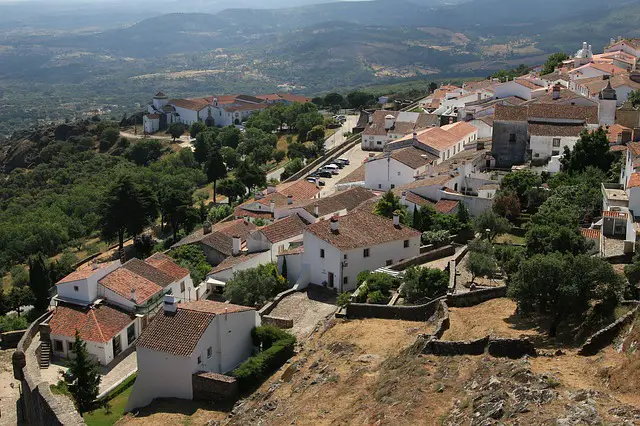 Rounding off the list is Marvao, a historic Medieval village with fairytale charm. It's located on the border of Portugal and Spain led to its position as a Medieval stronghold and played a prominent role in battles and plays for land over centuries. The Marvao castle, built in the late 8th century by an Islamic knight, is one of the biggest highlights of the village and is notable for being well-preserved as well as being a fantastic viewpoint to soak in the beauty of the area.
Hotels in Marvao:
Video Guide: 10 Hidden Gems in Portugal
Related Posts
Travel Resources for Planning a Trip to Portugal
To make planning your trip to Portugal easier, we included some of our recommended travel resources below. You can search and find the best flights, transportation options, hotels to stay in, tours/activities, and things you can do in each destination during your trip.
Flights: 
Agoda: Search thousands of destinations around the world & quickly compare prices to find amazing deals on the best flights.
CheapOAir: You can find airline tickets, hotel rooms, rental cars, and vacation packages all on one site!
Kiwi.com: What we like about Kiwi is the fact that they are able to create combinations of flight, train, and bus tickets and offer them in a single itinerary. Also, Kiwi has what they called "Nomad" which helps you find the best way of visiting multiple destinations, saving you time and money.
JetRadar: You can search and compare airfares from 726 airlines and dozens of travel agencies and systems.
Hotels: 
Agoda: Agoda is one of the world's largest online travel accommodation platforms with a network of over 2,000,000 vacation rentals and hotels worldwide.
Hotellook: They have more than 250,000 hotels in 205 countries, working with data from more than 10 online booking systems, such as Booking.com, Agoda.com, Hotels.com, Expedia, and others.
Transportations: 
Airport Transfers: KiwiTaxi, Viator
Train: EuroRail, Trainline or RailEurope 
Bus: Flixbus: Very affordable (as low as $6) and convenient way to transfer between cities in Europe.
Car Rentals: AutoEurope, EconomyBookings, or  GetTransfer (transfers & car rentals with a personal driver)
Bike Rental: BikesBooking (Bikes & scooter rentals) 
Transportation Comparison: Omio (search, compare, and book tickets for buses, trains, and flights all in one site)
Tours & Activities:
TakeWalks (WalkofItaly): This is our favorite site for walking tours & day trips.
Tiqets: Great site for entrance tickets. It offers directly bookable, instantly available, and completely mobile tickets for museums, shows, and attractions all over the world.
Musement: They have good activities and tours in Italy and Spain, also many great day trips you can choose from.
GetYourGuide: A large number of tours, excursions, and other travel activities
Viator: The largest one. It has everything from tours, attractions, shore excursions, and private guides in over 2,700 destinations worldwide. It also has many transportations and transfers options and some unique experiences we didn't find anywhere else.
Need help planning a trip to the best hidden gems in Portugal?
Planning and looking for the best hidden gems in Portugal to visit? If you find this type of trip planning to be too complicated to plan on your own, we're here to help!
At MultiCityTrips, multi-destination travel and complicated itineraries such as a special trip to underrated places and hidden gems in Portugal are our specialties. Contact us today to learn more about how one of our experienced travel experts/destination specialists can personalize your multi-city vacations at the best price.
Don't want to start from scratch and need some trip inspiration? Check out our marketplace for customizable pre-designed packages available right now for many amazing destinations.
To learn more about how our process of trip planning works in detail, please see our "How It Works" page or check out our video on "How to Plan a Multi-City Trip to Europe in  5 Easy Steps"  here.
Have questions for us? Schedule a FREE Call with us here or contact one of the travel experts/destination specialists at [email protected], call/text us at (888)223-2316 today.