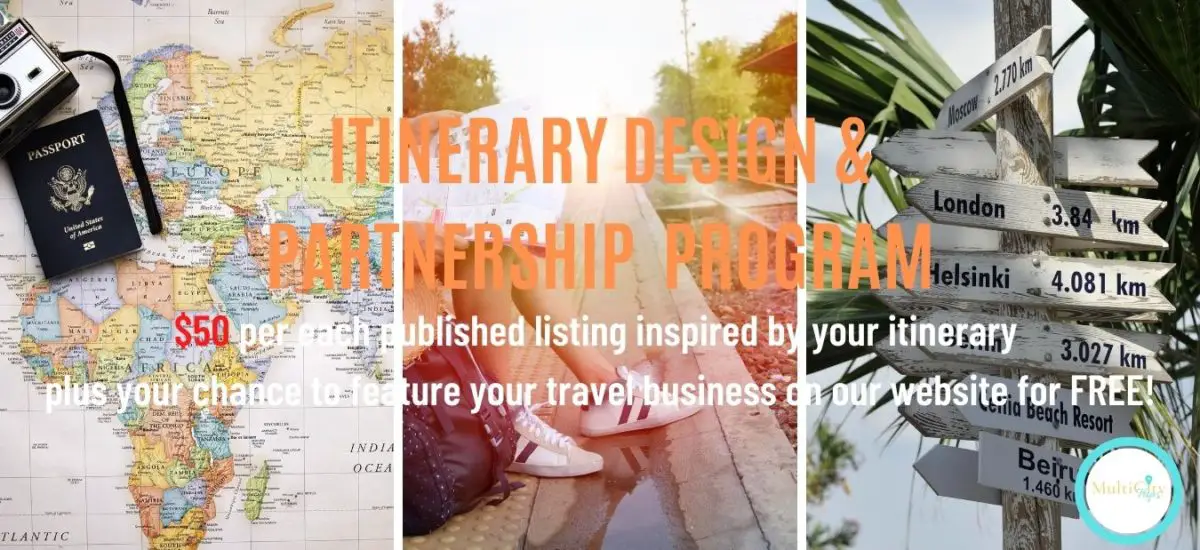 ITINERARY DESIGN & PARTNERSHIP PROGRAM
Wondering whether our program is for you? You'll be an experienced traveler, travel blogger, travel influencer, travel YouTuber or any other sort of travel-related entrepreneur with tremendous direct travel experiences in multiple destinations across the world. You'll have favorite itineraries you built yourself, based on your own amazing travel experiences. Perhaps you have great recommended routes or custom itineraries you absolutely love, and you're looking for ways to share those journeys with other travelers beyond your own channels. Or maybe you have been looking for more ways to cross-promote your travel website/business, share your travel expertise and interact with your referral audience. With our Itinerary Design & Partnership Program, you provide more value to your referral audience in addition to the affiliate discount program you offer to them in partnership with us.
As our affiliate partner, you'll already be aware that MultiCityTrips offers customizable, pre-designed multi-destination vacation packages that come with 100% tailor-made itineraries and fully personalized travel experiences for independent travelers. Unlike any other companies out there, all of the itineraries within the pre-designed packages we offer on our Marketplace are crafted by experienced travelers/destination experts, or are inspired by real travel experiences from travelers just like yourself. We're doing this to provide the most authentic and the best, personalized journeys to our customers.
With that being said, we think we might make a great partner!
Introducing… the Itinerary Design & Partnership Program for our affiliate partners.
This is another exciting opportunity available only to our approved affiliate partners. With this partnership program, you can earn an additional $50 per published listing, plus it's your chance to feature your travel website/businesses (URL included) on our website if the itinerary you submit gets selected. If it does, we'll create and publish a new pre-designed package inspired by your itinerary on our Marketplace. This is a great way to not only showcase your travel expertise but also to cross-promote your site, reach more of your target audience, and earn more as our affiliate partner. What's more, the program is absolutely free to participate in and you can make an unlimited number of submissions.
Benefits
• Earn $50 per each published listing inspired by the itinerary you submit
• Showcase your travel expertise to a broader audience beyond your own website/channels
• Your business – such as your website name, URL and your company portfolio/bio – will be featured under the "Inspired By" section of each published listing. It's a great way to cross-promote your travel business at no extra cost to you
• It's a great way to still captivate your own audience's attention while inspiring them to travel based on your own suggestions/recommendations. At the same time, you are providing them with a great discount using your affiliate codes while giving them the convenience of everything else (planning, booking, in-destination support) taken care of by us.
Qualifying Itineraries:
We're certainly NOT looking for cookie-cutter itineraries, and definitely NOT itineraries you could simply find or copy and paste from the internet. The itinerary you submit should be unique and authentic to your previous travel experiences, and it must reflect the travel expertise/personality of your brand. It also could be something you have already written or published on your website. The itineraries we're looking for are preferably designed for independent travel and combine multiple cities or destinations. The journey should begin from the US, traveling to Europe or other amazing multi-destinations around the world and must end back in the US.
The ideal itinerary typically includes the following components:
– A route plan across cities/countries
– How many days total and how many days you suggest to spend in each city
– Flight recommendations and information (round trip, open jaw, multi-city flights) departing/ arrival cities, and times
– Type of Airport transfer to and from the hotel at the beginning and end of the trip
– Best accommodation recommendations for each city and why (please include names of accommodation or location if possible)
– Best transfer/transportation you recommend using between cities
– Recommendations for sightseeing & things to see and do each day in each city
– Restaurants, cafés and nightlife recommendations
– Day-to-day detailed itinerary
– Budget or total cost per person (estimate)
Keep in mind when writing the itinerary that this is a great opportunity to showcase your travel expertise/experience so make sure your itinerary shines with fresh and authentic contents!
We review all submissions and select a limited number of itineraries. New packages will be published on our website on a weekly basis. While we welcome all qualifying submissions, only itineraries that meet our traveler's needs will be selected and published on our Marketplace.
How It Works
1) You must already be an approved affiliate partner to participate in the program. If you have not registered, please register here.
2) The Itinerary Submission Form must be used for each itinerary submission.
3) We review all submissions and you will be notified via email if your submission has been selected and, if successful, when it is published on our website.
4) Once published, we encourage you to share the listing inspired by your travel experience with your audience on your website, and through other channels.
5) If your itinerary gets selected, you will receive the reward payment on the upcoming payment cycle. This is the 1st of the next month or the same schedule as the payment cycle for your affiliate commission payout.