Although tulips are not native to the Netherlands, the country has had a tradition of growing them since the 16th century when they were first brought to the country from the Ottoman Empire. It was around that time that a famous Dutch horticulturist named Carolus Clusius wrote a book about the flower, leading to the so-called "Tulip Mania" of the Dutch Golden Age. They were a highly fashionable and luxurious item, and the demand for beautiful blooms only grew. Their popularity continued as time went on, and the vibrant tulip fields and gardens are a popular attraction to this day.
Related Posts:
Where can you see the tulips in the Netherlands?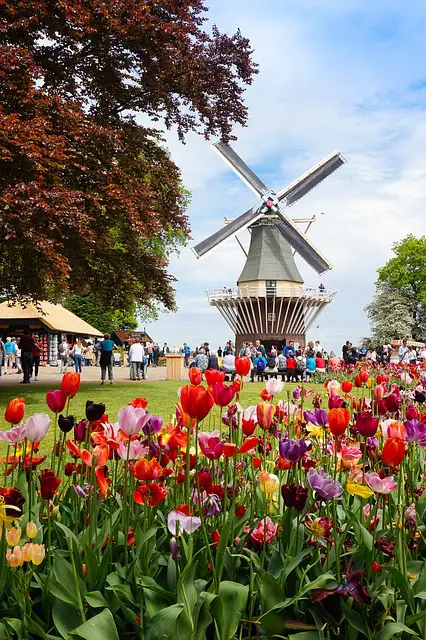 Although there are many places to see tulips in the Netherlands, Amsterdam and Keukenhof Gardens are two of the most popular locations. That doesn't mean you shouldn't go – they're popular because they truly are some of the most beautiful flower gardens you can experience. If you go during the early morning or late night hours, you can avoid the bulk of the crowds that come here every year.
If you are planning a trip just to see the tulips, your best bet will be to book a hotel in Amsterdam and use that as your base as you can stay in the city to experience the festival, but there are still several nearby farms, fields, and gardens. Amsterdam has its own flower gardens, markets, and celebrations, in addition to all of the other things the city has to offer. Amsterdam is also home to the Amsterdam Tulip Festival which occurs for several weeks in the spring during the time the tulips are blooming. Events include parades, markets, tours, and specially curated tulip displays.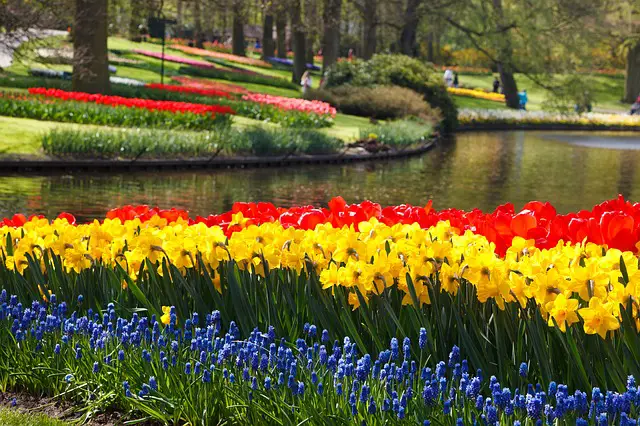 The Keukenhof Gardens are the place to go to see over 6 million individual tulips. The gardens are just a 30 minute drive outside of Amsterdam. Note that if you drive you'll have to pay for parking, but this is around €6. You can also take the Keukenhof Bus if you are coming from Amsterdam, Hoofddorp, Haarlem, Leiden, and Noordwijk/Katwijk beach. The bus is also a great option to travel quickly and for a great price. If you're coming from Amsterdam, the Hague, or Rotterdam, there are guided tours available that include transportation on a luxury bus. For a more active journey, you can take one of the many bike trails in the area.
If you are near Keukenhof Gardens, you might want to spend some time at De Tulperij, a tulip farm in Voorhoot that has been in the Jansze family since it was created in 1927. Here you walk alongside rows and rows of tulips and take a break in the flower greenhouse and sip on some tea or coffee. If you're looking for a more curated experience, you can book a guided tour and learn more about the farm from Daan Jansze himself.
Also, there are many day trips to Keukenhof Gardens from Amsterdam that you might like. These are convenient ways to get to Keukenhof garden and the prices are very reasonable for the private group as well as a small group guided tours. You can find the full list of day trips here.
What's the best time to go?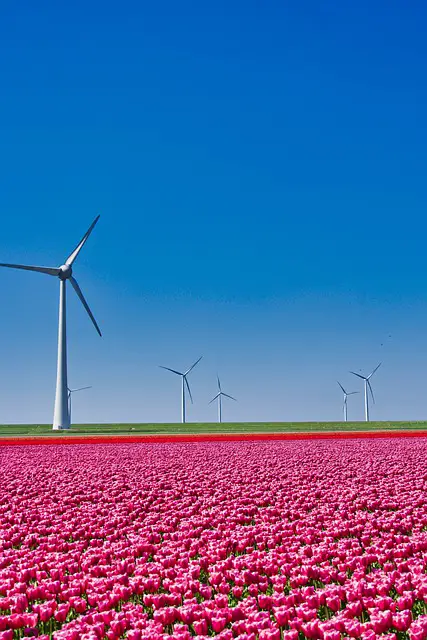 The best time to visit the Netherlands to see the tulips is in the spring, so between March and May. Within that time frame, the best time to go is mid-April, but the exact best time to go will likely vary depending on the climate.
When narrowing down the time and date of your visit, try to avoid weekend days if at all possible as they tend to be more crowded. If you are hoping to take pictures without other people in them, you'll need to head to the fields or gardens as early as possible or as the sun sets.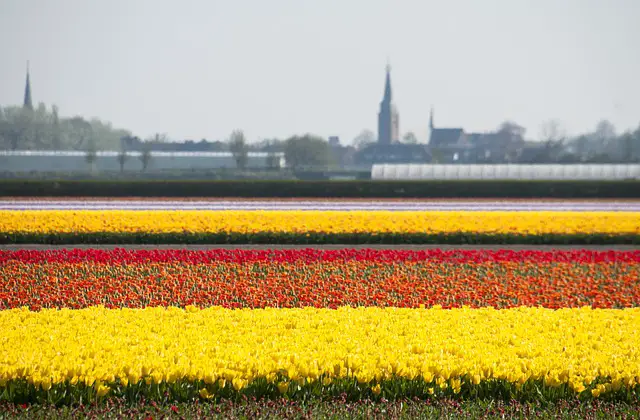 What is there to do when you visit?
In addition to simply admiring the beauty of the colorful tulips and taking some pictures, there are several events and attractions you can check out when you're there. For example, you can attend the historic Flower Parade that has been a tradition since 1947. The parade consists of a series of elaborate floats that are carefully constructed and then layered with hundreds (and in some cases, thousands!) of colorful flowers. There are several construction days that are open to the public so you can get a behind the scenes look at how these floats are created.
You can visit the Museum de Zwarte Tulp which is located in Lisse to learn more about the 500-year history of Tulip Mania and the traditions that surround tulip growing in the Netherlands. This museum is great for adults and children alike and full of exquisite works of art, a variety of tulip bulbs, and fascinating interactive exhibits. The museum is open every day of the week apart from Mondays, and is a great excursion to add to your itinerary.
The Amsterdam Tulip Museum is also a great place where you can learn more about the history of growing tulips and educate yourself on what it takes to grow them yourself. You can even pick up bulbs to take home at the museum gift shop. If you're traveling too far to transport fresh flowers or bulbs, you can also get a wooden tulip here which can make for a great souvenir or gift for friends back home.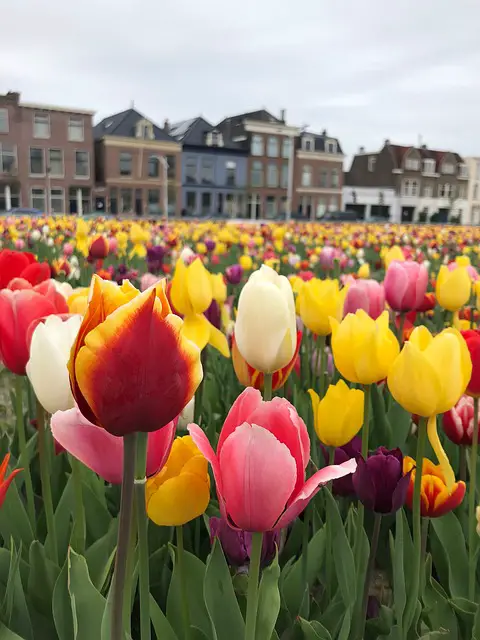 For a unique experience, travel to Aalsmeer and attend the Aalsmeer Flower Auction – the largest flower auction in the world! The building that houses the auction is approximately 5,580,000 square feet, which makes it the fourth largest building by footprint in the world. 20 million flowers from all over the world are sold here daily. If you visit, you might be surprised by the style of the auction as the Dutch auction style is different from what you might see in the United States. The auctioneer starts at the highest price and continues reducing the amount until someone accepts the price. The auctions tend to move quickly as there is only one bid required per sale.
Wonder what else is there to do when you visit during this time of year besides the beautiful flowers? From guided tours to canal cruises, to day trips to nearby cities, Amsterdam offers plenty of things to do. You can see some of the recommended things to do below or check out our full list of things to do in Amsterdam here.
Whether you're visiting the Netherlands specifically to participate in Tulip Mania or if it's just a colorful excursion on a larger European adventure, you're sure to have a great time!
Video Guide: Tulips in the Netherlands
Related Posts:
Travel Resources for Planning a Trip to the Netherlands
To make planning your trip to the Netherlands easier, we included some of our recommended travel resources below. You can search and find the best flights, transportation options, hotels to stay in, tours/activities, and things you can do in each destination during your trip.
Flights: 
Agoda: Search thousands of destinations around the world & quickly compare prices to find amazing deals on the best flights.
CheapOAir: You can find airline tickets, hotel rooms, rental cars, and vacation packages all on one site!
Kiwi.com: What we like about Kiwi is the fact that they are able to create combinations of flight, train, and bus tickets and offer them in a single itinerary. Also, Kiwi has what they called "Nomad" which helps you find the best way of visiting multiple destinations, saving you time and money.
JetRadar: You can search and compare airfares from 726 airlines and dozens of travel agencies and systems.
Hotels: 
Agoda: Agoda is one of the world's largest online travel accommodation platforms with a network of over 2,000,000 vacation rentals and hotels worldwide.
Hotellook: They have more than 250,000 hotels in 205 countries, working with data from more than 10 online booking systems, such as Booking.com, Agoda.com, Hotels.com, Expedia, and others.
Transportations: 
Airport Transfers: KiwiTaxi, Viator
Train: EuroRail, Trainline or RailEurope 
Bus: Flixbus: Very affordable (as low as $6) and convenient way to transfer between cities in Europe.
Car Rentals: AutoEurope, EconomyBookings, or  GetTransfer (transfers & car rentals with a personal driver)
Bike Rental: BikesBooking (Bikes & scooter rentals) 
Transportation Comparison: Omio (search, compare, and book tickets for buses, trains, and flights all in one site)
Tours & Activities:
TakeWalks (WalkofItaly): This is our favorite site for walking tours & day trips.
Tiqets: Great site for entrance tickets. It offers directly bookable, instantly available, and completely mobile tickets for museums, shows, and attractions all over the world.
Musement: They have good activities and tours in Italy and Spain, also many great day trips you can choose from.
GetYourGuide: A large number of tours, excursions, and other travel activities
Viator: The largest one. It has everything from tours, attractions, shore excursions, and private guides in over 2,700 destinations worldwide. It also has many transportations and transfers options and some unique experiences we didn't find anywhere else.
DISCLAIMER: Links included in this description might be affiliate links. If you purchase a product or service with the links, MultiCityTrips may receive a small commission at no additional charge to you.
Want to see Tulips in the Netherlands but need help planning?

Want to plan a trip to see tulips in the Netherlands but don't know where to begin? If you find this type of trip planning to be too complicated to plan on your own, we're here to help!
At MultiCityTrips, multi-destination travel and complicated itineraries such as a special trip to see tulips in the Netherlands during Springtime are our specialties. Contact us today to learn more about how one of our experienced travel experts/destination specialists can personalize your multi-city vacations (to the best places to see tulips in Amsterdam of course!) at the best price.
Don't want to start from scratch and need some trip inspiration? Check out our marketplace for customizable pre-designed packages available right now for many amazing destinations.
To learn more about how our process of trip planning works in detail, please see our "How It Works" page or check out our video on "How to Plan a Multi-City Trip to Europe in  5 Easy Steps"  here.
Have questions for us? Schedule a FREE Call with us here or contact one of the travel experts/destination specialists at [email protected], call/text us at (888)223-2316 today.