Whenever one hears of Italy, one immediately conjures images of Rome, Florence, and Tuscany. Although there is no doubt that these are some remarkable destinations in the country, it is also a fact that Italy has a lot more to offer. If you look for destinations in Southern Italy, you shall find that the region is full of excellent historical sites waiting to be explored. If you are wondering what might be the best places to visit in Southern Italy, do not worry, for we have you covered with the following list:
Related Posts:
1. Matera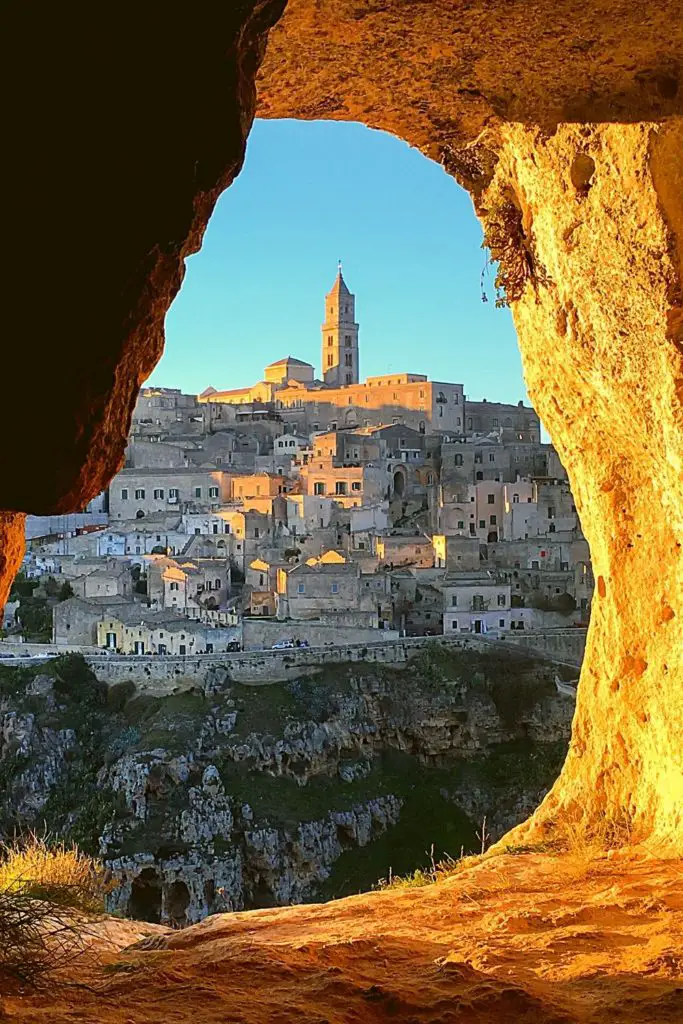 Matera is not only one of Italy's most fascinating destinations, but it also arguably the most fascinating globally. And there is a very good reason for that. Matera is the world's oldest inhabited city and the only site that has been continuously inhabited for the last 7000 years or so. Isn't that exciting?
Matera is often referred to as the cave city, not because it has an extensive cave system, but because of its incredibly unique and ingenious historic settlement Sassi. The buildings in the region were cut and carved in rock in such a manner that they formed an intensely complicated yet highly efficient labyrinth of biblical alleys and streets. The city is still relatively unknown to the masses, allowing its visitors to explore its cobblestone streets, ancient houses, and historical churches in peace and detail.
Where to Stay in Matera:
Here are some of our favorite accommodations to stay in Matera.
Find more hotels to stay in Metera here.
Things to Do in Matera:
Metera looks as if it is frozen in time so it's best to go with an expert guide who can shed light on the area's long history.. Here is our full list of things to do in Matera.
2. Naples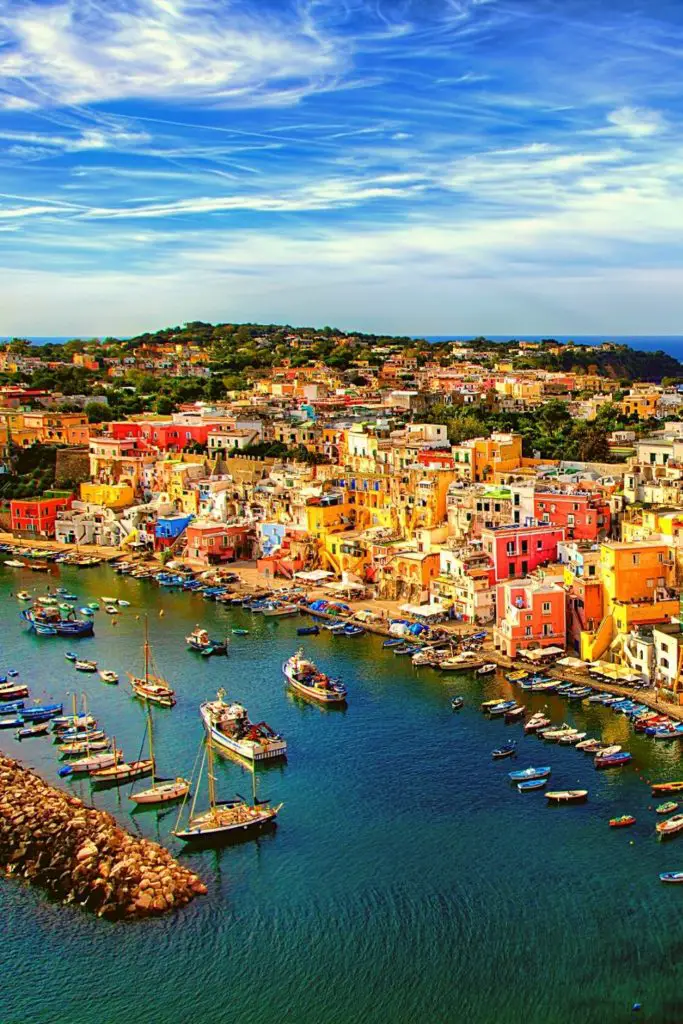 Naples is a unique destination. Visitors to the city would confirm that it has its quirks, something that makes it so special. From an active and vibrant shopping scene to a remarkable coffee culture to eccentric centers like a hospital that repairs broken dolls, there is a lot that can be enjoyed in this destination in Southern Italy. However, for most visitors to the city, it is the Archaeological Museum and the underground city that trump all other attractions. The Archaeological museum boasts stunning and exquisite collections of art and artists, like Farnese Bull. On the other hand, the underground city seems like a portal to another world – a series of tunnels and streets underground that contain popular attractions like the tomb of Virgil.
Where to Stay in Naples:
Located in the city center of Naples, here are some of our favorite places you can stay during your trip to Naples.
See here for more hotel options in Naples.
Things to Do in Naples:
We list some of the recommended things you can do in the area below. For more information on tours/activities available in Naples, see the full list here.
3. Alberobello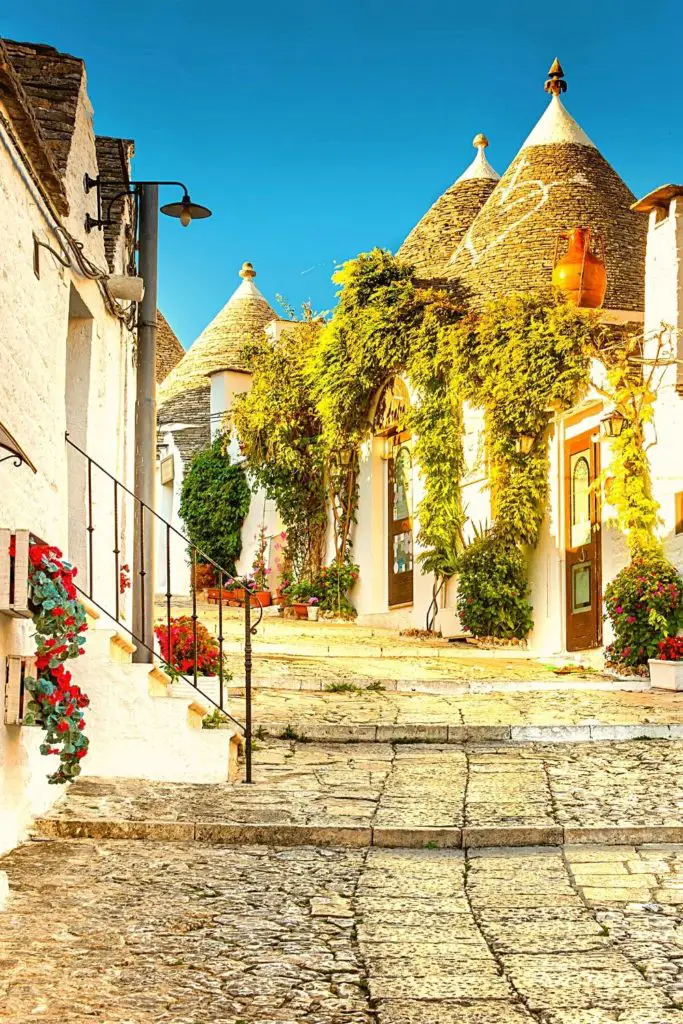 Alberobello is one of those peculiar cities in Italy that one cannot afford to miss. The city is characterized by its famous trullis – small homes built with limestone, drystone walls, and a conical roof. Therefore, it is understandable that the major activity and buzz is around Rione Monti, a city district facing the town's center. The area has the classic European narrow-winding, cobblestone streets lined by trullis. The view is truly aesthetic and a perfect addition to your social media! You can also rent out a trulli to spend the night there and experience the lives of the ancient workers that once inhabited the same space as you.
Where to Stay Alberobello:
See more hotel options in Alberobello.
Things to Do Alberobello:
Visit castle, wine tasting tour and so much more. See our full list of recommended things to do in Alberobello here.
4. Positano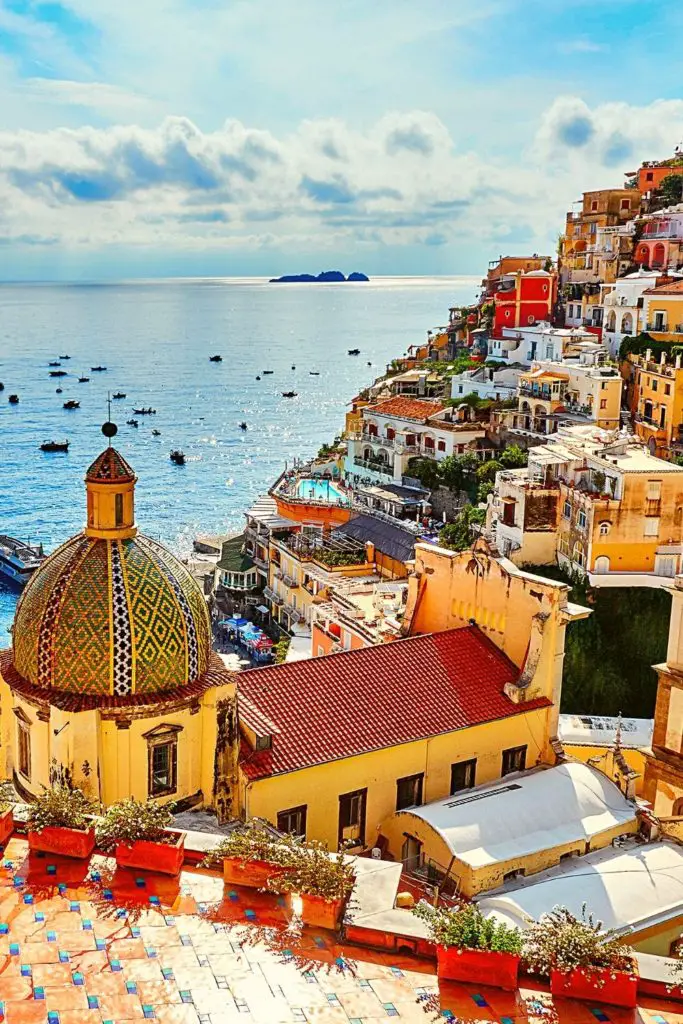 When you set your foot into the city, the first thing you are bound to notice is its serenity and beauty. Therefore, for people who travel specifically to explore the world's aesthetics, this destination in southern Italy is an ideal spot. The city is renowned for its breathtaking beauty and natural landscape – craggy mountain-like cliffs form a dramatic background to crystal-clear deep azure waters. Some natural attractions include white sandy beaches, sea caves, and caverns. Apart from exploring Positano's remarkable landscape, you would also want to invest some time marveling at the human-made structures, like the gorgeous domed Church of Santa Maria.
Where to Stay in Positano:
Beautiful but also very expensive to stay here especially if you are looking for the hotels that are in great location with waterfront view. Here are some of our favorite hotels that are located in the Positano city center, have beautiful view with reasonable prices.
See here for our full list of hotel recommendations to stay in Positano.
Things to Do in Positano:
When you are in Positano, don't miss the opportunity to explore the nearby areas such as a day trip to Amalfi Coast, Pompeii, Sorento, or Capri. There many tours and activities you can do, see the full list of things you can do in Positano here.
5. Paestum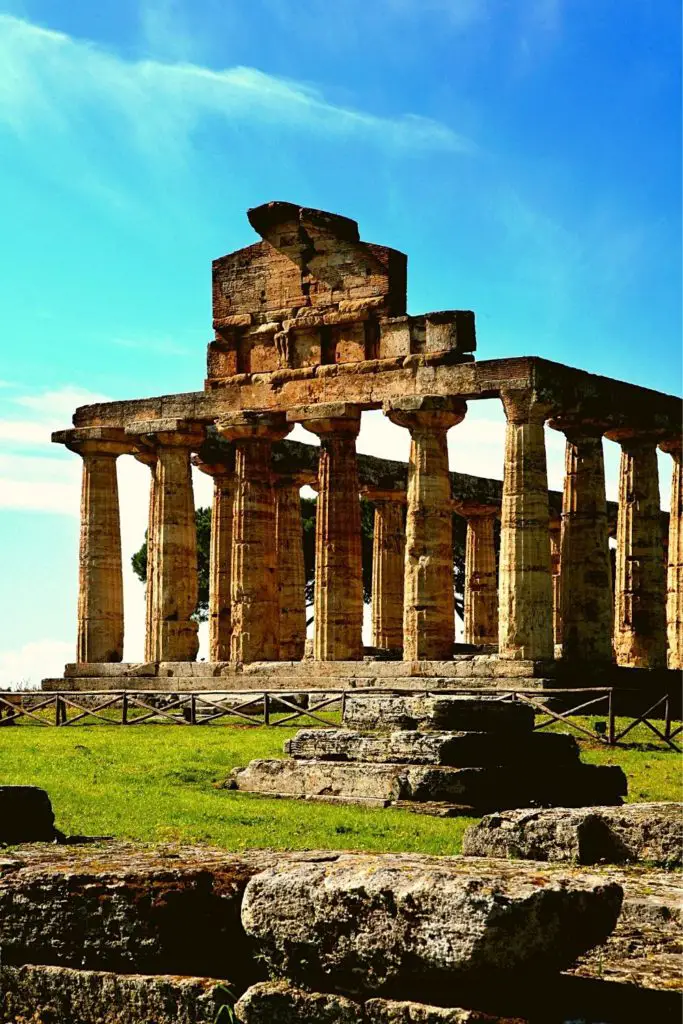 If you are looking for places to visit in Southern Italy with a major archaeological and ancient architectural heritage, you must head to Paestum. The Greeks initially built the city in 600 BC, and the city remained the seat of prosperity for several decades that followed. Therefore, one finds many remarkable ancient structures in the town – structures that induce marvel in the watchers' eyes. While you are in town, make sure to explore the local historical church, a museum, and the large-blocked city wall among the other places. You should also go for some souvenir shopping, for the items-for-sale option in the city is very limited!
Where to Stay in Paestum:
Find more amazing hotels to stay in Paestum here.
Things to Do in Paestum:
Find things to do in Paestum and nearby area.
6. Barletta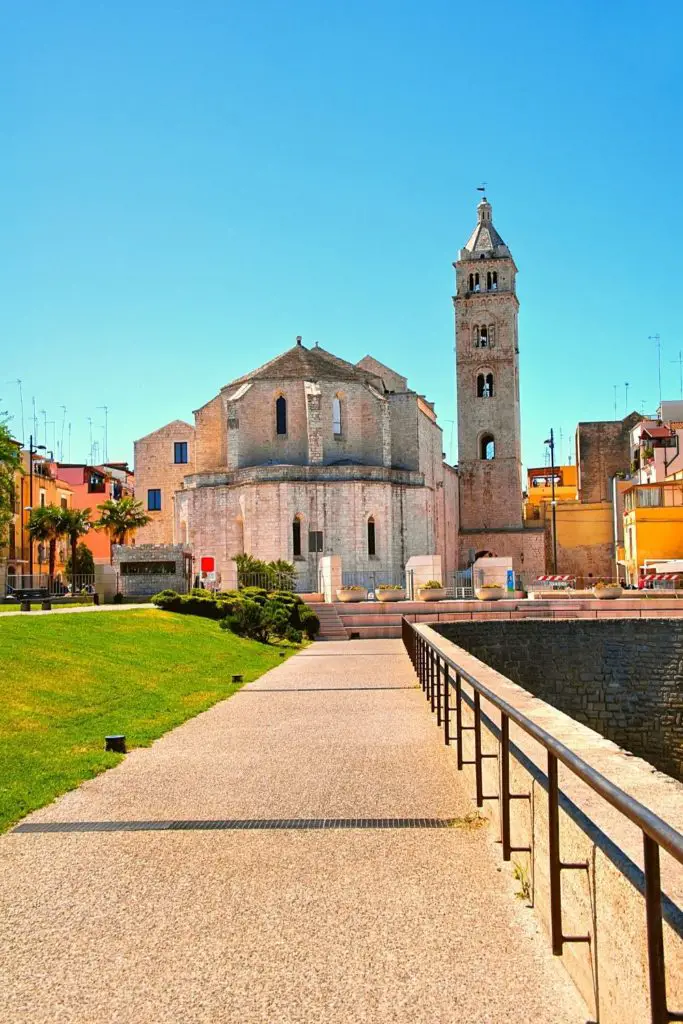 Barletta is another one of Italy's classic old towns. It is a city that dates to the 4th century BC and has more or less been continuously occupied since then. Therefore, it comes as no surprise that the city served as the stage of several important world events, like the Holy Roman Empire's crusades. Barletta being a historical city, also entails that it has accumulated several explorable gems over the centuries that all visitors to Italy must witness. Some of the city's most popular sites include Castello Svevo di Barletta and Basilica del Santo Sepolcro. Other than this, since waters surround the city, Barletta is home to some fantastic beaches where you might want to laze around during your stay.
Where to Stay in Barletta:
Click here to see more hotels to stay in Barletta.
Things to Do in Barletta:
7. Catanzaro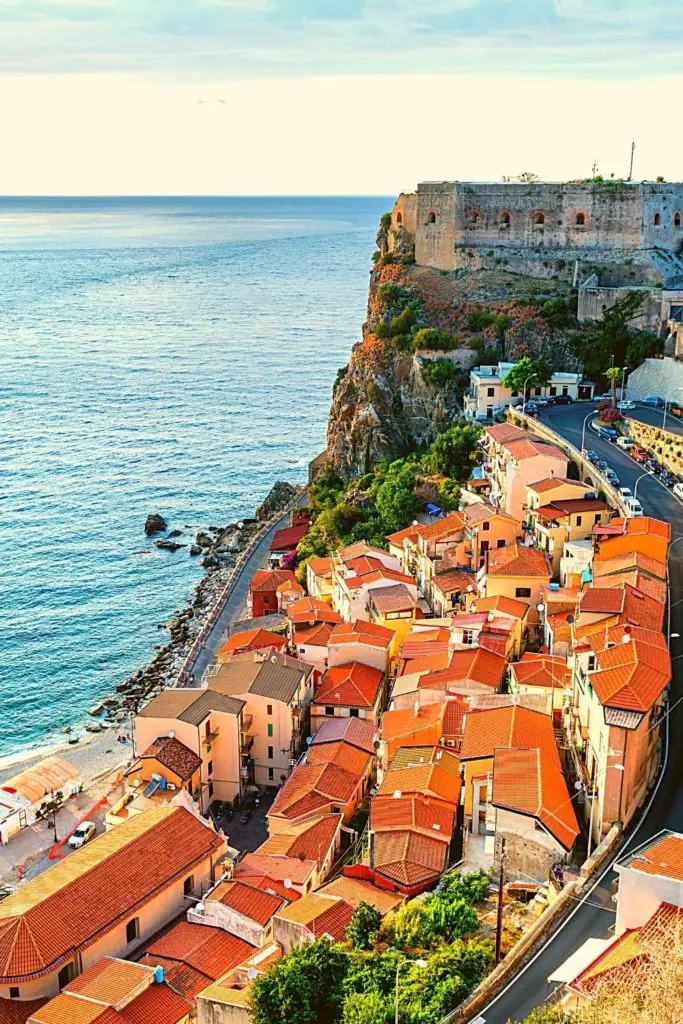 For people looking for naturally gorgeous places to visit in Southern Italy, Catanzaro should be a wish-come-true. The city does not need any introduction, for its popularity has already made it known. From huge, moderately crowded beaches to ancient architectural constructs to botanical gardens, there is a lot in the city that keeps its visitors pleasantly engaged. What shines out for most people is the Biodiversity Park, which features extensive botanical gardens, a military museum, and playgrounds for children. The park's aesthetics are so pleasant that those who visit the park do not feel like leaving it. Other than this, Ponte Bisantis is another important structure in the city. It is an old and huge bridge, which must also be witnessed.
Where to Stay in Catanzaro:
For more hotel options to stay in Catazaro, see our full list of recommendations here.
Things to Do in Catanzaro:
If you are interested in historical structures, Catanzaro has structures such as the Ponte Bisantis and the Chiese di San Giovani you will love. For sunbathing and the beach, visit Catanzaro Lido. This beautiful coastal resort is a fantastic place to go to relax, enjoy the sun, and the stunning landscape of the Ionian Sea
8. Messina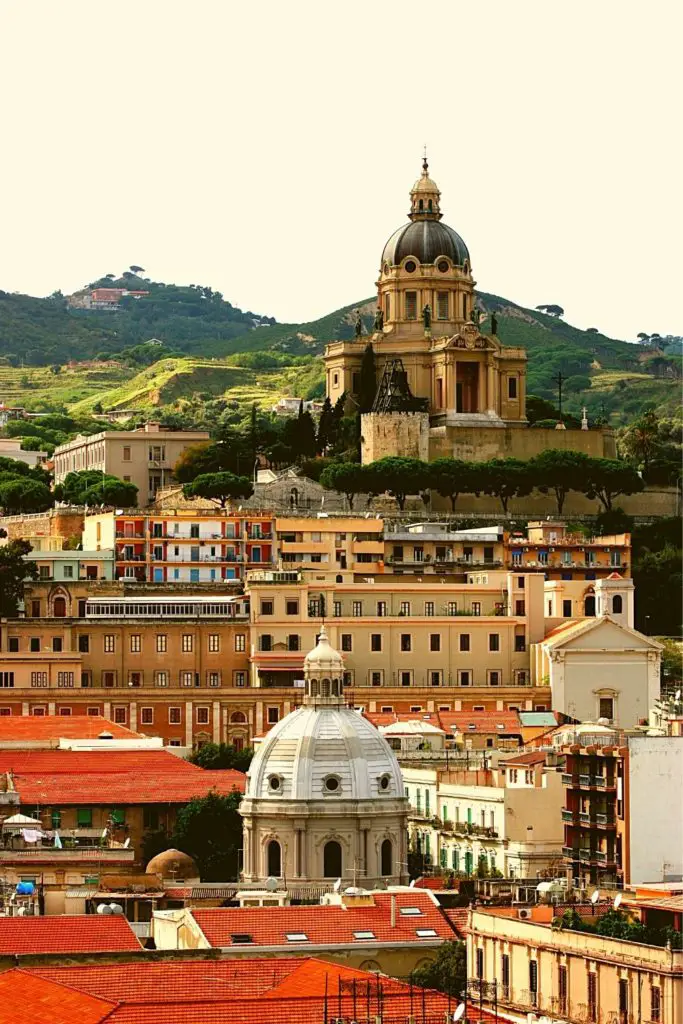 Messina is a remarkable Southern Italy destination and a gateway to Sicily. The city has been an active site of human settlement since the Greek era. Throughout its existence, Messina has served several important roles, contributing to the empires it was a part of. Today, the city is a site of excellent weather, high levels of incoming visitors, and fantastic architectural exhibits. One of the top favorites of locals and non-locals alike is the main Catholic church, Messina Cathedral. The church has an imposing presence that has stood in its place for centuries. Other than this, the Messina Bell Tower is another popular spot in the city. This impressive structure has an elaborate and intricate clock mechanism that has been in action for decades!
Where to Stay in Messina:
For more hotel options to stay in Messina, see our full list of recommendations here.
Things to Do in Messina:
See our full list of things to do in Messina here.
9. Tropea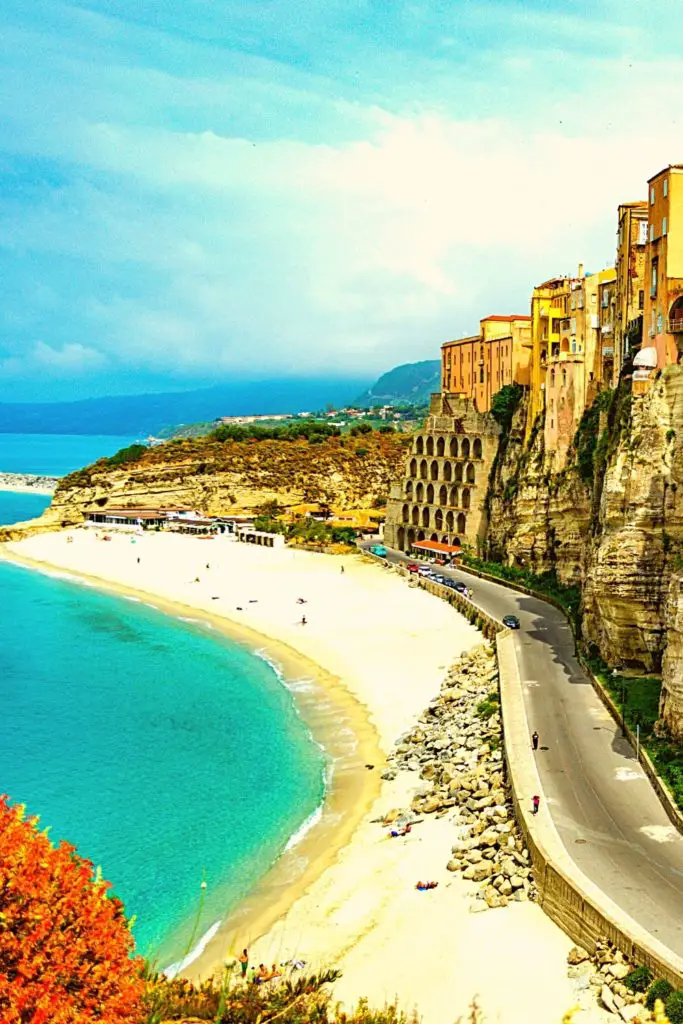 A list of places to visit in Southern Italy cannot possibly be complete without a necessary mention of Tropea – Italy's remarkable beach city. Although the city boasts of several other attractions, like excellent food, warm ambiance, and fantastic architecture, it is the beaches that truly set the city apart. Tropea is home to miles of pristine, peaceful beaches, which feature dramatic rock formations, cliffs, etc., and sparklingly clean deep turquoise waters. The sight is breathtaking!
Where to Stay in Tropea:
See more hotels to stay in Tropea here.
Things to Do in Tropea:
Discover more amazing things to do in Tropea here.
10. Palermo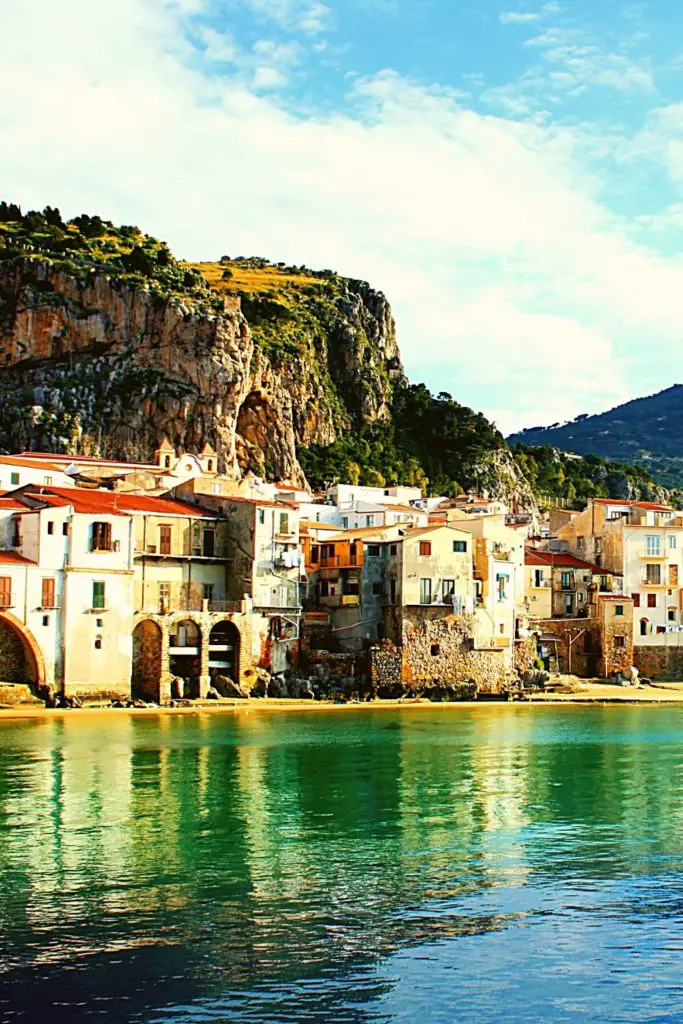 The capital city of the Island of Sicily, Palermo is one of those cities that efficiently and effectively secure its past. With the Palermo Archaeological Museum's presence, this coastal city has managed to preserve some magnificent artifacts and relics that date to the Roman era! If you are in the mood for some more history and somewhat peculiar traditions, you should head to the Capuchin Abbey – an underground space that stores preserved bodies of more than 8000 monks!
Where to Stay in Palermo:
Find more amazing hotels to stay in Palermo here.
Things to Do in Palermo:
Discover more fun things to do in Palermo here.
Video Guide: 10 Best Places to Visit in Southern Italy
Related Posts:
Travel Resources for Planning a Trip to Southern Italy
To make planning your trip to Southern Italy easier, we included some of our recommended travel resources below. You can search and find the best flights, transportation options, hotels to stay in, tours/activities, and things you can do in each destination during your trip.
Flights: 
Agoda: Search thousands of destinations around the world & quickly compare prices to find amazing deals on the best flights.
CheapOAir: You can find airline tickets, hotel rooms, rental cars, and vacation packages all on one site!
Kiwi.com: What we like about Kiwi is the fact that they are able to create combinations of flight, train, and bus tickets and offer them in a single itinerary. Also, Kiwi has what they called "Nomad" which helps you find the best way of visiting multiple destinations, saving you time and money.
JetRadar: You can search and compare airfares from 726 airlines and dozens of travel agencies and systems.
Hotels: 
Agoda: Agoda is one of the world's largest online travel accommodation platforms with a network of over 2,000,000 vacation rentals and hotels worldwide.
Hotellook: They have more than 250,000 hotels in 205 countries, working with data from more than 10 online booking systems, such as Booking.com, Agoda.com, Hotels.com, Expedia, and others.
Transportations: 
Airport Transfers: GetTransfer offers both airport transfers & car rentals with a personal driver. Other airport transfer options are KiwiTaxi and Viator.
Train:  EuroRail, Trainline, or RailEurope are all great sites for train tickets as well as Rail Passes if you would like to add more flexibility to your trip.
Bus: Flixbus: Very affordable (as low as $6) and convenient way to transfer between cities in Europe.
Car Rentals: AutoEurope, EconomyBookings, or  GetTransfer (transfers & car rentals with a personal driver)
Bike Rental: BikesBooking (Bikes & scooter rentals) 
Transportation Comparison: Omio (search, compare, and book tickets for buses, trains, and flights all in one site)
Tours & Activities:
TakeWalks (WalkofItaly): This is our favorite site for walking tours & day trips.
Tiqets: Great site for entrance tickets. It offers directly bookable, instantly available, and completely mobile tickets for museums, shows, and attractions all over the world.
Musement: They have good activities and tours in Italy and Spain, also many great day trips you can choose from.
GetYourGuide: A large number of tours, excursions, and other travel activities
Viator: The largest one. It has everything from tours, attractions, shore excursions, and private guides in over 2,700 destinations worldwide. It also has many transportations and transfers options and some unique experiences we didn't find anywhere else.
DISCLAIMER: Links included in this description might be affiliate links. If you purchase a product or service with the links, MultiCityTrips may receive a small commission at no additional charge to you.
Need help planning a trip to Southern Italy?

Want to plan a trip to Southern Italy, and other destinations in Europe but don't know where to begin? If you find this type of multi-city trip planning to be too complicated to plan on your own, we're here to help!
At MultiCityTrips, multi-destination travel and complicated itineraries such as a trip that include visiting multiple cities, countries throughout Europe are our specialties. Contact us today to learn more about how one of our experienced travel experts/destination specialists can personalize your multi-city European trip and craft your European vacation package at the best price.
Don't want to start from scratch and need some trip inspiration? Check out our marketplace for customizable pre-designed packages available right now for many amazing destinations in Europe.
To learn more about how our process of trip planning works in detail, please see our "How It Works" page or check out our video on "How to Plan a Multi-City Trip to Europe in  5 Easy Steps"  here.
Have questions for us? Schedule a FREE Call with us here or contact one of the travel experts/destination specialists at [email protected], call/text us at (888)223-2316 today