Spain is a beautiful country with a rich history, stunning landscapes, and a vibrant culture. Whether you're a first-time visitor or a seasoned traveler, there is no shortage of amazing places to explore in this diverse and fascinating country. If you're planning a two-week trip to Spain, you may be overwhelmed by the number of destinations and attractions to choose from. To help make your planning a little easier, we've put together three 2-week Spain itinerary ideas that will take you on a journey through some of the most spectacular regions of Spain, without repeating any cities or locations.
Related Posts:
2-Week Spain Itinerary 1: Barcelona – Montserrat – Zaragoza – Pamplona -San Sebastian – Bilbao – Santander
Highlights
See the stunning and historic La Sagrada Familia in Barcelona
Take the cable car to the top of the mountains in Montserrat
Enjoy a picturesque day trip to Santander by train with coastal views
Start your two-week adventure through Spain by arriving in Barcelona. You can spend your first day checking into your hotel, adjusting to the time difference, and familiarizing yourself with your surroundings. When you're ready to start exploring Barcelona, make sure you check out the beautiful La Sagrada Familia, a unique one-of-a-kind historic basilica that demonstrates several different architectural styles.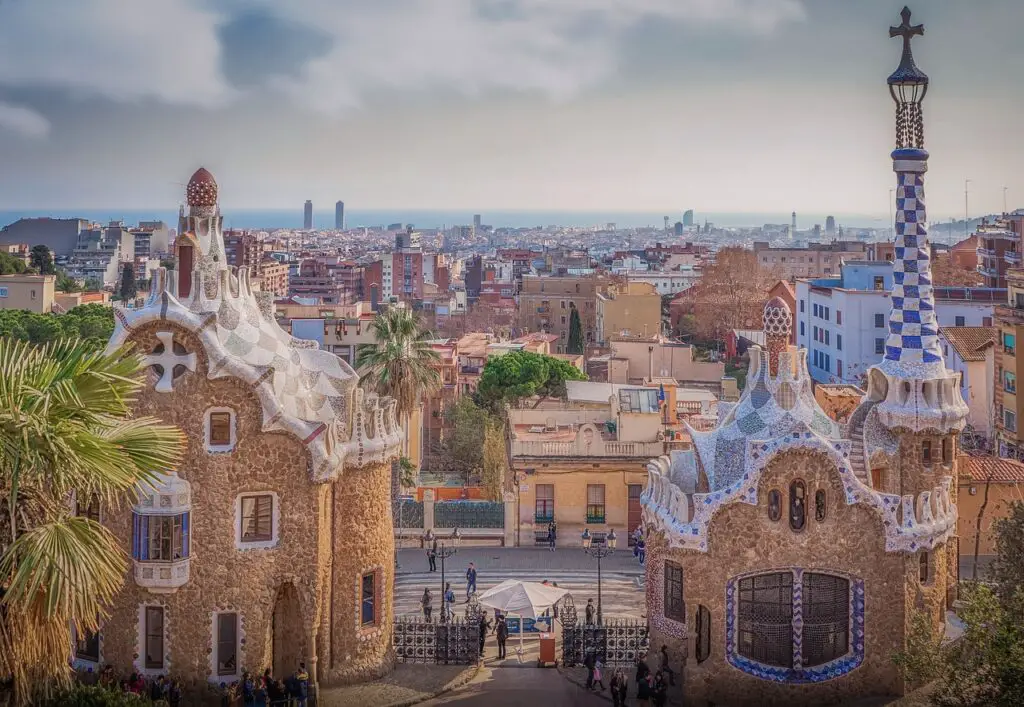 Tour Barcelona's culinary scene by visiting La Boqueria, Barcelona's oldest market. It's said to have been established in 1217 and it has evolved and grown in the years since to become the current market you can see today. Pick up some groceries to prepare meals later or come with an appetite in the morning to have a unique breakfast experience.
During your time in Barcelona, be sure to fit in a day trip to Montserrat. Located in the mountains of the Catalan countryside, Montserrat is just an hour's train ride away from Barcelona and when you arrive you'll be able to take a cable car up to the historic monastery. You can take in some stunning views and, depending on the time you visit, you may be able to tour this historic structure.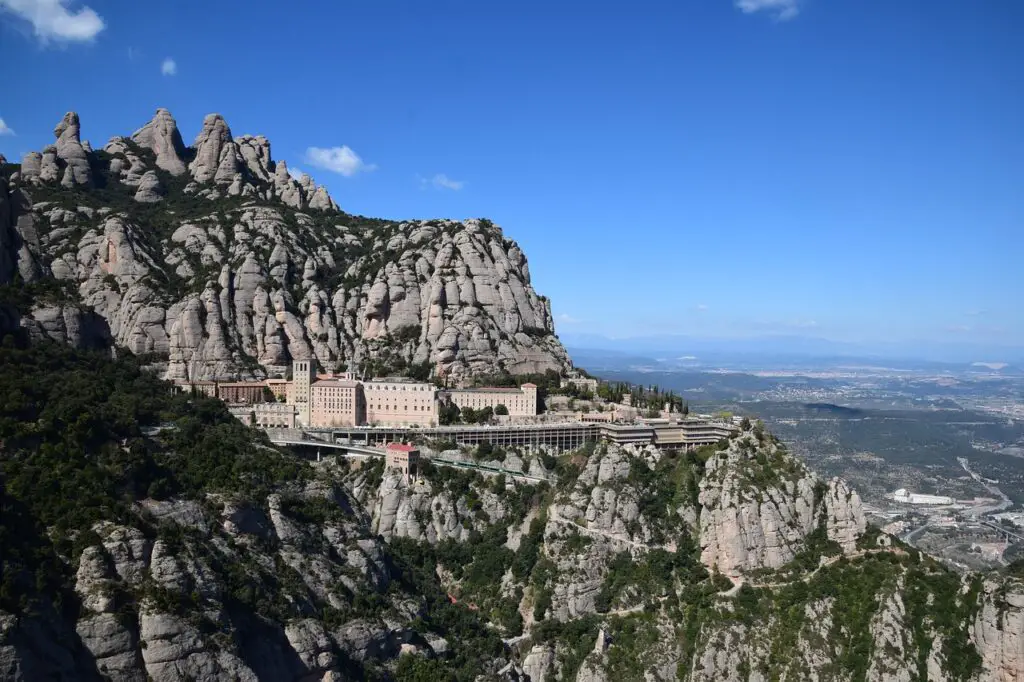 After four days in Barcelona, continue on to Zaragoza. You can choose to drive, but there's an easy 1.5 hour train route you can take. Zaragoza is a true hidden gem, with a vibrant culture and foodie scene. Try the local garnacha wine, or the regional favorite dish called migas, which is made with chorizo and breadcrumbs.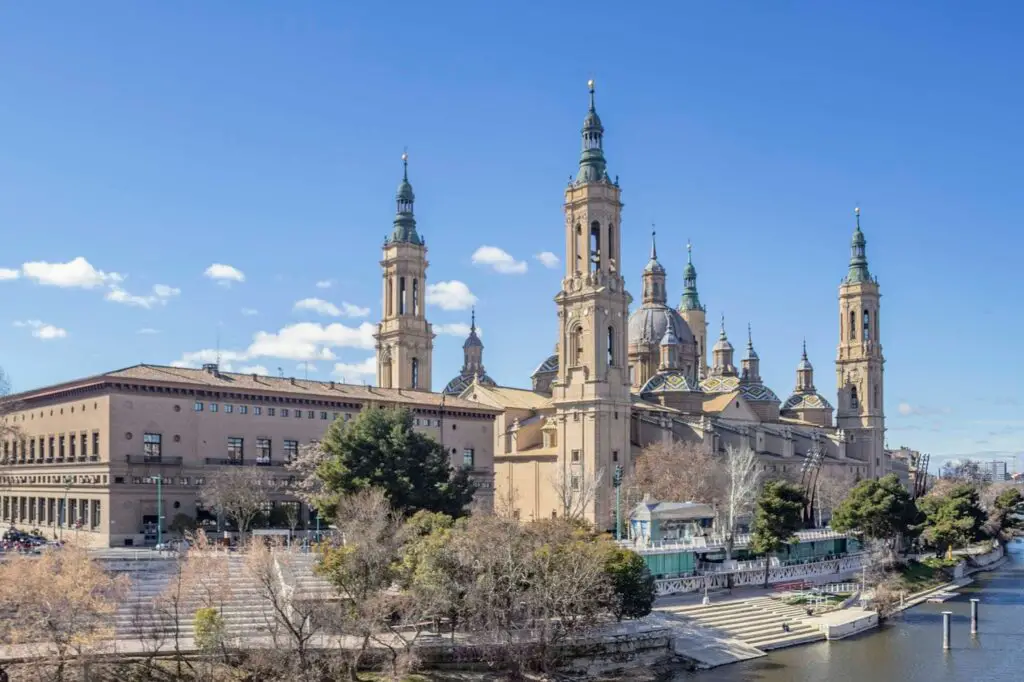 Your next stop is Pamplona, which can be reached by train if you've opted not to rent a car during your trip. Pamplona is known for the historic Running of the Bulls festival, but there's so much more to see when you visit. For example, the gorgeous and historic city center is worth exploring, as well as the city's various museums.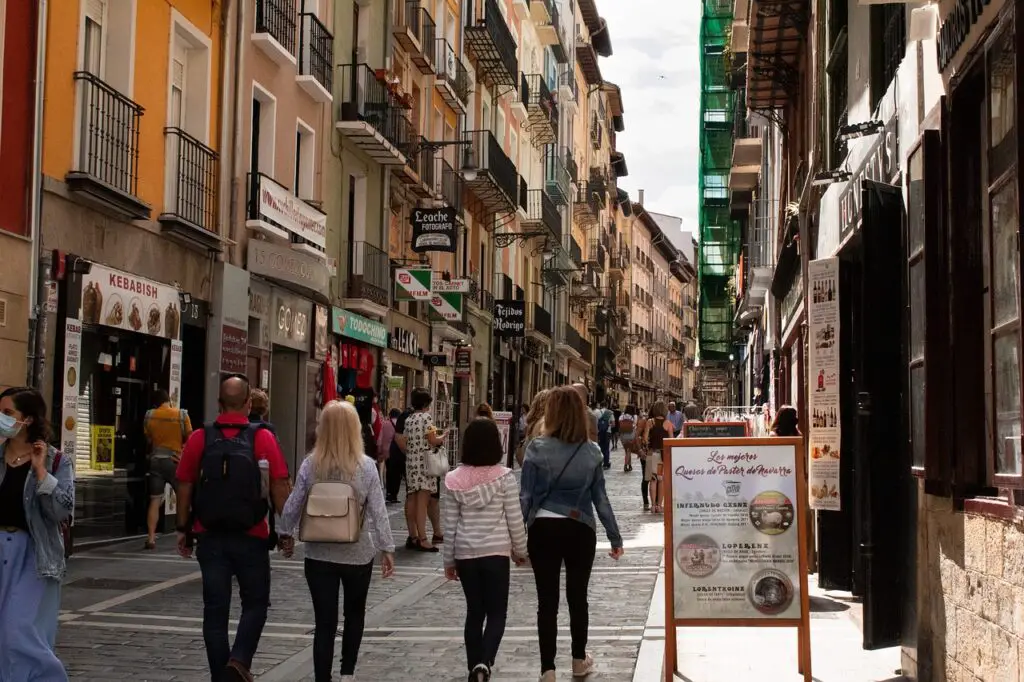 The local culinary scene is also popular with travelers and locals alike, with hearty meat dishes and Navarra wine as focal points. Step into local bars and cafes to indulge in these flavors and immerse yourself in the Navarran culture.
After a few days in Pamplona, continue north to the gorgeous coastal city of Donostia, or San Sebastian. Spend time in the Old Town neighborhood or enjoy the sun and crystal clear waters at La Concha Beach.
For those interested in history and architecture, San Sebastián offers numerous landmarks, such as the grand Miramar Palace, the Gothic-style Buen Pastor Cathedral, and the iconic Kursaal Congress Centre and Auditorium.
Bilbao is your final destination, and you can spend your time here enjoying unmatched cultural experiences such as the Guggenheim Museum. This famous collection is housed in a building designed by Canadian-American architect Frank Gehry in the 1990s, and is highly respected throughout the world.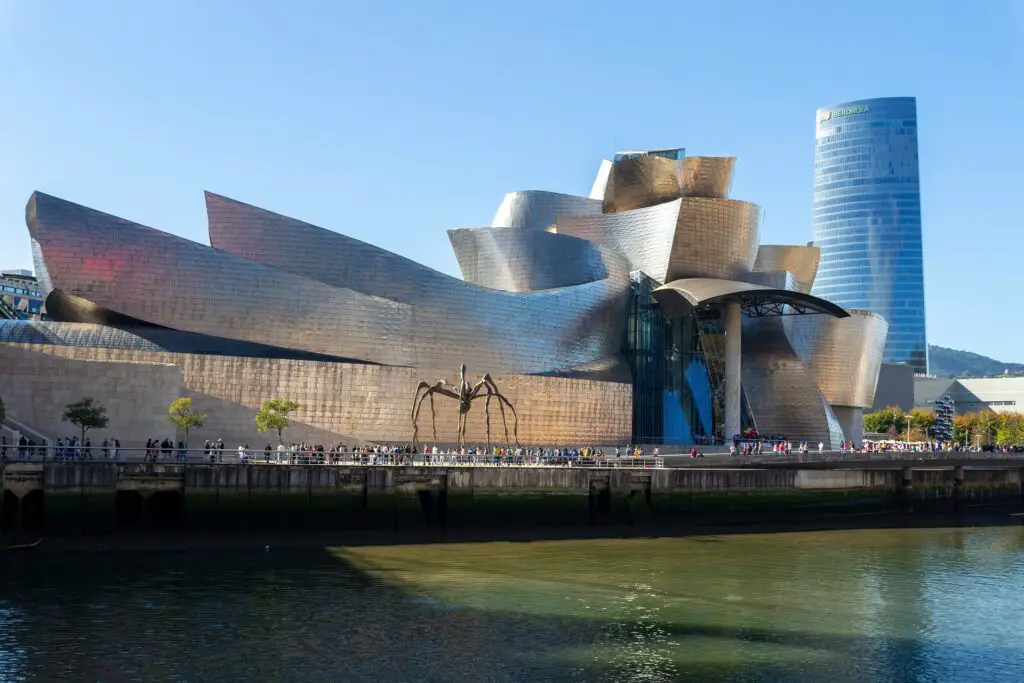 Don't miss out on trying the local Basque cuisine, including pintxos (small savory bites) and fresh seafood. Take a relaxing walk along the Nervion River, and enjoy the beautiful views of the city's bridges and architecture. Whether you're interested in history, art, food, or just soaking up the vibrant atmosphere, Bilbao has something to offer for everyone.
While you're in Bilbao, you have the option of a beautiful coastal train ride to the town of Santander, which is perfect for a day trip or a quick one-night excursion. If you're opting for a day trip, indulge in a meal at one of the local restaurants before heading back to Bilbao.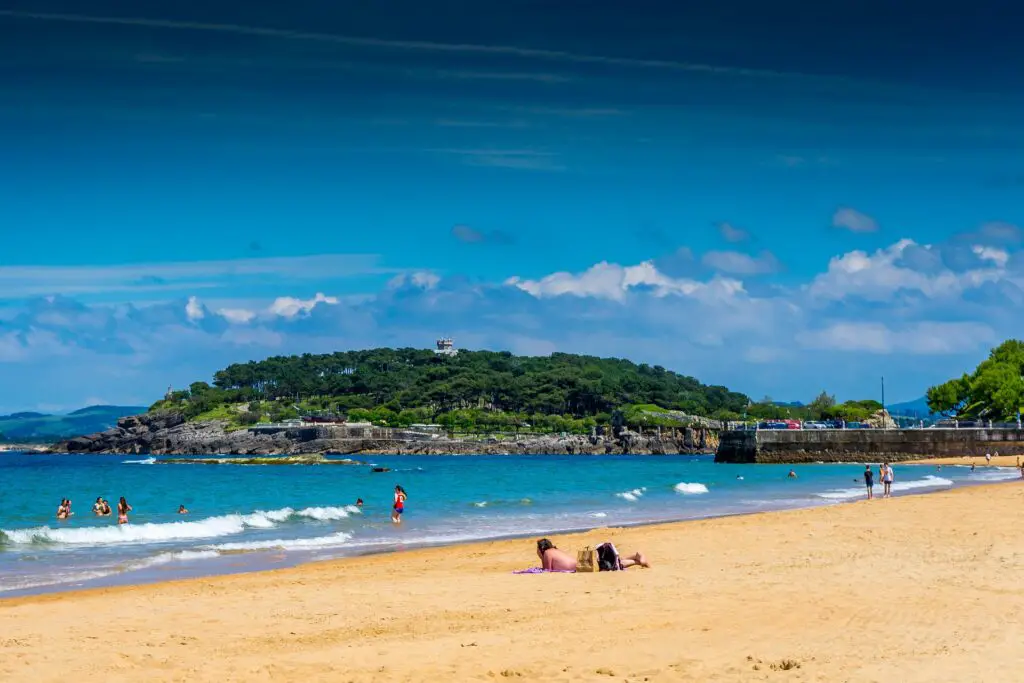 2-Week Spain Itinerary 2: Barcelona – Ibiza – Valencia – Murcia – Cartagena
Highlights
See works of art by Picasso throughout Barcelona
Enjoy the sun and sandy beaches of Ibiza
Explore the rugged Mediterranean coastline around Cartagena
This 2-week Spain itinerary also starts in Barcelona, but that's where the similarities end. There's so much to see in this city that you could easily create dozens of itineraries without repeating activities or sightseeing destinations.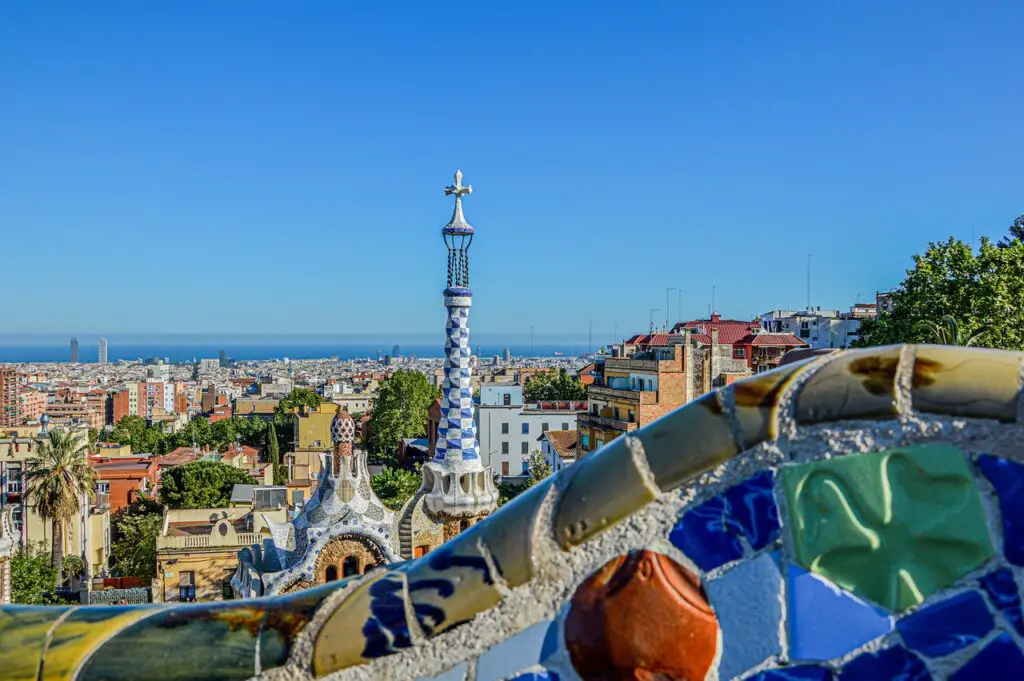 Visit the Picasso Museum, a grand collection of five palaces that honors the work of Pablo Picasso. Wander through Gothic archways, gorgeous courtyards, and exquisite rooms with painted ceilings and ornate fixtures. You can learn about Picasso's life and his artistic evolution over the years when you visit this incredible museum.
Next up, you'll hop on a three-hour flight at the Barcelona Airport to get to the island of Ibiza. Ibiza is a famed vacation destination that has been loved for decades, and you'll be able to see why when you step on the soft white sands of Cala Bassa or indulge in the nightlife scene.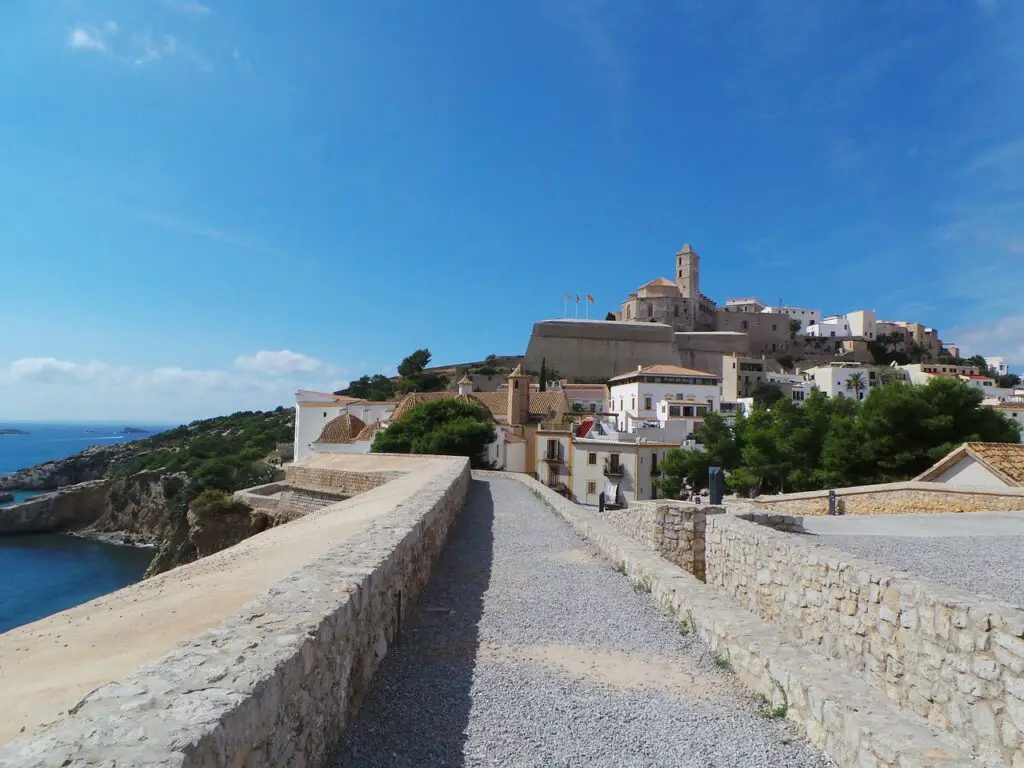 From Ibiza, you'll continue on to Valencia by hopping on a ferry. The Gothic-style Valencia Cathedral and the Mercado Central, a busy market stocked with seafood and fresh produce, are two of Valencia's most well-known landmarks. The City of Arts and Sciences, a futuristic collection of structures created by Santiago Calatrava, is a wonder of contemporary architecture and is home to some of the city's most well-liked attractions for those wanting a more modern experience.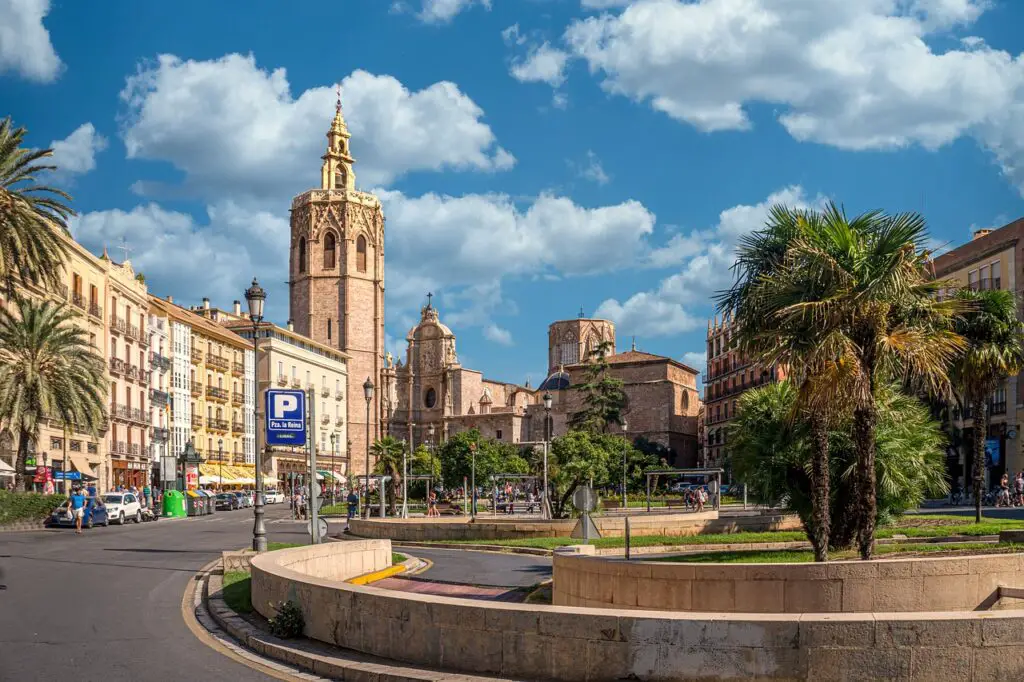 Murcia is a three and a half hour train ride away from Valencia, but you can use the time to relax and recharge before exploring the city's stunning Baroque architecture, beautiful parks and gardens, and delicious cuisine.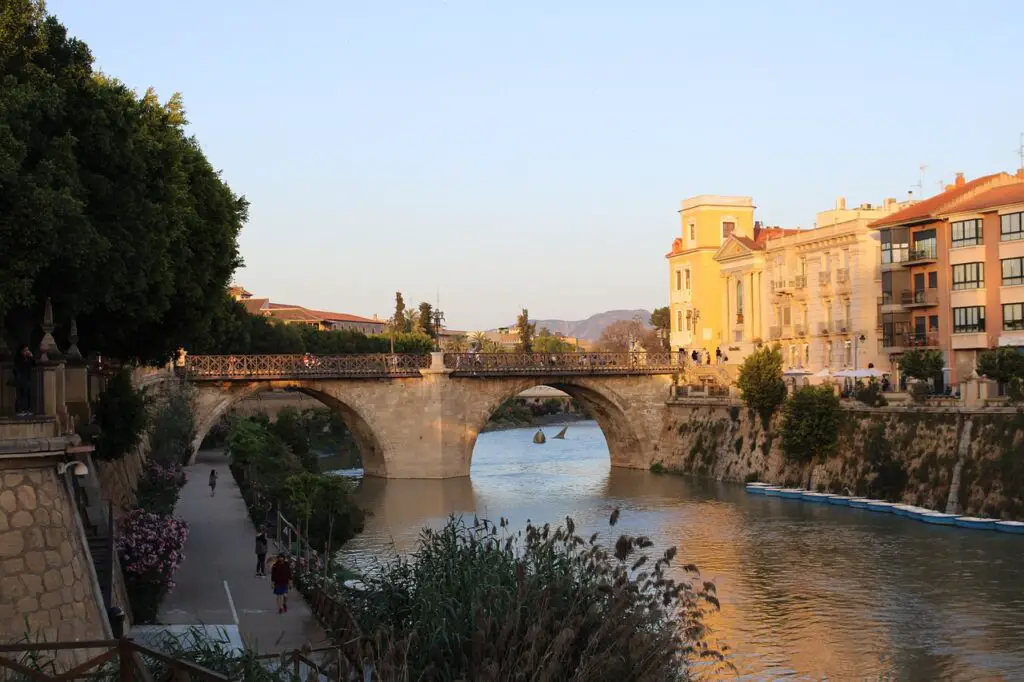 If you're a foodie, you'll adore the regional fare; Murcia has something for every taste, from fresh seafood to hearty stews. Be sure to sample the delectable zarangollo, a traditional Murcian dish made with onions and eggplants.
Cartagena is your final stop in this itinerary, and you can get there thanks to a 45 minute bus route from Murcia.
Located on the southeastern coast of Spain, Cartagena offers the chance to explore ancient Roman ruins, stunning beaches, and indulge in delicious Mediterranean cuisine. The ancient Roman theater is a must for any history buff, and the lively nightlife is the perfect excuse to dance the night away. No matter what you're interested in, you'll be able to end your vacation on a fun and memorable note in Cartagena.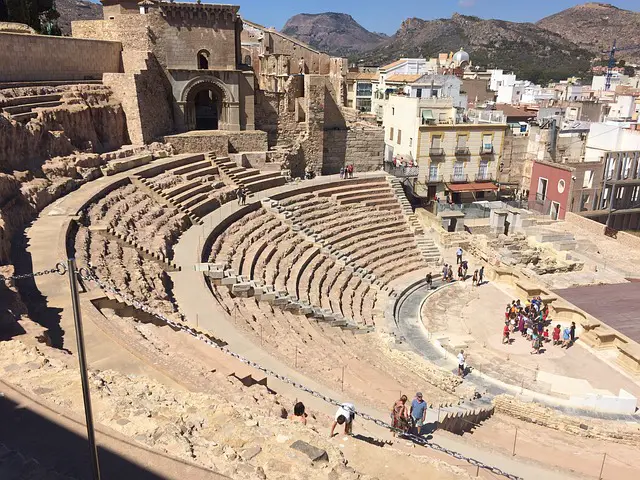 2-Week Spain Itinerary 3: Madrid – Toledo – Malaga – Marbella – Cordoba – Seville
Highlights
Experience the passion of flamenco dance in Madrid
Live the luxurious coastal life when you visit Marbella
Enjoy tapas and flamenco dancing in Seville
This 2-week Spain itinerary will guide you through another side of Spain by starting in Madrid. Located in the central part of the country, Madrid offers a unique mix of modern comforts and old-world charm. Start your journey at the iconic Puerta del Sol, the bustling heart of Madrid, or visit the famous Plaza Mayor nearby.
Make sure you save some energy for the evening, where parts of the city truly come alive. Watch a flamenco dance performance to take part in a cherished local tradition, or check out one of Madrid's clubs if you're in the mood to dance.
During your time in Madrid, you'll want to make time to visit Toledo which is just a 33-minute train ride away. You can spend a long day here or opt for an overnight excursion, but either way you'll get a chance to explore the medieval alleyways and historic architecture. Toledo is often called the "City of Three Culture" thanks to the cultural and architectural influences of the city's rich Christian, Muslim, and Jewish heritage.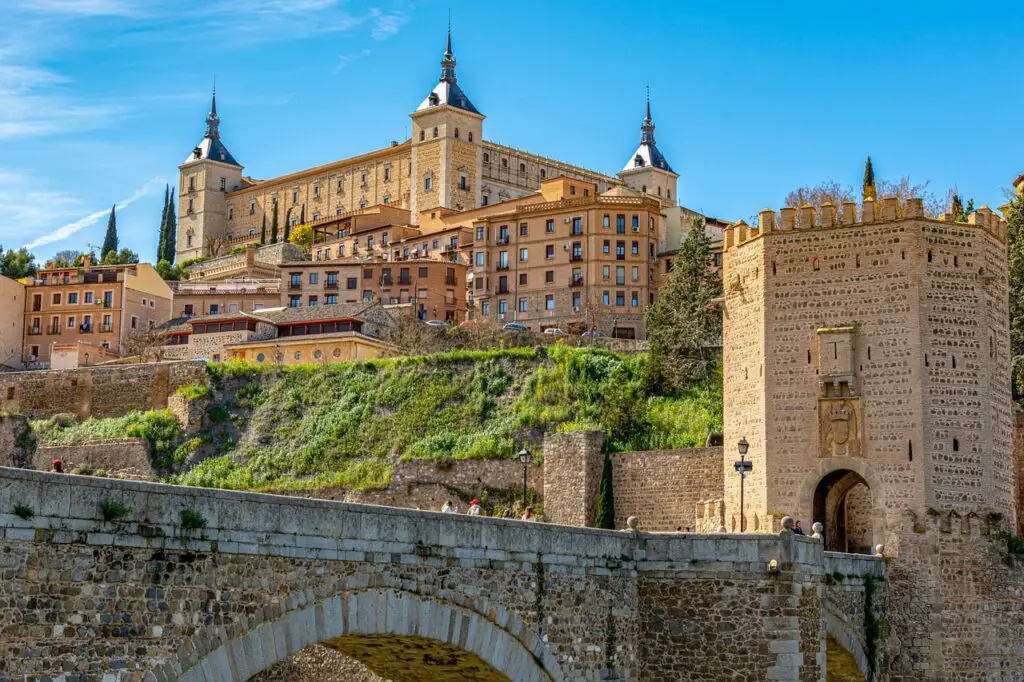 From Toledo, you'll head back to Madrid and then hop on a train to make the journey south to Malaga. Malaga, located on the sunny Costa del Sol, has a beautiful historic city center and landmarks like the Alcazaba Fortress. Although Malaga does offer beautiful beaches and access to the Mediterranean, you may want to save your beach time for Marbella. Just an hour away from Malaga by bus, Marbella is a luxurious coastal destination. You can enjoy fine-dining and boutique shopping, or check out the historic Old Town neighborhood. And of course, Marbella's beautiful beaches are reason enough to make the journey here.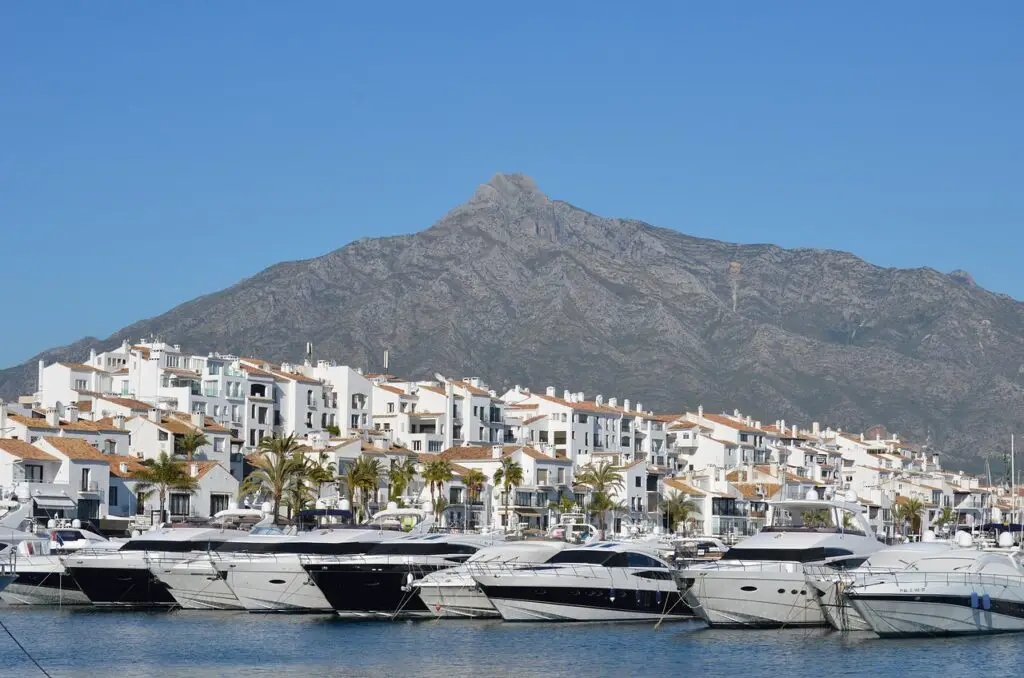 Your second-to-last destination on this itinerary is Cordoba. You can get there from Malaga by taking a 50-minute train journey. You can spend a day here, enjoying the sights and cuisine of the region before continuing on to Seville.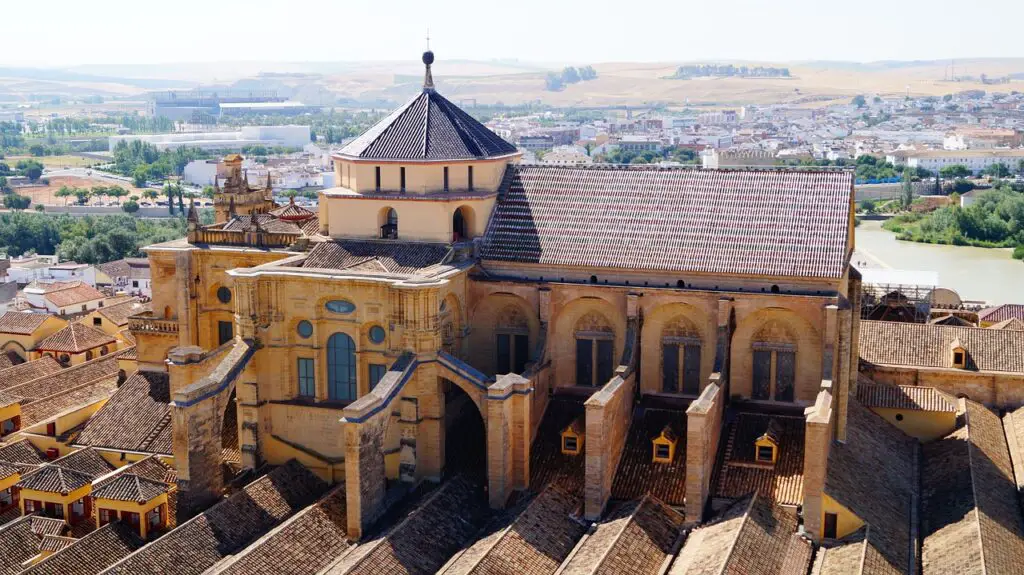 Seville is just a 45-minute train ride away from Cordoba, so after a short journey you'll arrive in the capital of Andalusia. See the beautiful Alcazar Palace and the historic Gothic Seville Cathedral, The cathedral was built starting in the early 15th century specifically to display the immense wealth and capabilities of Seville, so you can be sure that what you see will be impressive, even by modern standards.
After seeing some of the best historic sights in Seville, you'll have plenty of chances to immerse yourself in the day to day culture by shopping, sampling food and drinks, or dancing the night away at one of the city's many nightclubs or music venues.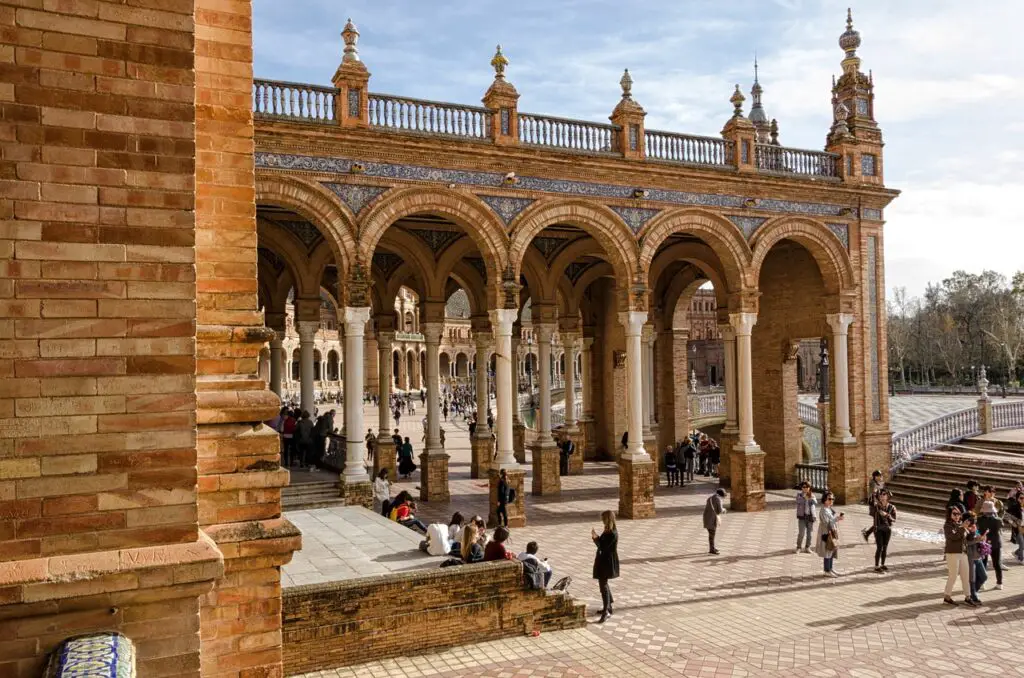 Related Posts
Travel resources for planning a multi-city trip to Spain
To make planning a trip to Spain easier, we included some of our recommended travel resources below. You can search and find the best flights, transportation options, hotels to stay in, tours/activities, and things you can do in each destination during your trip to Spain.
Flights: 
Agoda: Search thousands of destinations around the world & quickly compare prices to find amazing deals on the best flights.
CheapOAir: You can find airline tickets, hotel rooms, rental cars, and vacation packages all on one site!
Kiwi.com: What we like about Kiwi is the fact that they are able to create combinations of flight, train, and bus tickets and offer them in a single itinerary. Also, Kiwi has what they called "Nomad" which helps you find the best way of visiting multiple destinations, saving you time and money.
JetRadar: You can search and compare airfares from 726 airlines and dozens of travel agencies and systems.
Hotels: 
Agoda: Agoda is one of the world's largest online travel accommodation platforms with a network of over 2,000,000 vacation rentals and hotels worldwide.
Hotellook: They have more than 250,000 hotels in 205 countries, working with data from more than 10 online booking systems, such as Booking.com, Agoda.com, Hotels.com, Expedia, and others.
Transportations: 
Airport Transfers: KiwiTaxi, Viator
Train: EuRail, Trainline or RailEurope 
Bus: Flixbus: Very affordable (as low as $6) and convenient way to transfer between cities in Europe.
Car Rentals: AutoEurope, EconomyBookings, or  GetTransfer (transfers & car rentals with a personal driver)
Bike Rental: BikesBooking (Bikes & scooter rentals) 
Transportation Comparison: Omio (search, compare, and book tickets for buses, trains, and flights all in one site)
Tours & Activities:
TakeWalks (WalkofItaly): This is our favorite site for walking tours & day trips.
Tiqets: Great site for entrance tickets. It offers directly bookable, instantly available, and completely mobile tickets for museums, shows, and attractions all over the world.
Musement: They have good activities and tours in Italy and Spain, also many great day trips you can choose from.
GetYourGuide: A large number of tours, excursions, and other travel activities
Viator: The largest one. It has everything from tours, attractions, shore excursions, and private guides in over 2,700 destinations worldwide. It also has many transportations and transfers options and some unique experiences we didn't find anywhere else.
Need help planning a trip to Spain?
Want to plan a trip to Spain but don't know where to begin? If you find this type of trip planning to be too complicated to plan on your own, we're here to help!
At MultiCityTrips, multi-destination travel and complicated itineraries such as a 2-week Spain itinerary are our specialties. Contact us today to learn more about how one of our experienced travel experts/destination specialists can personalize your multi-city vacations at the best price.
Don't want to start from scratch and need some trip inspiration? Check out our marketplace for customizable pre-designed packages available right now for many amazing destinations.
To learn more about how our process of trip planning works in detail, please see our "How It Works" page or check out our video on "How to Plan a Multi-City Trip to Europe in  5 Easy Steps"  here.
Have questions for us? Schedule a FREE Call with us here or contact one of the travel experts/destination specialists at [email protected], call/text us at (888)223-2316 today.